This article was originally published on our old domain, ViperChill.com, on September 12th, 2014. It's an interesting topic and one we would love to revisit in the future.
We all know that Google updates can be highly frustrating, especially when Google are never forthcoming about exactly what changed and what you can do about it if you feel you were unfairly penalised. For some though, Google changes can slice millions of dollars off the valuation of your company. When Panda 4.0 was rolled out on May 22nd, Retail Me Not's stock dropped 10% or in other words, Google's change helped to wipe $170 million from their market cap in a single day.
While eBay also took a hit on the same day, estimated to have lost rankings for up to 80% of long-tail keywords, their stock didn't take much of a hit. This is likely because Paypal is the big driver in eBay's stock price. The Yellow Pages however, trading as Yellow Media on the stock market, were estimated to have lost around 20% of their organic search traffic. Since a high in April their stock has dropped 29%. What if you could predict Google hitting other companies hard? Could you get rich trading their stock? Let's find out…
Finding Publicly Traded Companies That Are Highly-Reliant on Google
The first thing we need to do is find companies which make money primarily via a website, are listed on the stock market, and receive a large portion of their website traffic from search engines (such as Google). The first place I decided to start was to look at companies that have IPO'd or are expected to IPO in 2014. I'm primarily looking at companies in the "tech" field because they're more likely to be companies that care about search engine traffic.
Here's a list of businesses I found which have IPO (Initial Public Offering) hype around them for 2014.
Airbnb
Airwatch
AppNexus
Automattic
Box
Coupons.com
Deem
Dropbox
Evernote
Fanatics
Gilt
Good Technology
GoPro
Jawbone
LendingClub
MongoDB
Palantir Technologies
Pinterest
Pivotal
Pure Storage
Snapchat
Space Exploration Technologies
Square
SurveyMonkey
Uber
Vice
The companies in bold are the ones I will assume receive a large portion of their website traffic from Google. I don't know that for certain though without doing some further research (I'm writing this sentence prior to having looked into each of them). While I don't know every company on this list, their names tend to give away whether or not they're likely to be heavily reliant on traffic from Google.
The next step is to look at the companies in more detail to see if they do actually get a large portion of their traffic from search engines. Unfortunately there's no way to sneak into their Google Analytics account so we have to use estimations from other tools. The three tools I'm using here are SimilarWeb, Alexa and SEMRush.
AirBNB
SimilarWeb: 18.57% of traffic from search
Alexa: 8.7% of traffic from search
SEMRush: 685,000 monthly visits from search
These numbers are honestly quite a bit smaller than I would expect but still a solid portion of their overall traffic numbers. I would guess this is something they'll be looking to increase over the coming years so this is still one company I would be watching for any volatility in the SERP's.
Coupons.com
SimilarWeb: 41.64% of traffic from search
Alexa: 13.8% of traffic from search
SEMRush: 7.9 million monthly visits from search
Now this is the type of website you want to be watching. They have a huge reliance on search traffic (I would trust Similar Web here far more than Alexa due to the nature of their industry) and they're in a field which has already seen a rival – Retail Me Not – lose substantial traffic after Google updates.
Pinterest
SimilarWeb: 28.54% of traffic from search
Alexa: 8.9% of traffic from search
SEMRush: 85.7 million monthly visits from search
I often see Pinterest in search results and with all that user generated content you can only imagine how many long-tail keyphrases they must be ranking for. The SEMRush stat there gives you a good idea of that number. The company have not filed for an IPO yet but the rumors continue to swirl that one is imminent.
Survey Monkey
SimilarWeb: 8.02% of traffic from search
Alexa: 5% of traffic from search
SEMRush: 85.7 million monthly visits from search
While they are also not on the stock market yet I thought this would be an interesting one to look at. It seems like my guess was wrong though and Survey Monkey don't rely on getting as many leads via search as I initially presumed.
This wouldn't be much of a blog post if I only had a few examples so I decided to look further back to 2013 and beyond. This search actually became very frustrating because 'tech' can be anything from pharmacuetical companies to people securing private internet networks. These companies are obviously not going to be too bothered by Google updates.
I needed publicly traded companies which are the kind that TechCrunch would blog about.
Then I had an idea. Just search TechCrunch for sites that have or are looking to IPO. With a simplyeGoogle site: search we get back a lot of data.

As you can see, this pulled back thousands of results. Below I'm picking out some that I feel would be reliant at least in some part on search traffic. Again, I'm writing this sentence before actually looking into the companies.
Zalando
SimilarWeb: 36.16% of traffic from search
Alexa: 20.60% of traffic from search
SEMRush: 8.1 million monthly visits from search
This one is especially interesting to me because they're reliant on rankings across many different websites. Above I've highlighted the stats for their .de German-focused site but they're also running a .co.uk version and even a .pl version of their site. Even Alexa pips them as having a large portion of search traffic so this is another one that I would definitely keep an eye on.
They're expected to IPO before the end of the year.
Alibaba
SimilarWeb: 31.93% of traffic from search
Alexa: 13.20% of traffic from search
SEMRush: 1 million monthly visits from search
Expected to be the biggest IPO ever in the tech world, the Chinese ecommerce Titan is hoping to raise up to $21.1bn. While their brand name holds a lot of weight, they could still be affected to any big changes in Google's and Baidu's algorithm.
Jumei
SimilarWeb: 25.90% of traffic from search
Alexa: 8.3% of traffic from search
SEMRush: No data for Google China
Though a Chinese fashion portal, Jumei opted to file their $400m IPO in the US. They're another company that is increasingly reliant on traffic from both Baidu and Google to continue their huge growth.
HomeShop18
SimilarWeb: 55.90% of traffic from search
Alexa: 16.3% of traffic from search
SEMRush: No data for Google India
This is the highest percentage of search traffic we've seen from SimilarWeb yet. Homeshop 18 are an Indian online retail store hoping to IPO on the NASDAQ later this year. Any changes in their Google rankings would surely have a big impact on their stock price.
3 Listed Companies with more than 50% Search Traffic
I wasn't planning on making a separate section for some listings but the most recent ones I've brought up have had far better stats than those further up the post so I wanted to highlight them and the kind of potential available. We've already found a great opportunity with Coupons.com but there are many, many more to be unveiled.
Yelp
SimilarWeb: 67.33% of traffic from search
Alexa: 31.10% of traffic from search
SEMRush: 111 million monthly visitors from search
Yelp seems to get more traffic from search than any other website I've checked. This doesn't surprise me since they thrive on review search terms around their brand. They've had their own public battles with Google so any fluctuations wouldn't be new to them.
Trulia
SimilarWeb: 49.56% of traffic from search
Alexa: 27.10% of traffic from search
SEMRush: 6.7 million monthly visitors from search
The Trulia stock surged recently due to rumors of a potential acquisition by Zillow. Whatever happens there, the Trulia stock is definitely one to watch when it comes to how well they're performing in Google. The real estate website generates a huge chunk of traffic from search (that's the second highest I've seen Alexa yet) and clearly adds to their bottom line.
AngiesList
SimilarWeb: 53.07% of traffic from search
Alexa: 26.80% of traffic from search
SEMRush: 1.6 million monthly visitors from search
With over 65 million pages indexed in Google, AngiesList tries to unite quality service professionals with those looking for specialists in a particular field. There's a lot of duplication going on in their title tags and meta descriptions but we'll leave that for another day.
This is just a tiny sampling of the hundreds if not thousands of companies to focus on who rely heavily on performing well in Google. I would recommend similar "site: searches" for Mashable, The Next Web and other startup-related blogs to find even more examples you can follow.
How Would a Company Get Penalized?
The most obvious answer would be that they are caught breaking the Google Guidelines and are penalised as such. However, it's also very clear that a lot of Google upates don't always make sense as to why some people "win" and some "lose".
When I wrote about RetailMeNot in my "How to Build a Billion Dollar SEO Empire" blog post I covered some of their less than favourable SEO practices but concluded my post saying they've cleaned up their act and they deserve to rank for the terms they rank for.
I was actually surprised that a Google update affected their rankings (and their stock price) so heavily.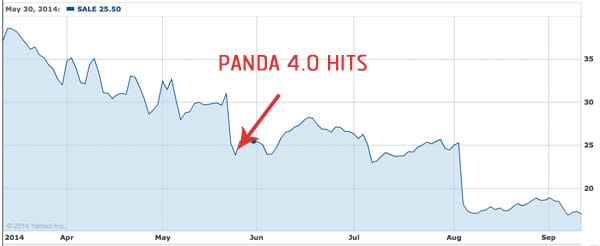 Another company I've blogged about, Wix.com, are clearly buying paid links around the web. If Google want to ever make an example of them that could affect their stock. Around 20% of their traffic currently comes from search engines.
I think the smartest strategy to follow if you play this game is to pick companies you want to track and monitor the big Google changes.
Of course, there's also another option that is less than ethical…
Could I Help to Get a Company Penalised If I Tried?
One angle I want to want to cover is my own ability (or even yours) in getting Google to consider penalising a company.
Now, as I've stated many, many times before, I don't want anything I write here to have an affect on any company. I write about SEO and various company tactics in order to educate, not expose or hopefully negatively impact any company. I have never seen anyone get "hit" as a result of my posts which is why I'm comfortable writing them.
That isn't to say that Google don't use blog posts as a nudge to penalise websites for breaking their guidelines, however. Earlier this year Rap Genius were completely removed from Google's index for performing shady link building practices. Ironically this was only discovered when an unknown blogger, who had never previously written about marketing or SEO covered their tactics.

This person received 94 comments on that post, yet in all previous posts (and those since the expose) I can not find any blog posts with even a single comment on them. This was not some huge blogger with a loyal audience. He simply reached the right one or two people who spread the word (later reaching Hacker News) and it prompted Google to take action. While they are not a publicly traded company, they have received $15M in investment.
It's not just prompting Google to make changes that can affect a companies stock via blogging, of course. Back in 2007 Engadget reported that Apple's next version of OSX and the much anticipated iPhone were going to be delayed. In less than an hour Apple's stock dropped 2.2% which equated to four billion dollars.
It turned out that Engadget had reacted to a spoof email which appeared to be sent from inside Apple. They quickly had to update their story to the headline: "False Alarm: iPhone NOT delayed until October".
Before I continue I want to say that I'm not advocating you attempt to out companies in order to affect their stock market pricing. However, certain rumors I've heard for a few years do suggest that there are people who partake in this exact strategy.
After all, people will do a lot of shady things when there's a LOT of money to be made.
Since Yelp received the most search traffic out of any website and their search business really could be affected at any time (Google tried and failed to purchase them for $500M), I think their case is the most interesting.
In the most recent Google Pigeon update Yelp actually benefited from the changes, but that doesn't mean future updates will also be in their favour.
In fact, there are a number of search queries where Yelp probably shouldn't be getting so much visibility.
Barry Schwartz pointed out this search result 11 months ago and it's still the same for me today.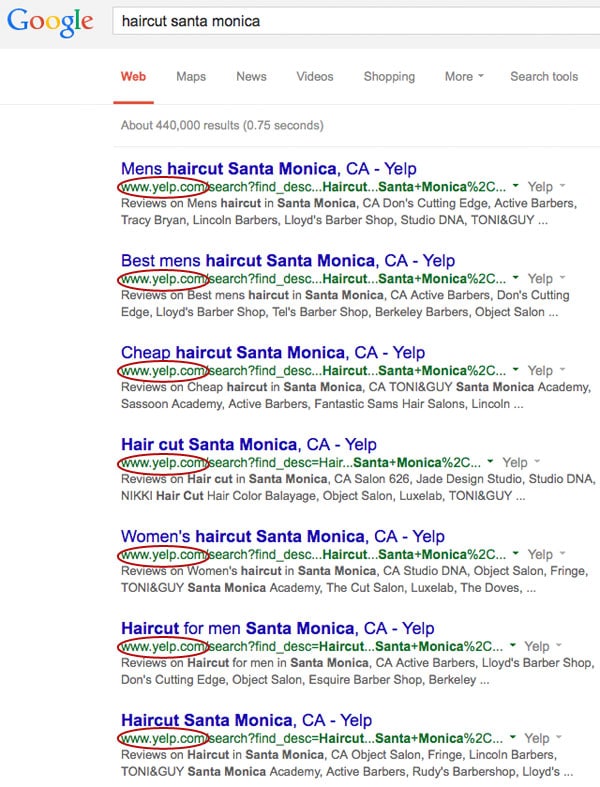 This is obviously a result which is not great for the end user. Surely it would be better to have a more diverse search page.
Not to mention, they're violating one of the sections of the Google Webmaster Guidelines that has been in place since 2007:
"Use robots.txt to prevent crawling of search results pages or other auto-generated pages that don't add much value for users coming from search engines." While I can't say the results aren't valuable, they're definitely auto-generated search results pages.
Yelp are under no illusion that they owe a large part of their success to the traffic they are able to get from Google.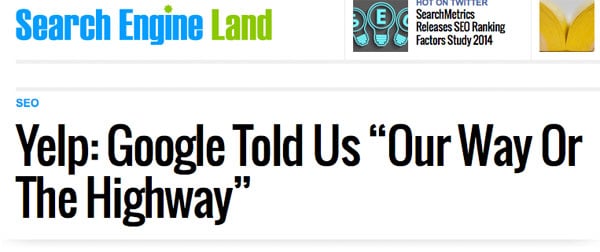 Their CEO quoted as saying, "Google's position is that we can take ourselves out of its search index if we don't want them to use our reviews on Places…. But that is not an option for us, and other sites like us – such as TripAdvisor – as we get a large volume of our traffic via Google search."
I could easily just take this one example – Yelp having their search results indexed – and try to get this featured on even more blogs to get the attention of Google employees that could do something about it. I could:
Contact known members of Google's web spam team via their personal email (they aren't hard to find)
Anonymously prompt Barry to do an update on the post (he's always looking for new content)
Create a blog post targeting Yelp and how they're breaking guidelines
Send "tips" to other sites like Search Engine Land, Search Engine Journal and others to hopefully highlight their tactics
Try and get some of the coverage featured on Hacker News, which resulted in the downfall of Rap Genius and other brands
I'm just throwing the ideas out there because I think it makes for an interesting discussion. Again, I wouldn't personally go and do any of these things. Of course, that doesn't stop others from trying to do the same.
Monitoring Companies to See If Their Search Traffic Takes a Hit
Now that you know what I would look for, it's time to look at how you would monitor if a company were negatively affected by a Google update or not. Let's say I am very interested in the search visibility for Yelp.com, Coupons.com and Angieslist.com (which I actually am).
The important next step, if I wanted to make money betting on their stock to drop, would be to make sure I'm one of the first people in the world to know about it. Here are a few sources I would use.
The first is the Winners and Losers page from SEMRush which updates on a weekly basis. Please note that this link only works if you are a paid SEMRush user.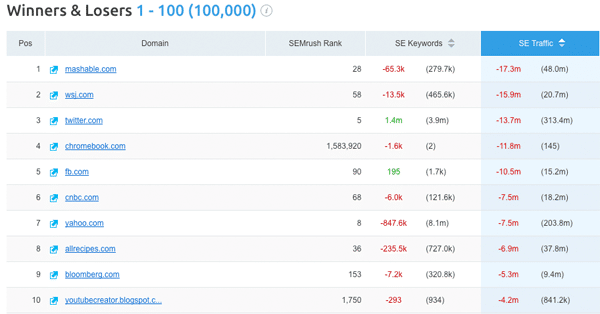 You can see from the screenshot that Mashable and the Wall Street Journal have had a bad time recently when it comes to their own search rankings. You could use this page to find publicly traded companies and see if the world has reacted to their traffic drops or not.
A similar, free version of this tool is available from Search Metrics, though you do need to sign-up for a free account first.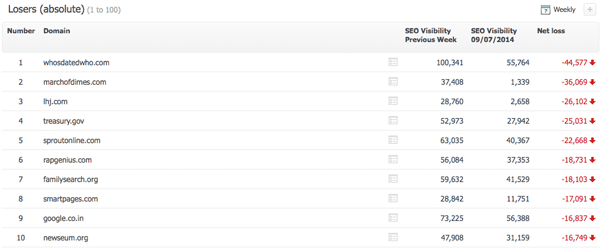 Keep in mind that in some cases these drops will not be from any kind of Google update or penalty. For instance, the site listed second there, marchofdimes.com simply changed their domain name to marchofdimes.org hence why the .com lost positions in Google.
Search Metrics is also a great tool to see if your prediction that a certain company has been hit is correct since they offer very reliable "SEO visibility" metrics.
Google CEO Eric Schmidt was once quoted for saying something he probably regrets:
It was recently proven that you could use Google Trends to predict fluctuations in the stock market. Three economists predicted daily price moves in the Dow Jones industrial average.
I can easily look at how many people are directly searching for traded companies, such as AngiesList shown below.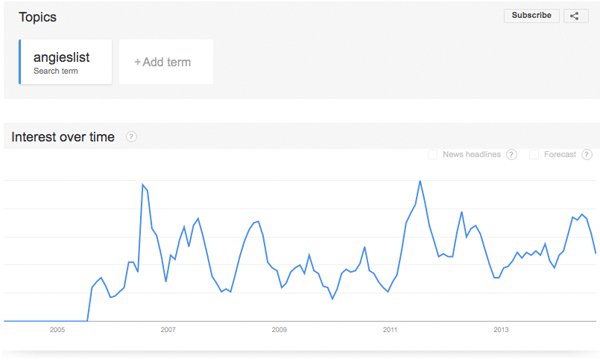 While I as talking about writing this blog post I was sent to a Swedish website which talked about this concept in more detail. You can read it in English here via Google Translate.
If you have a specific list of companies in mind and don't just want to look at the Dow Jones average or what SEMRush and Search Metrics show you, then there's one good way to monitor talk about certain brands; Talk Walker Alerts.
Many find this tool to be more useful than Google's own alerts service.

You can use this to keep you up to date on specific companies being discussed around the web.
The last resource I'm going to recommend is to follow Barry Schwartz on Twitter. If you're serious about monitoring Google updates then Barry is better than any alerts service. For years he has been my go-to-guy to follow when it comes to search engine news.

As a fun side note, I actually sent Barry a hand-written letter when I was 17 to thank him for some advice he gave me. He blogged about it when he received the letter.
If You Think the Stock Will Tumble, Here's What to Do
It should come as no surprise to you when I say that I'm not an expert when it comes to trading stocks. In fact I've never bought or sold a single stock in my life (though I would like to start). I have spent two years living with Diggy and regularly seen his computer screens full of graphs as he trades Forex but that's about as close as I've come to being involved in trading.
To be clear though, that will be changing. Myself and Diggy have put aside $10,000 to trade companies we think are going to get hit with Google updates and for those who get hit so we can act faster than a typical investor would.
As my own knowledge in this field is limited, I reached out to others with far more knowledge on this subject than me to share their own advice on what they would do if they believed a stock would be falling.
Here was my posing scenario: "I'm an SEO expert. I see that X company (who are publicly traded) are doing something shady with their SEO strategy and I believe they are going to get hit in the next Google Update. As a result I think this will have a huge impact on their stock and it will go down. What would the best kind of trade be that I can make to maximise my potential earnings if I strongly believe this is going to happen in say…the next 60 days."
Marcus Taylor from Venture Harbour

"Let's say you think Ebay's up to something dodgy and are going to get wiped out during the next Penguin update, that you expect will run next week.
Currently Ebay trades at $51.10 per share. They also seem to have a "support" at around $48, which is basically the point that the share price tends to bounce back up from. The support is usually where 'value investors' (people buying for the long-haul) buy in because they think the share's undervalued.
If the result is catastrophic, the share price could plummet through the support and hit $41, for example. However, if it's just general bad news it'll probably go down to $48 temporarily, which is likely a result of a few people panicking, and automated trading systems trading with each other.
So, let's say you just want to short the share:
Shorting is essentially a trade that involves you "borrowing" someone else's share, selling it at the current market price, buying it back when it's cheaper, and then giving it back the share to the original owner. You pocket the difference.
Most trading platforms make shorting available in the click of a button. Often, the owner of the share you're borrowing from never even knows.
If you shorted 100 shares at $51.10 ($5.1k) and sold at $48 ($4.8k), you'd make $300. Not too exciting.
So a more exotic alternative might be to use spread betting, which is basically where you bet on the share moving in a certain direction i.e. you never actually own the share.
So, let's say you bet $1 per point that Ebay decreases. If you were super confident (or a bit of an idiot) you could get leverage, allowing you to effectively trade up to $10 per point on credit, but let's say you don't.
Ebay decreases 300 points to $48, and again you make $300 (300 points x $1).
Where that'd get interesting is if you bet $5 per point or $10 etc.
IF Ebay dropped to $41 and you had a $5 per point bet, you'd make $5,000.
The important thing to be careful of with both shorting and spread betting is that your risk exposure is unlimited. If you were wrong, and the share doubled in value, you'd not just lose money – you'd owe a lot of money.
There are other really exotic options… but that's probably a bit OTT for this."
Diggy of ViperChill fame 😉

"I would suggest using options since this limits the downside risk to whatever you are prepared to lose. If you short the stock with a leveraged account you stand the chance to lose far more than you are comfortable with.
Options also allow you to chose your risk since you have a huge variety of variables you can "bet" on, with time and price action."
Lyndon Antcliff from Lyndon Antcliff

"The best way to take advantage of something like that occurring is to trade options. Sell calls in Ebay, that way if it all goes wrong you can wait out the time expiration and only lose the cost of the option.
If you sell futures in Ebay, you have to set a solid stop at a size that you can afford to lose and which the volatility of the price action dictates."
Brandon Doyle from Wallaroo Media

"If you come across a company that's doing spammy SEO and is highly reliant on Google for their web traffic, you might have an opportunity on your hands. (DISCLAIMER: I am not a licensed broker and I am not advising you to do this.) The process would be to trade their company stock in a way that will profit from a downfall. An easy but effective way to do this is to buy a "put option".
This type of trade gives you to the right (but not the obligation), to sell the company stock asset, at a specified price, on or before a predetermined date. Short selling is another way to profit from a downturn. Good luck!"
Miguel Magalhaes via LinkedIn

"There are a few options you can take here.
I) short-sell. This means you are selling the stock first and buying it later and your profit will be calculated the other way around. So imagine I invest $1,000 in short selling Apple today at the above cost (99.80$) and it goes down to 95$ and I close the short sell. It means I sold it for 99.8 and bought it for 95. It's a profit. But if it goes up and I want to close the short sell then I have a loss.
There are some problems with short selling:
a) you can lose infinitely. If you buy 100$ of a stock the worst can happen is that it goes to 0 and you lost 100$. But is you short sell and the bitch starts growing a lot that you can lose loads of money. Imagine that it goes to 1000$ – you would have to buy it at 1000$ when you sold it for 100$ in the beginning, so you lost 900$.
b) when you short sell you are not using your money, you are getting a loan from the bank because you are selling something that never belonged to you. So it means that you will be paying interest to the bank during the time you have your short sell active.
c) The bank can put limits to how much it lets the stock go up and force you to close the short. Sometimes you know that a stock will eventually go down but due to "market emotion" it will still go up for a while but you reach the limits from your bank (they need to over their asses) in terms of their trust in you to pay back in case things go south.
II) Put Options
Investopedia explain this very well so I recommend you read what they have to say."
Miguel shared other insights on trading that were very interesting but weren't totally relevant to the post. I'm happy to email them to anyone interested.
A huge thanks goes out to Miguel and all of the other contributors here!
Depending on the reaction here this may very well be my last blog post for quite some time so I hope you got a lot out of it and found it interesting. If you did enjoy it or have any type of feedback please do leave a comment.
Thank you, as always, for reading!
Written by
Glen Allsopp
, the founder of Detailed. You may know me as 'ViperChill' if you've been in internet marketing for a while. Detailed is a small bootstrapped team behind the Detailed SEO Extension for Chrome & Firefox (170,000 weekly users), trying to share some of the best SEO insights on the internet. Clicking the heart tells us what you enjoy reading. Social sharing is appreciated (and always noticed). You can also follow me on
Twitter
and
LinkedIn
.