I recently analyzed 250,000 English-language search results, primarily to answer a specific question: Do sites owned by large media companies attain more first-place rankings than independent webmasters?
And if so, just how dominant are they?
After weeks of full-time work I have the answers I was looking for, and initially they were more surprising than I imagined.
I say this as someone who has written extensively about how media companies have taken over product review search results, the 16 companies behind 500 sites Google sends 3Bn+ monthly clicks and even started keeping tabs on them in quarterly reports.
These numbers were not what I was expecting.
Here's the Biggest Data Point I Was Looking For
I respect your time so let's get straight to the point: When a content-focused site ranked first across 186,444 Google search results, 86.1% of the time it was owned by a large media brand. A "digital goliath".
Digital goliath is the phrase I used to describe some of the most influential brands on the web, such as Hearst which are behind Car and Driver, Cosmopolitan, Elle, Esquire, Harpers Bazaar and dozens more names you likely recognize.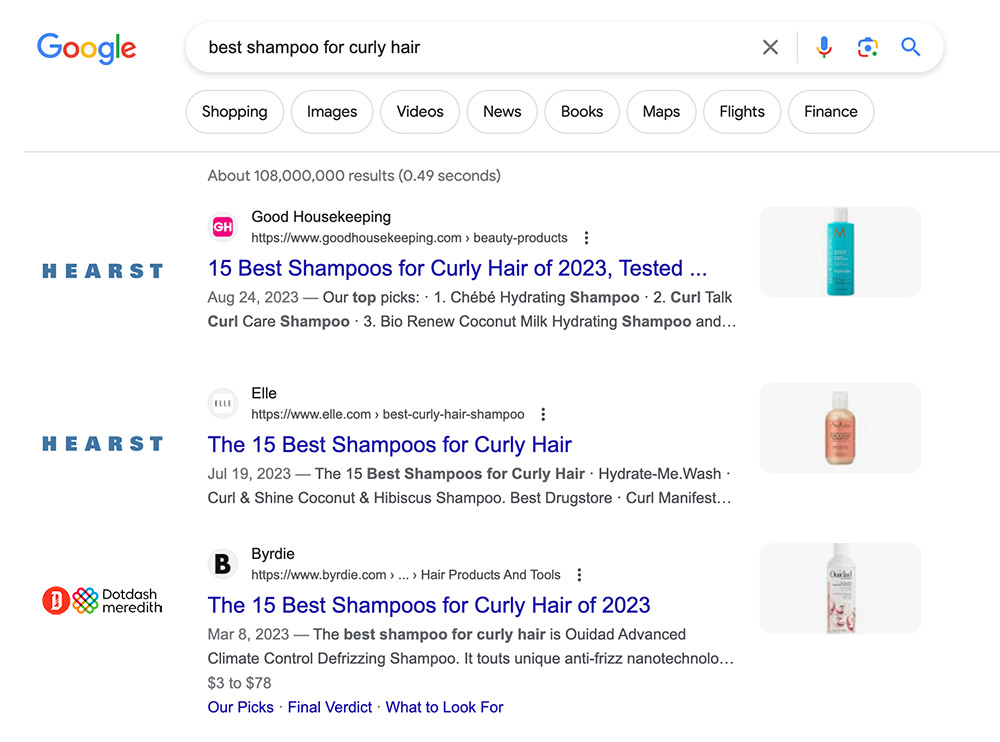 Independent site owners attained just 13.9% of first-place rankings, even though more independent sites were found in our data than those owned by media companies.
There are a lot of caveats I have to explain about that number, such as why 250,000 search results became 186,444, so don't abandon me just yet, but that's a good executive summary.
That Data Point Is Admittedly Not Perfect, But It's A Great Baseline
My plan was simple: I'll analyze the first ten organic listings in 250,000 search results, check the sites against our private database of those owned by media brands, then categorize the rest.
(As I wrote about in Q1 last month, we currently track around 2,949 sites owned by media companies. I say around because this number changes daily — digital goliaths are remarkably active, which is how Detailed Q came to be).
There was just one problem with my original thesis, and that was how many different websites rank on the first page of 250,000 search results.
Out of a possible (but very unrealistic) two and a half million different sites – 250,000 search results x 10 unique websites in every single one – we found 173,678 domains ranking in total.
I should note that this count includes subdomains (so usatoday.com and reviewed.usatoday.com counts as two sites), but they were rare.
I didn't expect the number of domains to be higher than the number of queries since they haven't been in prior reports, but this was far too many sites for us to categorize.
Spending just one minute working out the owner for each would take 118 days.
Realizing this, I decided to instead categorize the top 5,000 domains ranked by how many search results they were present in. This still covered a considerable portion of our research, as these 5,000 sites took first-place rankings for 186,444 individual queries (or, 74.5% of them).
Another way to look at this is that the top 2.8% of all ranking domains took ¾ of the #1 rankings.
Around 1,100 sites were already in our database, leaving us with ~3,900 sites to manually categorize. Some sites took a lot of research to work out their ownership, which is where the literal weeks of work come in.
I'll reveal some other insights from this data I think you'll find interesting, but I should first share what I was looking for.
The 250,000 Keywords We Analyzed
For this research, we primarily tried to find search queries where blogs and content-focused sites were more likely to rank.
Sites like TechRadar, MacRumors, Elle, Gear Patrol, The Verge, Tom's Guide, IGN and so on.
We weren't trying to analyze the rankings of eCommerce stores or SaaS companies, so our analysis included words and phrases like:
Where do
How should
Who is
Review
How much
The best
When is
Recommended
Where was
More specifically, we took hundreds of content sites in dozens of different niches – both independent and owned by media companies – and looked at their top-ranking keywords in Ahrefs.
We extracted only those that received 500-5,000 monthly searches in the US, were at least three words in length (making them more likely to be an informational search) and removed as many brand names as possible (Amazon, The Verge, Walmart, etc) that might skew results.
To filter the list even further, we ran them against a database of words we didn't want to check (many of which hinted at adult & illegal content) and removed all duplicates.
This filtering took our initial ~400,000 keywords down to 326,218.
Because I wanted a "cleaner" number to run this first analysis on (slightly ironic since it ended up being cut down), we decided to check 250,000 of them for this study.
The Top 20 Domains Overall
To rank websites, we came up with a straightforward points system. We assigned ten points if a site ranked first on a search result. For second place, we gave nine points; for third place, eight points… down to receiving one point for ranking 10th.
This means you could be present in more search results than another brand but rank lower than them overall if most of your rankings are further down search results. This only happened a few times amongst the top 100 sites, where Forbes for example ranked in 200 more search results than Healthline, but Healthline scored more points because they attained 2,000 more top-3 results.
Keep in mind that not every search result has ten organic listings on the first page. Also, if a featured snippet was present, we counted that as the first organic result.
The top 20 domains overall were:
Byrdie – 38,700 total points
Reddit – 42,520 total points
Good Housekeeping – 43,043 total points
IMDB – 44,081 total points
ESPN – 44,310 total points
Nerdwallet – 45,132 total points
Indeed – 46,076 total points
Walmart – 46,685 total points
WebMD – 48,796 total points
MedicalNewsToday – 49,538 total points
People – 53,688 total points
Facebook – 53,832 total points
The New York Times – 53,966 total points
Instagram – 54,343 total points
Forbes – 82,001 total points
Healthline – 94,307 total points
Pinterest – 97,820 total points
Amazon – 149,652 total points
Wikipedia.org – 198,029 total points
YouTube – 276,829 total points
I don't think there are any major surprises here, except perhaps Byrdie making it into the top 20 overall. They were closely followed by Wikihow, Cnet, Target, TikTok & Cosmopolitan.
I should add that if we didn't count subdomains separately, Fandom would be in these top 20 results overall.
The Top 20 Content-First Sites in 250,000 Search Results
Looking just at sites we categorized as content-first, no matter their owner, the top 20 were:
Men's Health (Hearst)
Sportskeeda (Nazara Technologies)
Marketwatch (News Corp)
Yahoo Finance (Yahoo)
CNN (Warner Bros Discovery)
CNBC (NBCUniversal)
Business Insider (Axel Springer)
Investopedia (Dotdash Meredith)
Cosmopolitan (Hearst)
Cnet (Red Ventures)
Byrdie (Dotdash Meredith)
Good Housekeeping (Hearst)
ESPN (The Walt Disney Company / Hearst)
Nerdwallet (Nerdwallet)
WebMD (Internet Brands)
Medical News Today (Red Ventures)
People (Dotdash Meredith)
The New York Times (The New York Times Company)
Forbes.com (Integrated Whale Media)
Healthline.com (Red Ventures)
As you can see, at least by our definitions, none of the content-first sites with the most points are owned by an independent webmaster.
There may be a couple of sites people question here, so I wanted to be open about them. Some might view Nerdwallet as independent since it was started by an individual and not previously part of some publishing conglomerate.
Because they have shareholders and are a public company, I can't personally view them as an independent site. I cover this more in our supplemental Google Doc, but by independent I'm referring to sites like Mac Rumors, Expert Photography and The Art of Manliness (these are just examples and weren't necessarily part of our research).
They can be behind multiple sites and have teams of people working for them, but they're not owned by some titan that has been around for decades like NBC, Condé Nast, News Corp and so on.
Similarly, defining a content site was very challenging at times. Some have multiple focuses on their homepage and aren't the exact definition of a blog which means a report like this can never be perfect. 95% of sites were easy to define and I think anyone would agree with me, while the rest could go either way.
Based on how we define independent sites, we have to go to the 75th domain overall, or the 49th content-first site, to find our first one.
That site was MindBodyGreen.com.

From everything I can tell, it was founded by, and still run by, a husband and wife team.
I generally don't like to talk about independent sites doing well so I won't cover all the terms they're ranking for, but they've given a testimonial on the website of an SEO agency so I feel it's fine to mention them here in an SEO context.
Media Companies Dominating Independent Websites in Google Mostly Has a Logical Explanation (?)
I've covered digital goliaths in multiple reports so expected them to be doing well, but not 86%-of-first-place-rankings well.
At first I thought people building content sites would find these numbers demotivating but after checking some more stats, there's likely an obvious explanation.
If we take those top 20 content-first sites from media brands and use Ahrefs to estimate how much content they've produced, the average came out to 549,279 pages each.
That's eight times more than the top 20 independently-owned content sites, which had an average of 66,540 pages of content each.
If you produce more content, then you can rank for more keywords.
There were far more search results where sites owned by media brands ranked without any independent sites alongside them, compared to independent sites ranking without any media brands present.
The smallest site owned by a media goliath was Byrdie with 12,993 pages, whereas the smallest independent content site in the top 20 had just 530 pages.
They have an impressive pages-to-traffic ratio: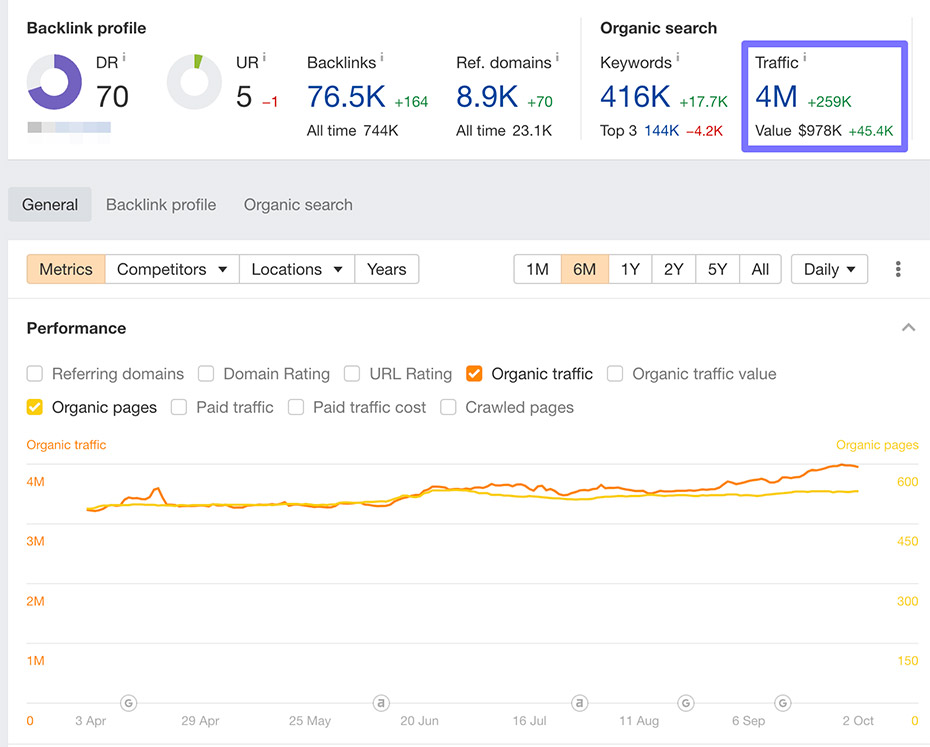 That can't be the only reason, of course. There are other explanations that likely work together.
Many media companies that thrive online started out publishing newspapers, magazines and TV shows long before the internet existed, meaning they already had a lot of brand value and recognition that independent site owners must build up from scratch.
The longer you've been around and the more trust people have in a brand name they recognize, the easier acquiring links tends to be. Most media brands also aren't shy about linking their sites together or launching sites in new industries and pointing their entire networked audience there.
When you're already financially successful (in part, thanks to ranking well), you can invest more into design, PR and expert authors and help cement your position. Being able to acquire your competitors doesn't hurt either.
I don't think for a second they get special attention from Google in terms of "Oh, this is a Dotdash Meredith website so it should rank well", but they definitely help push the metrics that appear to matter in their own favour.
Their sites get some questionable rankings at times, like TIME outsourcing the content on new sections of their website and quickly reaching millions of new visitors. Still, I think that's more about the domain's authority than who owns it.
7 Additional Insights From Weeks of Going Through This Data
We've covered the main data point that I cared about, but there's still more to the story.

I'm Still Surprised How Many "Offline" Brands Own Large Content Sites
For over a year I've been keeping track of household names you wouldn't typically associate with operating blogs on sites outside of their brand domains.
Entries on my list include the Runtastic blog, a resource from Adidas covering bodyweight exercises and cheat meal recommendations, and Hair.com, run by multi-billion-dollar L'Oreal that covers topics like "the best conditioners for dry hair in 2023".
After categorising the ownership of thousands of websites, we came across more large brands that followed suit.
For instance, have you heard of Sanpellegrino or Acqua Panna? The names might not jump out at you, but you've probably seen their drinks on restaurant menus or supermarket shelves.
They own an "online magazine for Foodies", FineDiningLovers.com.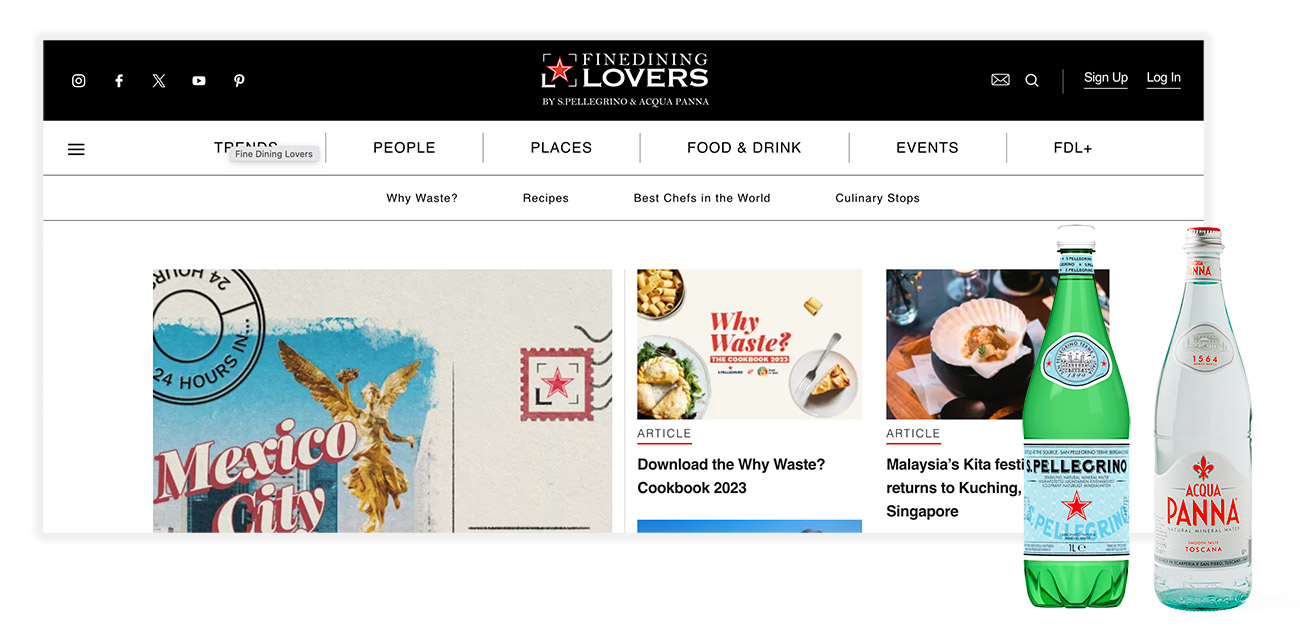 Maybe I'm weird, but I thought that was pretty interesting.
I have more than a dozen examples like this from brands you would recognise. If you're interested, please let me know on Twitter and I'll happily turn it into a mini report.
Note: When we noticed a household name behind a site, it was marked as 'Large Brand' rather than being tracked as a Media Goliath or Independent site.

How Many Independent Sites Were Present in the Top 5,000, 500 and 100 Domains
It would be so easy to say, "Of course digital goliaths took more first-place rankings; they probably owned more the sites than independent webmasters", but that isn't what we saw.
Out of the top 5,000 domains overall, of which 2,537 were classified as "content-focused" (blogs, news sites, product review sites, etc.), more than half were owned by independent webmasters.
1,166 (45.9%) were tagged as owned by media goliaths, and 1,371 (54.1%) were tagged as owned by individuals or small teams.
Despite having more sites in the running to rank well, independent sites took just 13.9% of first-place rankings.
Of the top 500 domains, 49 were independent content sites, while 287 were owned by media companies.
Other categories included Social Media (Facebook, Pinterest, YouTube, etc.), eCommerce stores (Amazon, Walmart, Target) and Government websites. You can learn more about our categorization in the supplemental Google Doc.
Of the top 100 websites overall, only a single one was an independent content site, while 69 were owned by media companies.
That independent site was the previously covered MindBodyGreen.

Digital Goliaths Still Tend to Prefer Big, Broad Industries, But That's Not the Only Reason Lots of Niches are Still Up for Grabs
Digital goliaths primarily operate sites covering broad niches with a huge online audience.
Beauty rather than business name ideas.
Travel rather than turntable reviews.
Sports rather than sewing.
Politics rather than pickleball.
They cover those topics with articles, but very rarely dedicate websites to them.
If Google seems to reward niche-specific sites, then independent webmasters are more likely to rank well.
Around 1.7% of queries, or 3,226 of them, saw independent sites ranking without a media brand also present in the same search results.
I say around, rather than giving an exact number, as I came up with the idea for this stat at the last minute and the full-data will not be ready until next week. I would rather be honest here but I will come back and update it.
Initial numbers show topics where independent sites ranked without media companies in the mix include the likes of:
Specific types of photography
Geography (e.g. information on mountains, lakes, rivers)
Technology troubleshooting
Animal resources outside of the obvious (e.g. crocodiles rather than cats)
I understand these might not be the most interesting topics to cover, but that's the reality of what I saw.
Big, broad niches are truly being dominated. Let's take gaming for example, where I could literally show you 100 sites that media companies are behind.
Here's some of them: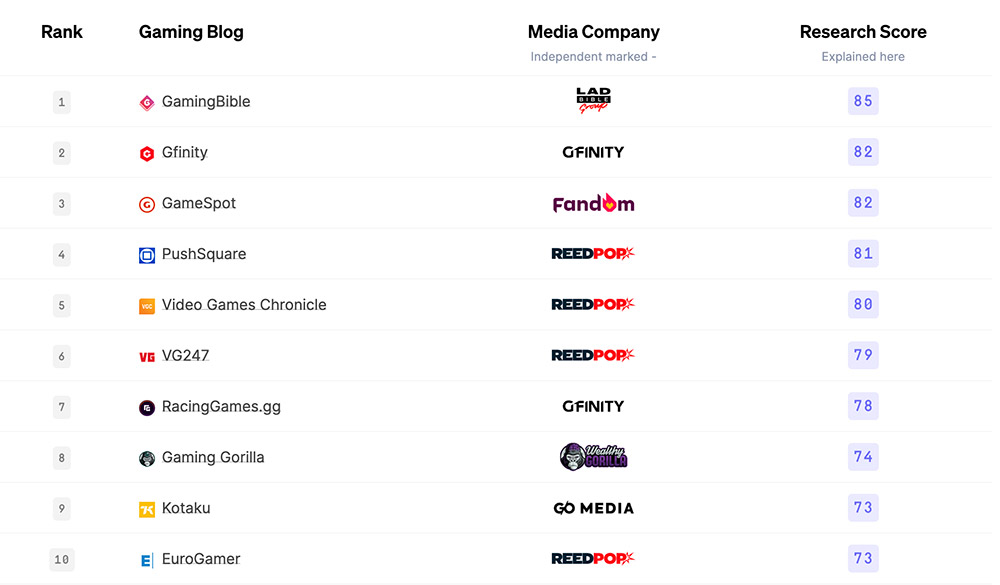 This won't be a popular comment but a lot of the independent content sites ranking well really surprised me. Many of them really look "made for SEO", have little to no brand personality and don't appear to be authored by experts in their space.
I'm not obsessed with the concept of E-E-A-T, but most I checked had obvious things I would improve if I suddenly became the owner of them today.
It was quite common to see questionable sites congregate around the same industries that honestly look ripe for the taking. I'm curious how many more of these will show up when we do a bigger analysis (a million keywords?) next time.

Service and Software Providers Acquired More #1 Rankings Than Independent Site Owners
I deliberated whether to cover this because I don't want people to come to the wrong conclusions and our categorization should be more granular in the future.
Websites whose homepage was primarily focused on offering a service, tool or downloadable software attained more number-one rankings than content-focused sites owned by independent webmasters.
For example, let's say you own a landscaping business in Colorado. Your homepage is all about your team and the services you offer, and you have dedicated pages on each small town your business operates in.
Additionally, you have a blog that covers location-agnostic advice, such as the best seeds for lawns that will survive all seasons. Lots of service-fronted websites ranked well in this analysis.
Services didn't always involve physical labour, such as those offering consultants to talk about your mental health, improving your athletic performance or what's in store for you this month based on your star sign.
As another example, tool or software-focused websites with content areas also ranked well, such as those fronted by a Pomodoro timer, a Word to PDF converter or popular anti-virus software.
These kinds of tools can pick up a ton of links.
The web-based Pomodoro timer I use the most, which happens to have some incredible backlinks, was acquired by Toptal last year and redirected to their site. If Toptal just wanted the technology I'm sure they could have replicated it within a day.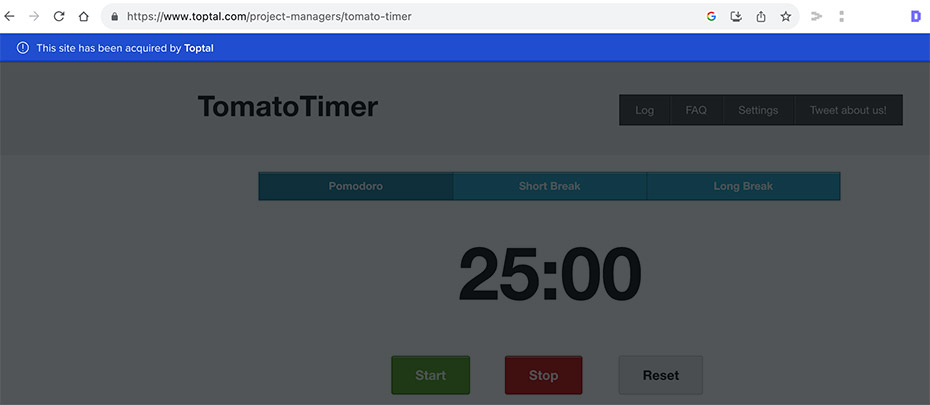 I'm not saying Toptal are doing anything shady here – it picked up a lot of search traffic on its own, is close enough to their niche and is a commonplace tactic these days – but rather reiterating that tools can be absolute link magnets.
Niche-specific tools and software, especially those that have picked up a lot of links from authoritative websites, can unsurprisingly rank for additional content they place past their homepage. I saw a lot of it happening.
With that said, please don't view this as me saying your blog or product-review site should be fronted by software or a service. For each one doing well there are probably ten that nobody uses or notices.
I never considered this would be so prominent when I started, so for the next version of this report we'll define tools or services into much more specific categories rather than grouping different types together.

Governments Are Involved in More Sites Than You Might Expect
Sites we associated with government agencies achieved 3,257 first-place rankings in our study.
There are some obvious examples, like the UK's National Health Service (NHS) ranking well for health-related queries, but some you might not think about.
For example, as far as I can tell, the website VisitLasVegas.com is supported by Nevada Council in the United States. They actually run a number of websites such as VisitBoulder and VisitMesquite.
Their Las Vegas site ranks for some great terms I know travel bloggers would love to show up for: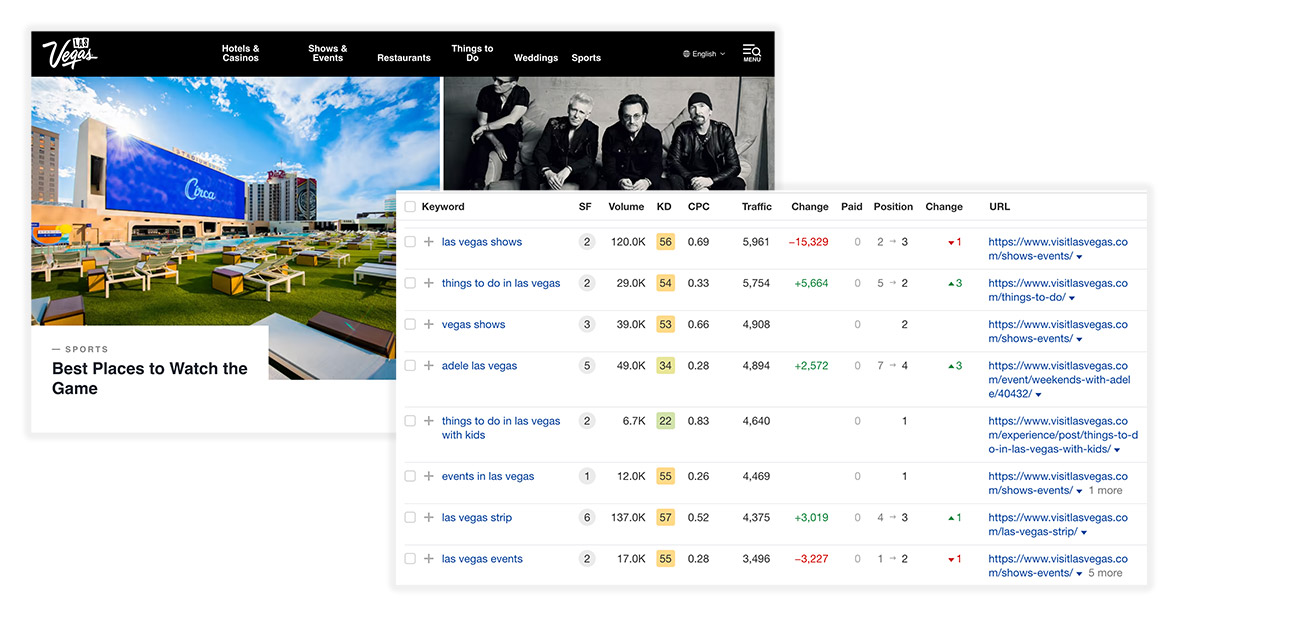 Note: I'm only showing an example of the keywords they rank for because I believe this is a government organised / funded website. I don't share details of independent sites, and will remove this if I'm wrong.
You already know governments run campaigns to promote tourism, but they also get involved in other areas you might not think about too much.
If it can help a country's citizens in any way (boost tourism, receive mental health advice, get information on furthering education) then don't be surprised to see governments involved in sites that cover these topics.

Media Brands & Independently-Owned Sites Are Just As Reliant on Search Traffic
That is, if Similarweb numbers are to be believed.
I had a theory that independently-owned sites would be more reliant on search traffic than media brands as the latter typically has more funds for paid marketing and more interest in growing their Instagram audience, Facebook following and YouTube subscribers.
I took the top 100 sites as part of media companies and top 100 independent sites and ran them all through Similarweb to get estimates on how much of their audience is made up of search traffic.
Media companies averaged 67.6% of their traffic from organic search, and independent sites averaged 67.2% of their traffic from organic search.
Literally a .4% difference.
Our sample size is too small to say my theory has been busted (and Similarweb isn't perfect), but it certainly points that way.

77 of the Top 100 Independent Sites Have Multiple Authors Writing Their Recent Posts
Out of the top 100 independent sites overall, seven of them either had no author information whatsoever or simply referenced the author of every single article as 'Team' or similar.
Just 15 of the top 100 independent sites had a single author present across their site. They may have accepted guest authors sporadically, but the vast majority of content on the sites had a single author assigned to them.
I honestly thought this number would be higher.
As the headline states, 77 of the top sites clearly had multiple people author their latest articles linked to from their homepage.

Keep in mind there is some bias here towards how we ranked sites. Those with multiple authors are more likely to produce more content and thus show up for more keywords, but I still thought this was interesting.
I Spent Weeks of Full-Time Work on This For Another Big Reason (And I Plan for You to Benefit From This, Too)
As someone with sites, clients and students reliant on SEO, I want to know exactly what impact AI and Google updates have on businesses that make millions each month thanks to ranking in Google.
I've been documenting the companies dominating Google for seven years now, but when ChatGPT launched at the end of 2022 and new search experiences in Google and Bing were hinted at, I decided to take my tracking a lot more seriously.
Thanks to the work involved in this report, I found two dozen new companies to keep an eye on – a few of which are publicly listed, meaning they reveal their finances and often comment on how their sites are performing.
(I already track over 200, so to find even more was a really nice surprise).
Not all network owners are those I define as digital goliaths. One good example I came across are Quillit, who own some impressive domains including Seasons.com and Suggest.com.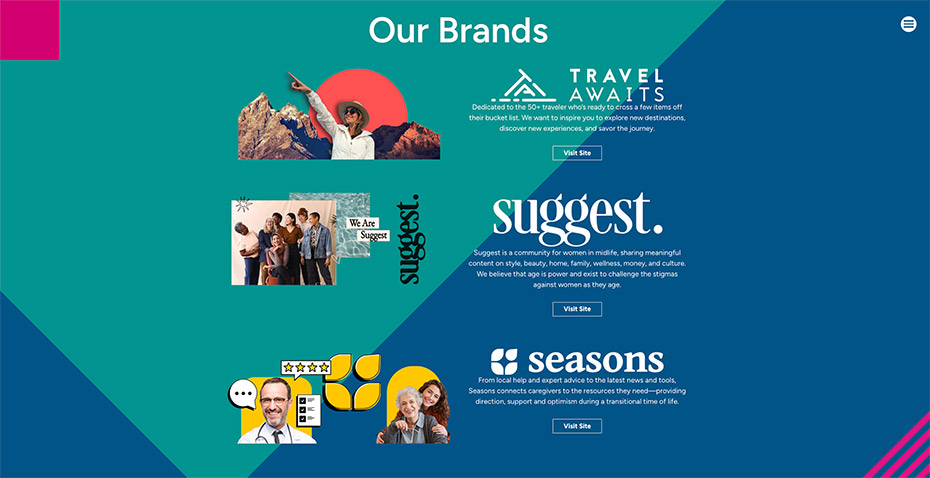 Most companies I track are media brands behind content sites, but I'm also interested in digital-first companies on the stock market behind SaaS companies and eCommerce stores.
I use this database to track what they do with existing sites. What niches they get into next. The acquisitions they're making. Whether their revenue is growing. Whether Google is sending them more traffic than ever, or they're having to rely on other traffic sources to maintain their reach.
For the first time I started documenting their updates in a quarterly report, trying to be respectful in the process, and based on the reaction people are finding a lot of value in them.

(These numbers are for the past nine months when I started using cookie-less analytics. Q1 is only a month old, so I expect it will catch up.)
I'm already working on Q2, which I can confidently say will have even more insights. As per Q1, it will be 100% free and I plan to keep them that way.
Please enter your email at the bottom of this page if you don't want to miss it.
Lastly, we have precedence that this 250,000 search result analysis will get much better.
250,000 search results sounds like a lot, but in reality I should be checking more like a million (and even that, admittedly, is small) and categorizing at least 10,000 domains. Especially to live up to my 'State of Content SERPs' headline.
I plan to re-run the numbers every core Google algorithm update at a minimum to see if there are noticeable patterns about what changed and who Google rewards more.
There's precedence here at Detailed that we can start with something somewhat interesting and make it much better.
Our article analyzing who ranks across 10,000 affiliate-populated search results started as a report where we only tracked 1,000, then we improved it from there.
There are many ways to take this research, but I need a starting point to see what people think of it and get feedback to make this more useful for everyone.
I sincerely appreciate you reading, and I hope you found this valuable.
P.S. Can I Recommend Something for the Second Time in Two Years? (Doors Close This Week)
I've been writing about SEO for 17 years now — more than half of my life.
For most of that time I've been working with clients, starting with $300/m jobs while living with roommates (who I coincidentally called Mam and Dad), then working at an agency until I was 21, to working for myself full-time for a decade now and getting to pick and choose the projects I work on.
I'm fortunate to get to work with some of the most interesting digital brands on the planet like Ahrefs, Buffer and ConvertKit, and just last month worked with a 9-figure/yr eCommerce brand to help take their search traffic to the next level.
When you've worked in (and written about) one space for so long, it's hard not to come up with different ways to do things that aren't common knowledge.
In SEO that means new ways to identify on-site issues, new angles to pick up quality links and new approaches for keyword research, among other things. To be clear, I'm not saying I find these things because I'm smart, but rather they're simply a byproduct of spending years trying to improve my own results and those of clients.
The downside to consulting and client work is that I generally only get to help companies one at a time, meaning my advice doesn't scale very well.
In 2019, after years of privately documenting angles I hadn't seen anyone else discuss, I spent a few months packaging them together into a premium training program, then a few thousand dollars on the domain SEOBlueprint.com to host it all.
I didn't want to create just another SEO course, but wanted to obsess over every detail like I try to do in these reports.
I wanted to create something so good that our members would be happy to share it with others: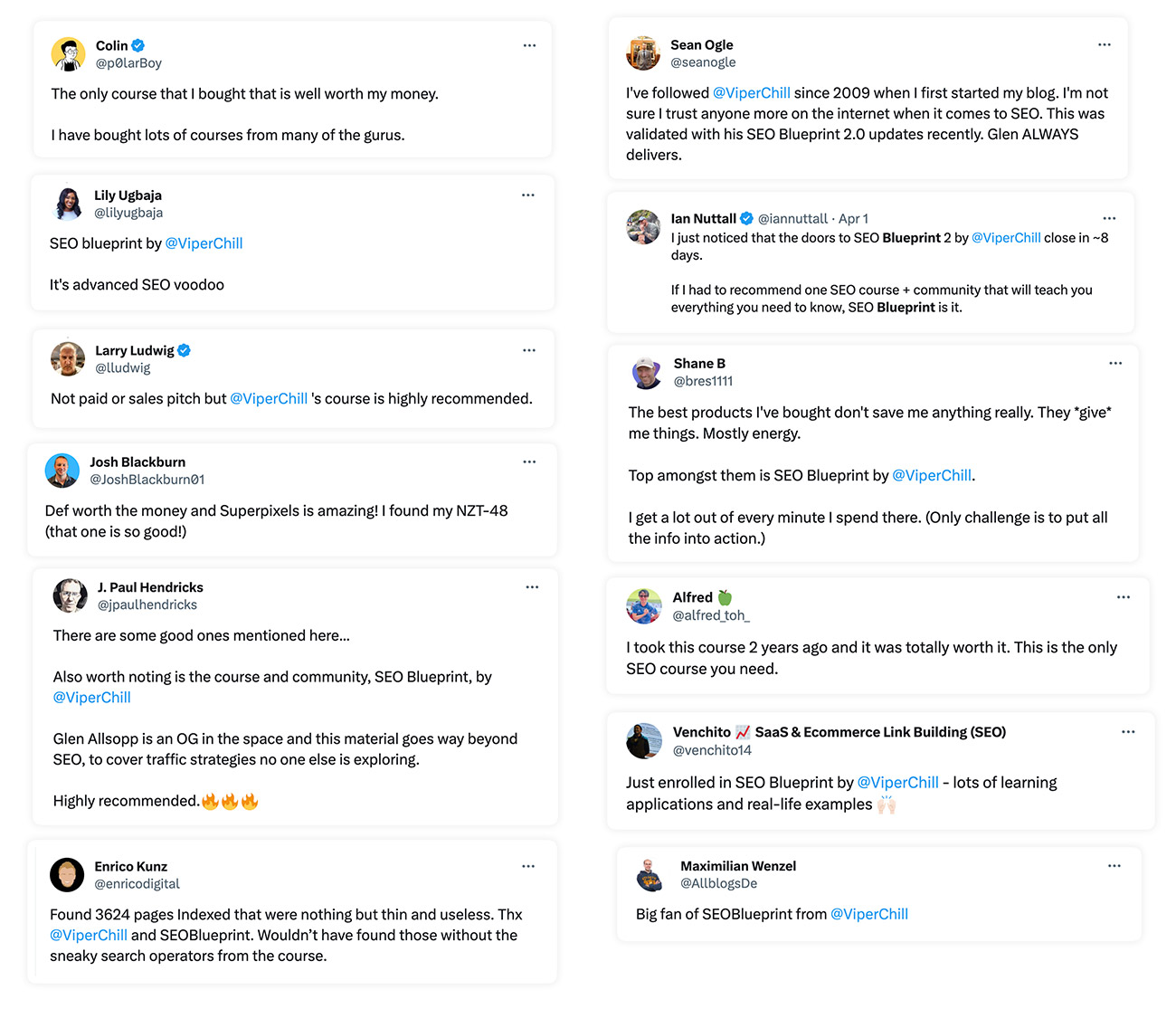 Four years later, we have countless thank you emails and success stories, and our updates are more active than ever.
Here's our changelog (January was spent redesigning this site, and June was a huge client project):

Full disclosure: This also contains other SEO-related research, but we specifically built it to track course updates.
Members have built links from the biggest authority sites on the planet, grown by millions of clicks from Google and recovered significant declines in their traffic numbers.
If SEO Blueprint is not for you, that's totally fine. I only open the doors for a couple of weeks each year so our upcoming reports won't have a P.S. like this one.
I don't have ads or affiliate links here on Detailed, and you'll find it hard to find out how to work with me privately. SEO Blueprint is the only thing I share and I want to make it incredible, but I also understand people like to figure things out on their own or have other courses they want to get through first, and so on.
Otherwise, if you want step-by-step advice that has been followed by some of the biggest brands on the web, with at least a dozen unique insights I haven't seen shared elsewhere, then this might be the program for you.
As a personal promise, you will never see it discounted, and we won't open the doors again this year.
That marks the end of wanting to tell the world about something you're really proud of while also trying not to be overly promotional.
Thanks for letting me share it.
– Big G
(As my daughter likes to call me if saying Daddy doesn't get an immediate response)
Written by
Glen Allsopp
, the founder of Detailed. You may know me as 'ViperChill' if you've been in internet marketing for a while. Detailed is a small bootstrapped team behind the Detailed SEO Extension for Chrome & Firefox (200,000 weekly users), trying to share some of the best SEO insights on the internet. Clicking the heart tells us what you enjoy reading. Social sharing is appreciated (and always noticed). You can also follow me on
Twitter
and
LinkedIn
.