Welcome to Detailed Q: A brand new report where I share insights from the companies dominating search results and what they're doing to stay ahead of the competition.
SEO is going through the most significant shift I've seen in my career thanks to AI, and as someone with sites, clients and students reliant on search traffic, it's crucial for me to know what's working, whose thriving and how Google changes impact different industries.
Over the past 12 months I've built a private database which currently tracks the traffic, rankings and public updates of 441 brands behind 2,948 sites. Most of the brands are media companies publishing articles in every niche you can imagine, with eCommerce stores, SaaS providers and digital-first companies on the stock market making up the rest.
I've written multiple reports on how just a few brands control a large percentage of Google's search results but so much happens between my updates that something actionable now might not be by the time I get around to mentioning it. I created Q to solve that.
Q1 – named after the first quarter I'm covering – is my take on how to keep you informed on what the biggest players in this space are doing, as they're doing it. I would love this to become a regular quarterly report, but I won't go all-in on the idea until I know if you find it valuable and insightful, so please do let me know after reading.
Update: This is already starting to get a much bigger reaction than I could have expected.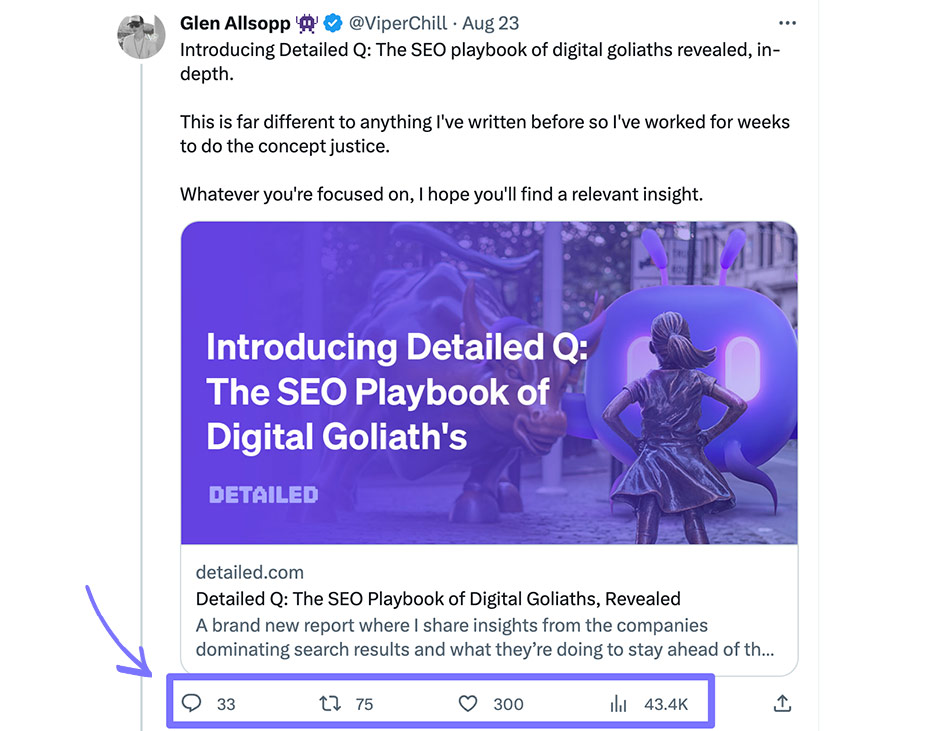 I sincerely appreciate everyone who has talked about and shared this around the web. I guess Q2 is on the cards!
A Note on 'Outing' Before I Share 44 Insights from the Last Quarter
Most of what I'm about to share is thanks to tracking updates from the companies in question directly. There are some really interesting things that companies announce that are typically buried between not-so-interesting updates. I'm simply bringing them to the forefront.
My barometer for what's fair to cover and what isn't is whether revealing something would annoy the founder of, or SEO working on, that project. If I think they wouldn't like it, you won't see it below.
More specifically, I won't:
Reveal anything I believe to be 'secret' about their business
Out them for doing anything shady / against Google's guidelines
Do a deep dive into the keywords they're ranking for
Publicly analyse their link-building strategy
I also won't comment on any case where it looks like their website as a whole is losing traffic unless the company themselves are open about it.
If I'm reporting on a company that's seemingly losing significant search traffic I have the potential to hurt their stock, make their employees worried or perhaps impact something else like a sale they might be working on. All of these things are bad. They're even worse if the third-party data I'm using isn't close to accurate.
If there's a type of update I'm sharing for the first time, I might check in with a few people involved to see if they're OK with me covering it. I did that for this report.

The closest I get to crossing the line of my own moral compass is when I discuss redirects, but even those are not exactly 'hidden' and generally done honestly.
A media company discussed below recently redirected one of their most popular websites and seemingly didn't tell anyone. I think it's fair to talk about as others will notice, it's not "gaming Google" and they're a publicly-listed company.
Just to summarise: I'm not the Google police so won't share anything that might hurt a company, even if I see a lot of shady stuff going on. I might share traffic screenshots but never the keywords a site is ranking for, and the majority of updates here are things the companies themselves have announced. Anything I believe people involved would dislike being shared, isn't shared.
While I should not base my own actions on those of others, the biggest brands in SEO regularly go into far more detail than I have done here, so I think you'll find these updates respectful. I'm always open to reevaluating how I cover things, but that's a good gist of where my head is at.
Let's get going…
Time.com Announced Two New Areas of Their Website in May (And They're Already Starting to Dominate Search Results)
A May 2023 press release saw Time.com announce two new website areas under one moniker: TIME Stamped.
The first area covers personal finance, hosted at /personal-finance/, and offers recommendations for credit cards, insurance, savings accounts and more.
Here's how it looks:

Looking at this area of their website in Ahrefs, it certainly appears to be taking off quickly.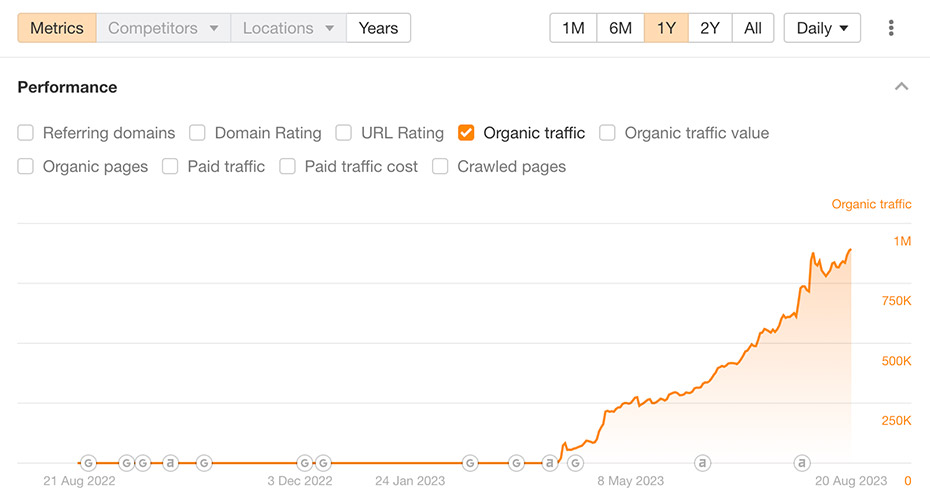 I'm not going to dive into their keywords to be respectful, but they're already ranking for some impressive terms on pages that have few to no decent links pointing at them.
The second new area of their website follows a familiar trend: TIME is now in the product reviews game.
Like The New York Times, the Wall Street Journal and The Independent, TIME now offers advice on the best smartwatches, inflatable pools and luggage brands for 2023.
Here's an example of some of their headlines:

As you might have guessed or I wouldn't be covering it, this section of their website is also ranking very well, very quickly.
As I wrote about when this went live, in some cases they appear to do rigorous testing and actually own the products they're recommending, but in others cases I'm not convinced.
If they have unique insights on (and original photos of) the products they're recommending then they're not showing them.
That's not a slight on TIME as it's common across the larger web — I just know this is a hot topic when it comes to whether certain reviews "deserve" to be ranking.
Before I move on, there's one more twist in this story: TIME's writers aren't producing the content on either of these new sections, as they actually partnered with ad network Taboola to handle the updates.
The situation is not too dissimilar to the relationship between Pillar4 Media and Sports Illustrated, where one produces product-review content for the other.
Digital Goliath Valnet Added Another Content Site to their Portfolio: How to Geek, With 1M+ Daily Visitors
If the name Valnet sounds familiar but you're not entirely sure why, it may be because they were one of the 16 companies analysed in my 'brands dominating Google' report.
In July they announced the acquisition of How-To Geek, where you'll find news, reviews and how-to's on anything tech-related, such as 'How to Find Archived Emails in Gmail'.
I was very surprised to see Valnet mention How-to Geek has been averaging "a steady daily readership of over 1 million strong over the last several years". Similarweb doesn't back that up, but the number is still impressive at an estimated 15 million monthly visits. It's also possible they were including social media reach, but that rarely remains steady.
A few other stats from the acquisition announcement include:
Over 20,000 articles on the site
More than 60% of traffic is desktop
The site was launched in 2007
What I didn't mention in the post announcing it (because it hadn't happened yet) is that Valnet have already given the site a redesign.
Here's how it originally looked: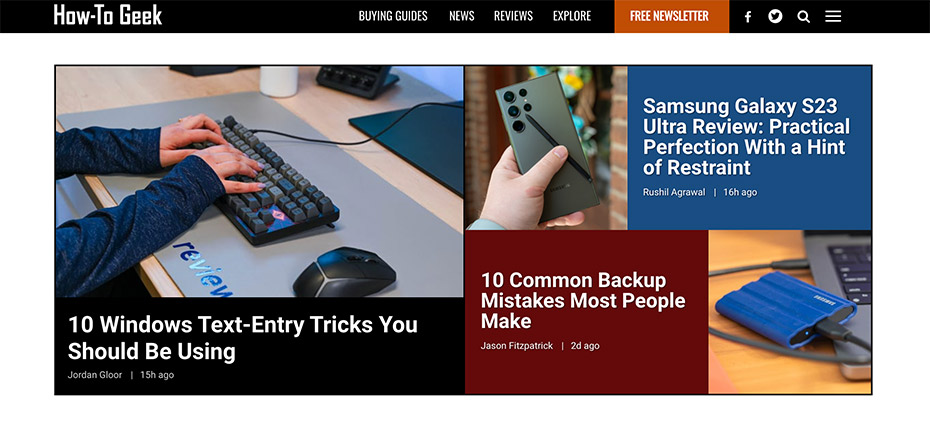 And here's how it looks now: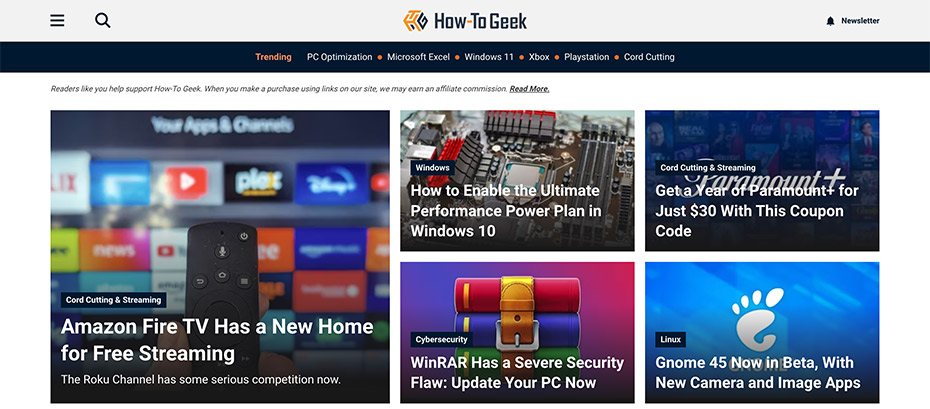 Design is a very personal thing but it looks a lot cleaner to me.
Something that wasn't announced by Valnet is that the acquisition also came with the domain ReviewGeek.com which was a separate site but they've already redirected it.

This Two-Page Website Now Gets Most of its 260K Monthly Pageviews from Google
Hassan El Mghari shared on Twitter that his two-page website (!) Restore Photos is averaging 260,000 visits each month, with "most of the traffic coming from Google."
Restore Photos uses AI to enhance old or blurry face photos and claims to have had over 300,000 users. Hassan also shared a screenshot of his analytics: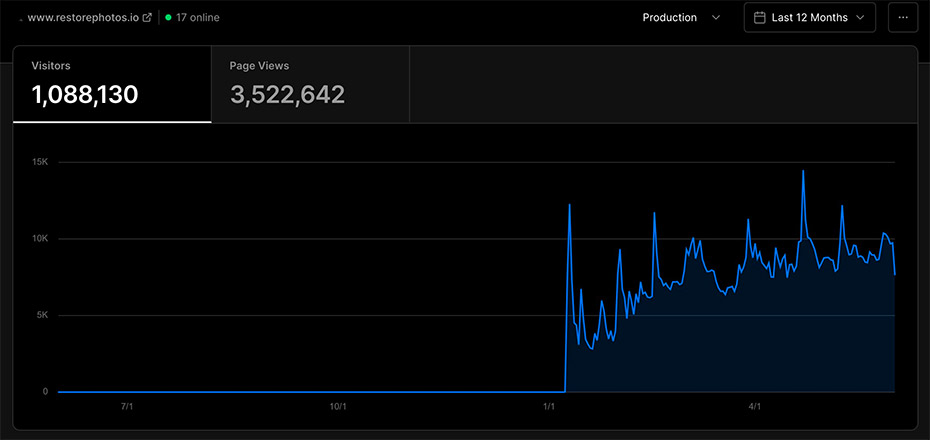 It was clearly an intelligent decision by Hassan to brand the site around a phrase with a decent amount of search volume as that's one of the main keywords it's ranking for.
There's something else that's very interesting about the search results he's ranking for but I don't want to potentially give attention to a competitor so that's all I'll say here.

TechRadar, One of the Web's Most Successful Tech Sites, Was Redesigned
TechRadar, owned by digital goliath Future, picks up around 22.4M visits each month according to Similarweb estimates.
It's hard to search for product reviews in the tech space and not see them ranking highly.
That's why it caught my attention when they redesigned the website recently, adopting a darker look with pink highlights.

The redesign wasn't too radical – the structure of individual posts remained pretty much the same – but they added quite a few elements of social proof to their homepage.
I personally love seeing redesigns but I'm not sure if you care about them, so I have more insights here if you're interested. Otherwise, we keep going.

A New Game (and Millions of Clicks) Are Coming, But Who Will Rank: These Brand New Websites, or Industry Giants like IGN?
I haven't played video games for years but I'm very well aware of how popular gaming is as a whole and how much traffic the websites covering it can pick up.
Next month there's a new AAA title in town, with Bethesda set to launch their action RPG, Starfield.
The subreddit dedicated to the game has already surpassed 200,000 followers, and the numbers on Google Trends are ramping up.

When a game with this much hype launches, millions of clicks from Google are up for grabs in the ensuing weeks (and likely tens of millions in the following year) as players look to get insights into every aspect of the new title.
Two brands I track are trying to get in on the action with a site dedicated to the game.
Publicly-listed Gfinity launched Starfield Portal, while popular Network N Media are prepared with Starfield Db.
(This is the nerdiest comment in parenthesis ever, but it bugs me slightly they wrote b in 'Db' lowercase).
As I search for walkthroughs well before launch, there's actually a different NetworkN website ranking well.

NetworkN are prepared for both scenarios: Google rewarding new sites dedicated to the game or preferring already established incumbents.
Of course, I'm sure this is not entirely an SEO play. There are likely niche topics they want to cover that wouldn't fit on their more generalised sites, and people do still congregate around single-focus sites directly and via social media.
On the one hand, I miss the excitement of building websites in preparation for some big event.
On the other hand, I'm happy to monitor from the sidelines and see who ranks: Dedicated niche sites with little authority, or industry goliaths with teams of writers ready to cover every little detail of the game?
There are a lot of the usual players in search results, but also a few niche sites by people with (seemingly) no connection to other large brands that are already ranking well.
I won't mention them to be respectful, whereas the likes of Gfinity put out a press release mentioning their new site which is why I feel comfortable covering them.

ExpertReviews.co.uk Grew Traffic By 42% Last Year (This Was Only Revealed Recently)
I know it seems a bit late to be talking about traffic numbers for 2022 when we're already halfway through 2023 but this was only revealed a few weeks ago so I hope it's still interesting.
As far as I know, Detailed was the only site commenting on this when owner MVF Global first announced it.
In a blog post, MVF noted the traffic increase to ExpertReviews came after a "huge boost in rankings for the site whilst battling tricky economic conditions".
The UK-focused site helps you find reviews on the typical products you would expect from a more generalised site like pillows, coffee machines and washing machines.

If third-party estimates from Semrush are accurate then the site has seen organic traffic decrease in 2023, but the numbers are still stable and in the millions.
MVF's website states their brands receive 46M organic clicks each year so it's safe to say they know what they're doing.

Internet Fusion Group Went Into Administration. BrandAlley Picked Up Their Domains and Merged Them Into a Single eCommerce Store
There are many reasons full-site redirects happen (rebranding, consolidating domains you own, and so on) but a company going into administration isn't one of the most common.
(I say this knowing Overstock and BedBathandBeyond were a high-profile story in this exact situation recently).
Four brands now part of designer discount store BrandAlley are Surfdome, CountryAttire, BlackLeaf and RideawayStore after their owner went into administration.
Surfdome offered surfing gear and clothing, and previously looked like this:

Now it's under the control of BrandAlley at /surfdome, and looks like this: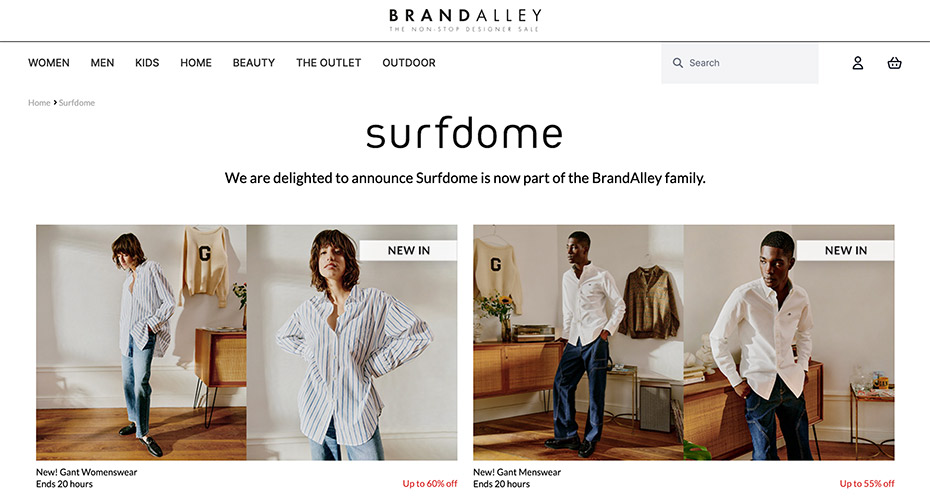 For Surfdome alone, BrandAlley picked up:
Surfdome.com 🌍
Surfdome.ie 🇮🇪
Surfdome.pt 🇵🇹
Surfdome.fr 🇫🇷
Surfdome.de 🇩🇪
Surfdome.es 🇪🇸
Surfdome.nl 🇳🇱
Surfdome.us 🇺🇸
Surfdome.au 🇦🇺
Surfdome.jp 🇯🇵
And there might even be some I'm missing.
I should add that I don't think there's anything shady happening here. BrandAlley acquired the assets of a business and gave them a new home. Of course they're going to redirect over the previous sites.
They're also not trying to hide it. They have the header mention as shown in the screenshot above, and a notice on the bottom of the newly created pages which reads:
Internet Fusion Group Limited, Internet Fusion Limited, Surfdome Shop Limited, Country Attire Limited, Country Attire Holdings Limited and Newtyle Trading Company Limited entered administration on 28 April 2023.
The InternetFusion group website is also no longer online.
Over 100 jobs were lost in the bankruptcy proceedings, though BrandAlley was able to take on 125 employees.

The Wall Street Journal Got Into the Affiliate Review Game: One Year Later, Things Are Going Very Well
In June of 2022, a post on the Dow Jones website announced the launch of Buy Side, a section of the Wall Street Journal website that would "help users with their purchasing decisions."

The section of the site features headlines niche site owners will be all too familiar with, such as:
The 5 Best Water Flossers (for People Who Hate Flossing)
The 12 Best Audiobooks for Every Reader – and Where to Listen to Them
The 15 Best Board Games for Grownups, According to Experts and Enthusiasts
I can keep going, but you get the idea.
So what happens when you start publishing this kind of content on a domain as powerful as the Wall Street Journal?
Well, first of all, we're lucky that /buyside had never been used to host content before and that posts on this section of the site include it in their URL structure. This means we can break it out in a separate analysis.
In doing so we can see that Semrush estimates this section of their site is now ranking for 70,000+ keyphrases with the word 'best' in them. I'll let you load up your favourite tool to see the specifics, but some terms are impressive.

I won't go into the specific traffic increases but in both Semrush and Ahrefs, there's a chart that tracks an "up and to the right" plot.
As I was writing up this report, thinking I had an interesting angle to cover that nobody else would think about, AdWeek's Mark Stenberg published an article on this exact same story.
Below is evidence of me wanting to cover this topic at least four days before the AdWeek article went live. I wrote it even earlier than that, but Notion doesn't let me look further back.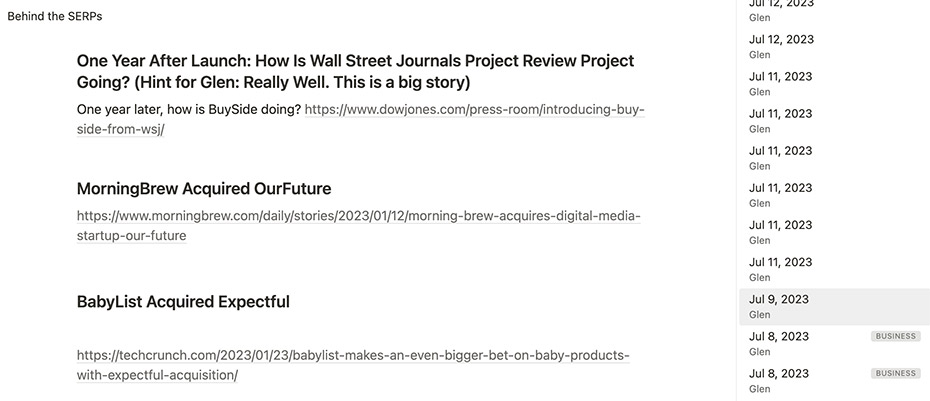 Not that I think you would doubt me but the chances of this have to be tiny. It's probably why I'm such a big fan of Marks.
His piece (paywall) wasn't full of search traffic insights that I know you would love to see, but they did say that "This is a long-term project and we are just finishing year one, but so far all the feedback has been very positive".

Luxury eCommerce Store 1stDibs Saw International Search Traffic Grow 220%
When a publicly listed eCommerce store talks about its search traffic, I listen.
On the earnings call for their Q1 2023 results, 1stDibs CEO David Rosenblatt said,
We are also making progress on our strategic initiatives. Localized marketplaces in France and Germany posted strong traffic growth, translating into record GMV. Sessions from German and French IP addresses grew by over 300%. Furthermore, SEO traffic continued growing over 220% in both markets. Orders from German and French IPs grew 20% year-over-year, while orders on our localized marketplace grew over 10% sequentially.
1stDibs is primarily a US-focused brand but it's interesting to see them succeed by branching out. As far as I can tell, they didn't go the localised domain route (e.g. 1stdibs.fr) but built out specific pages on their main site.
If you're unfamiliar with 1stDibs, they're home to antiques, furniture, jewelery and fashion items up for sale.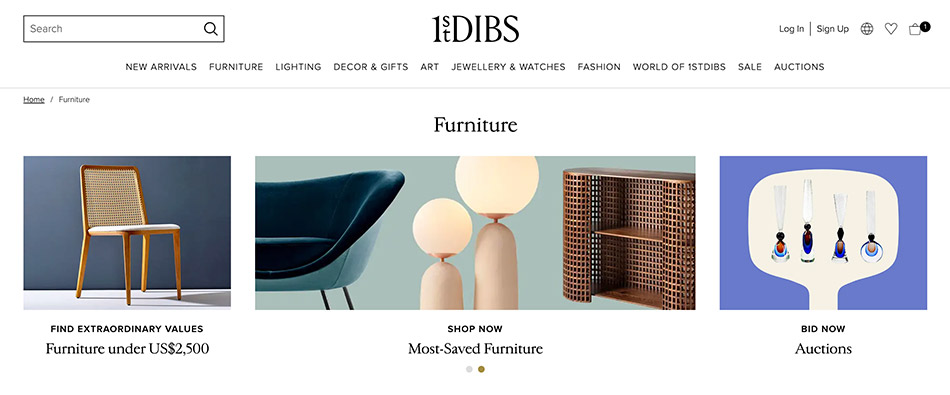 What sets them apart from a typical eCommerce store is they also offer bidding on auctions, and you can even make offers on items that aren't in the standard auction section.

One of My Favourite Independent Media Sites (9M Monthly Visits) Had Something to Say About AI and SEO
I wouldn't call myself an Apple fanboy, though I own an iPhone and typed this report on a Macbook Air/Mac Mini combo. Once a month I find myself typing Macrumors.com into my browser's address bar to see what's going on in the world of Apple and their products.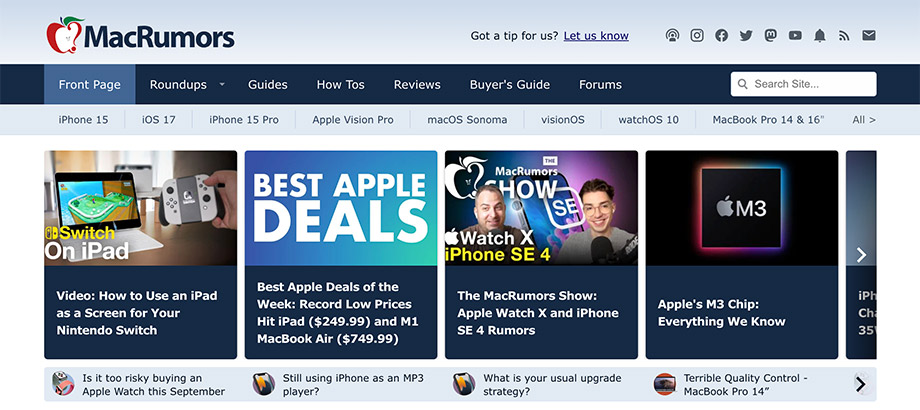 MacRumors is also interesting to me because, similar to TrueGaming Networks, they have their sites set up in such a way that if you're leaving a comment on an article, you're technically replying to a forum thread.
The model only really works if you get a lot of traffic to your site, but I think it's a powerful way to build your community.
According to Similarweb estimates, MacRumors currently picks up around 9 million visits per month, making it one of the web's most successful independent content sites.
I happened to listen to an interview where founder Arnold Kim was asked about AI and his feelings about how that might impact his business in the future.
Here's one snippet of what he said,
"I think it's going to change all publishing. I know there's a lot of controversy right now about where they get their content from but I feel like the reason Mac Rumors exists is because people want to know when the next something comes out or if they should wait…a lot of it is buying decisions.

If you can suddenly ask whatever AI search engine there is "When's the next iPhone 15 coming out and what features does it have" and it's able to consolidate that information all at once that's threatening to a lot of businesses."
You can read more here if you want to check out his full commentary.
If you do click through to the article, you'll see Arnold come to the funny realisation that sites like his will be the source of Google's ability to answer questions relevant to his industry.

As the F1 Niche Hots Up, PlanetF1 Gets a Fresh New Look
PlanetSport are one of the more interesting media companies I follow, with sites covering football, rugby, tennis and in this specific example, Formula 1 racing.
In February they announced the redesign of one of their flagship brands, PlanetF1, specifically noting the speed increases they've been able to achieve on mobile devices.
Here's how the site now looks: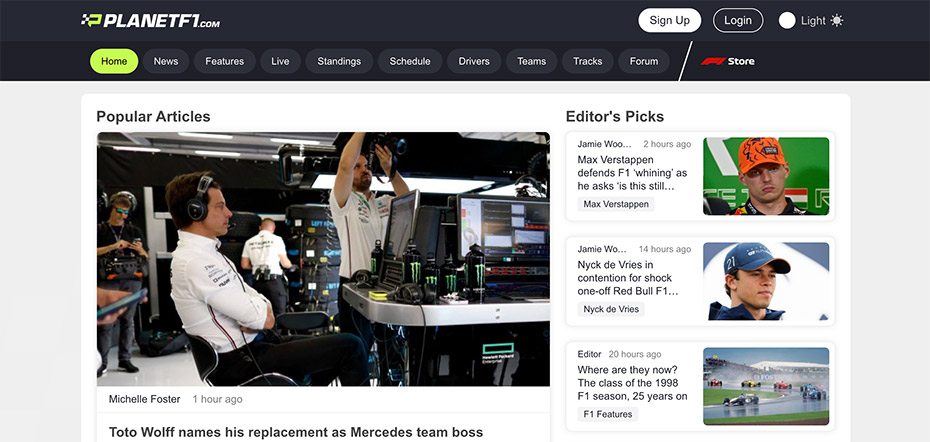 In reality the site didn't change much, but they gave it a new color scheme and logo which look a lot cleaner.
I'm also a fan of double-navigation bars – you can see an example on our top 50 blogs page – but couldn't make it work well once Detailed became a primarily white-themed website.
Another reason I wanted to cover the redesign is because some other big news this quarter is that Motorsport Network Media and their 50+ websites were acquired by GMF Capital.
The deal included Motorsport.com, InsideEVs and Autosport.
GMF Capital founder Gary Fegel made some specific comments about how Formula 1 is a growing sport in the US, which was a big inspiration for his acquisition.
I don't think it would appeal to too many people but I might have to write a report on the F1 space one day because there's a lot happening there.

TownSquareMedia Hit Record 84 Million Unique Visitors: Their Focus Is a Lot More Interesting Than At First Glance
If I direct you over to Townsquare Media's homepage, your first impression will be that they're not a good fit for this kind of report.
They state they're a "radio company focused outside the top 50 markets in the US."
Scroll a little further and you'll see some of the specific radio stations they run and the frequencies you can tune in to.
But if you scroll just a little further than that, you'll see this publicly-listed company are behind a vast number of very specific niche websites.
Many of which are very popular.
I've been following Townsquare Media for over a year now, but they piqued my interest in May when, on their Q1 2023 earnings call, they said:
First-quarter profit growth outpaced revenue growth at plus 23% year-over-year due in part to an increase in average order size. In addition, due to an increasing online audience, which grew to an all-time high of 84 million average unique visitors per month in the first quarter and higher engagement, we have been able to more efficiently monetize our audience.
Emphasis my own.
Now I'll be honest in saying that many Townsquare Media websites don't get much traffic. At least not if Similarweb is accurate.
Their website dedicated to the life and music of singer-songwriter Prince, UltimatePrince, receives just 28,000 visits each month according to estimates.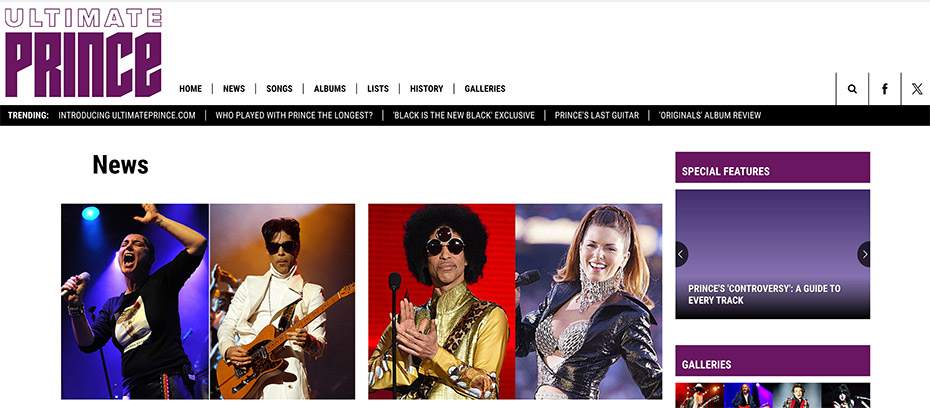 If you go through their entire network however, there are some sites which stand out. Here's a few of them:
Similarweb estimates those five websites average 60.1% of their visits from organic search.
The lowest being Ultimate Classic Rock at 48.9%, the highest being XXLMag at 73.4%. As they're a company that also offers SEO services I imagine the sites work as a great case study for them.
I have a feeling some people reading this will be surprised by just how popular these kinds of niche news websites can be, which is one of the main reasons I wanted to share them.

One of My Writing Dreams Came True (And Some of the World's Biggest Sites Fixed Their Footer Links)
When I released my updated version of the 16 companies dominating Google in March of this year, I never expected it would get such an incredible reaction.
Not only was it shared around social media more than I've ever had happen, but it was also viewed on Detailed by 10,000+ people in the first 24 hours of going live. The report also allowed me to achieve a genuine dream of mine.
In August of 2019 I tweeted how making the homepage of Techmeme was something I've always wanted to do.

Techmeme, if you're unfamiliar with the site, is a daily curated roundup of the hottest stories in tech. It's trendy among Silicon Valley's elite, and Facebook founder Mark Zuckerberg once said it's the first site he reads each day.
Thanks to my updated report, I made the site's homepage for the first time in my life.

A huge thank you to everyone who shared it and helped make that a reality.
I like to think there were a lot of insights in that report, but one of them was mostly "quirky" rather than actionable: I shared how some of the biggest sites on the web, like WebMD (110M monthly visitors) and MayoClinic (160M monthly visitors) had footer links to a service called HealthonNet that no longer existed.
HealthonNet had shut down around nine months prior, but they both had sitewide links to the service.
The people behind one of those two websites reached out to thank me (I'll be respectful and not say which), but both quickly fixed the links after my report.
I'm not sharing this to show I have some kind of 'clout'. Rather it amazes me who reads my writing and I don't take that responsibility lightly. I was genuinely surprised.
Some huge sites are still linking out to them. DietDoctor for instance, who receive around 2.4M visits each month according to Similarweb estimates, still have this on every page of their site.

I told them about this a few months ago and they thanked me for the heads up (publicly on Twitter, I'm not revealing anything private), but I guess they just haven't gotten around to fixing it yet. It's not a huge deal of course, but something I imagine they'll change soon.

Vox Media Launched a New Golf Site and It's Ranking Fast
Technically they launched a new golf section on SBNation, but they announced it as if it were a brand-new website.
The new "site" is called 'Playing Through', and can be found at https://www.sbnation.com/golf. (SBNation is one of a few brands that Vox purchased in 2019).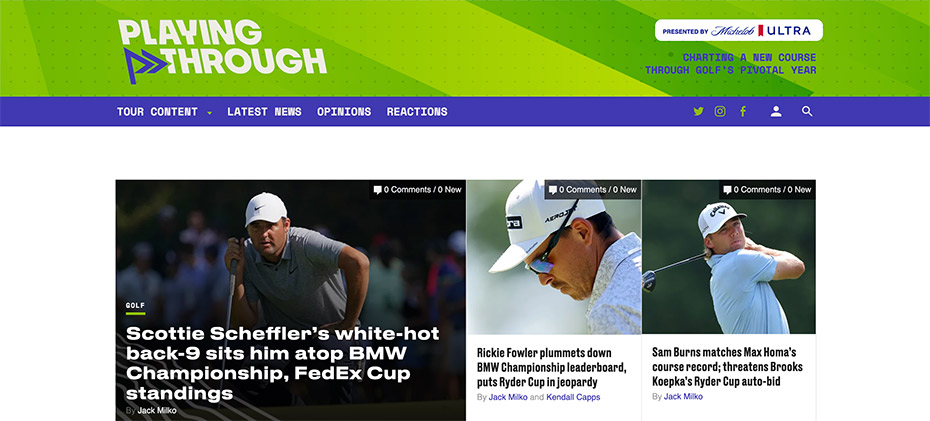 The subdirectory wasn't brand-new and had a number of articles under the /golf/ directory, but hadn't picked up any notable traffic for years before the launch. Thanks to adding thousands of pages of content to that section of the site, organic visitors picked up quickly.

As mentioned earlier, I won't dive into any specific keywords they're ranking for or link-building activities they're taking part in. Still, I love adding to my list of case studies of how big brands can take over a space very quickly.
Granted, their rankings appear to be pretty erratic at the moment.

GRV Media Have Broken Traffic Records 4 Times This Year With Their Football (Soccer) Sites
I really want to do a deep dive into the football niche but I'm afraid that once I've promoted the piece myself, it won't be seen again.
Google doesn't give any love to specific articles on the topic and instead promotes people writing more broadly about sports.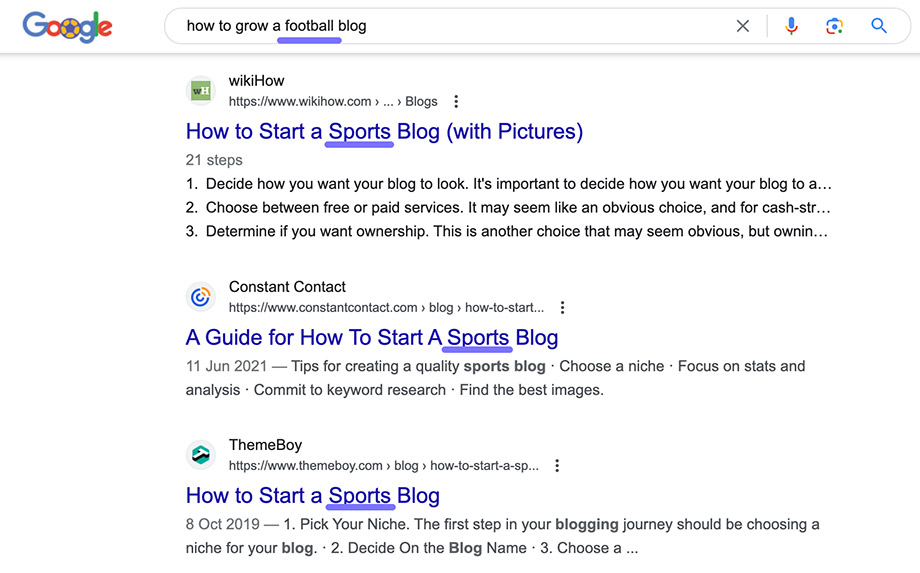 There are some keyphrases with the odd exception, but only a few.
So much is happening here from so many brands and I think it would make for an interesting report.
GRV Media are one brand that can't stop talking about their success in the space. They're behind a considerable number of niche football sites. Just look at this screenshot: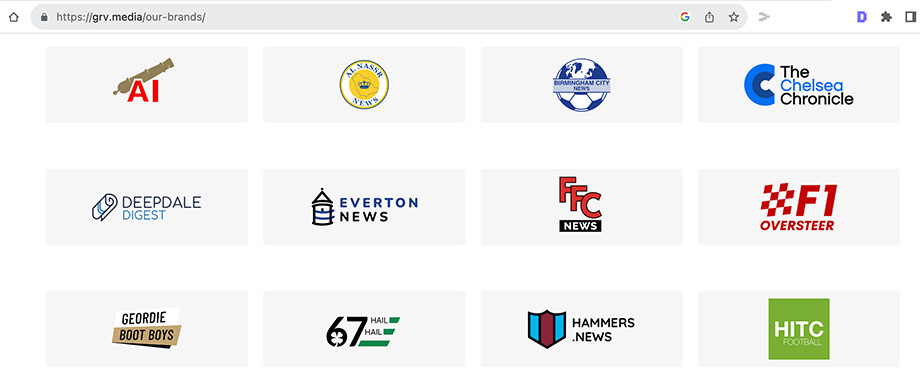 While some sites are new (Al Nassr News) or recently revived (The Spurs News), they've been busy breaking records with their established brands.
Four of their sites hit record traffic numbers in January
Six of their sites hit record traffic numbers in May
Eight of their sites hit record traffic numbers in June
Twelve of their sites hit record traffic numbers in July
That's quite the trend.
If you still want to see me do a deep dive into this space even though it will never rank for anything, reply to this thread on Twitter and let me know. If I get enough responses then I'll make it happen.

We're Currently Tracking 222 Media Brands. For Those That Share Revenue Numbers, Here Are the 10 Biggest
If you've been to Detailed before you'll know I'm obsessed with monitoring digital goliaths.
With the introduction of ChatGPT which spurned integrations with Bing and responses from Google, how AI impacts people publishing content online (particularly through search traffic) is a huge discussion point in our industry.
With clients, students and my own sites reliant on SEO, I want to know how others are being impacted by developments here.
For that reason I currently track the revenue reports of dozens of the biggest media brands. I plan to launch a page on Detailed sharing these very shortly.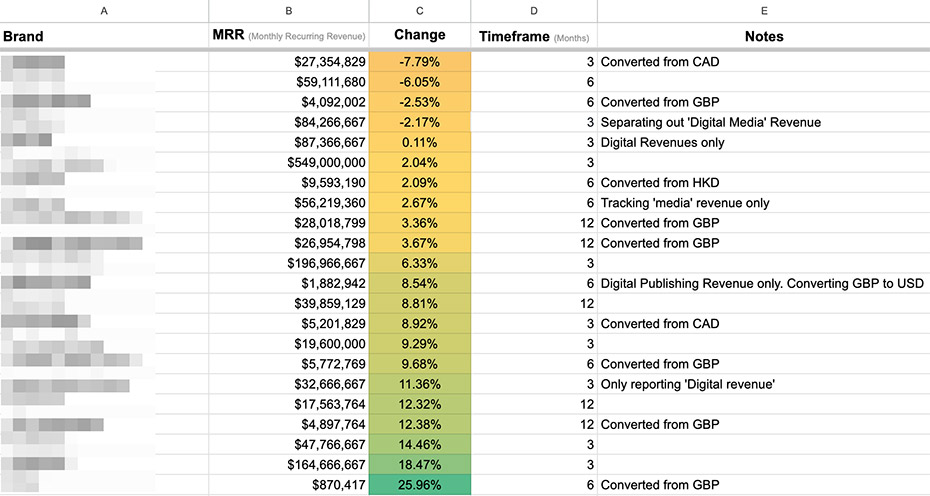 Before I reveal the top ten, please note they're not 100% comparable as some separate digital media revenues and some don't. It's also not typical, and perhaps crude, to report their quarterly earnings divided by three as "monthly recurring revenue".
I simply thought this helps put into perspective those that report quarterly earnings with those that report them annually but don't expect to see them used in this way elsewhere.
With that clarified, here's a sense of how big some of these companies are:
Nerdwallet: $47.7M MRR (Example site: Nerdwallet)
Future Plc: $56.2M MRR (Example site: Tom's Guide)
Reach Plc: $59.1M MRR (Example site: The Mirror)
Ziff Davis: $84.2M MRR (Example site: IGN)
Gannett: $87.3M MRR (Example site: USAToday)
Dotdash Meredith: $138M MRR (Example site: Investopedia)
Tripadvisor: $164M MRR (Example site: Tripadvisor)
News Corp: $190.3M MRR (Example site: Wall Street Journal)
The New York Times Company: $196M MRR (Example site: The New York Times)
Thomson Reuters: $549M MRR (Example site: Reuters)
Reach, Future and Ziff Davis's revenues were converted from GBP to USD.
For Future Plc, Reach Plc, Gannett, Dotdash Meredith and News Corp I identified the most relevant part of their earnings, so for Ziff Davis I used 'Digital Media' revenue and for News Corp I used 'News Media' revenue. Sadly this wasn't possible for every brand, and I will make this very clear when there's a dedicated page on Detailed tracking these.
Finally, keep in mind this is simply how much money the companies are generating. Revenue is not profit.

Leaf Group (LIVESTRONG, eHow & Slate) CEO Sean Moriaty Steps Down As Chairman Says "We Overpaid. I Screwed This One Up".
Adweek's Mark Stenberg had the exclusive that Leaf Group CEO Sean Moriaty would be stepping down as the company faced a difficult economic situation.
Leaf Group is part of publicly-listed Graham Holdings, and in May of 2023 they changed their name to 'World of Good Brands'.
A chairman for Graham Holdings had earlier stated they overpaid for Leaf Group, specifically saying, "I screwed this one up". Leaf Group was acquired by Graham Holdings for $323M in cash in 2021.
Some of the sites in their network you're most likely to have heard of include:
Livestrong.com
Well + Good
Hunker
eHow
Livestrong is probably the most recognisable site which was part of the acquisition.

Their parent company revealed Q2, 2023 revenues of $25.2M. A 24% decline year over year.
This is the number specifically reported as 'Media' and not the earnings of the entire company (which was over a billion dollars).
In that same earnings report they added, "revenue declines at World of Good are due to reduced traffic and the soft digital advertising market for both direct and programmatic categories".

Reach Plc Are Taking Their Successful UK Brands Stateside, and They're Off to a Good Start
As I reported in June, Reach Plc have started taking some of their UK news sites and positioning them for a US-based audience.
The first site to make the move was the Daily Express, available in both digital and physical form in the UK.
I was a bit confused why they went with a hyphen in their domain (the–express.com), especially when I inquired about the non-hyphenated version and it's available for a low five-figure fee. If you have deep pockets and the desire to potentially pick up mistaken type-ins, you may have just benefitted from reading every word of this article.
(Don't hold me to whether they would take any legal action against you or whether anyone goes to the non-hyphenated version though).
In just a few weeks of the site going live, Ahrefs was reporting their ~400 articles were already picking up around 45,000 visits each month from Google.
Semrush estimates they've now doubled that number.
What I haven't yet reported is that they also just launched a US version of the most popular site I track for them, The Mirror, available at TheMirror.com.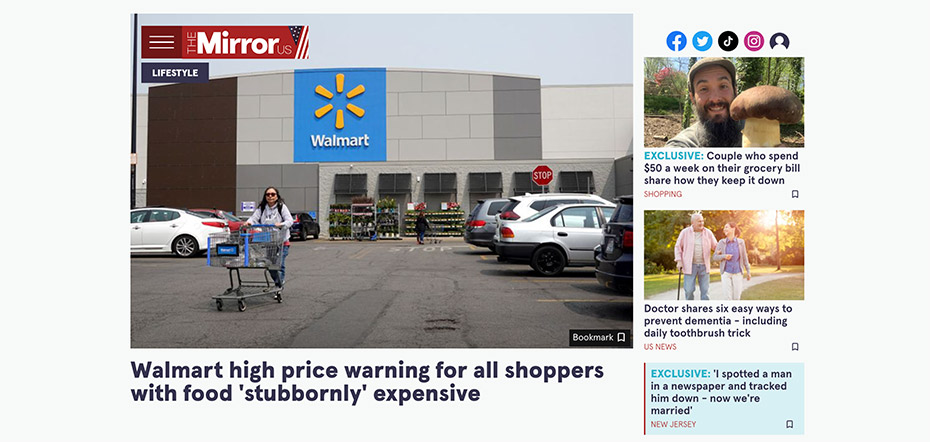 It's a bit too early to see how things are going here, but it makes sense that they at least try to get a share of attention in a far bigger market.
If you're interested in a Q2 report, I'll make sure to comment on how things are going.

Speaking of Website Launches, Power Automedia (2 Million Monthly Readers) Are Now in the Electric Car Space
Power Automedia isn't likely a brand you've heard of before, but according to their own numbers, their website network has an audience of "nearly 2 million loyal monthly readers."
Not the biggest media brand I follow, but not the smallest either.
The following screenshot should give you a good idea of what their websites cover.

The 9th addition to their network is that site in the middle, Electrified, where you'll find news and reviews on everything electric in the automotive space.
They write about the obvious (Electric cars) and the not-so-obvious (EBikes, and Formula E racing).
It's also too early to go into detail on how the site is performing but if this series has interest, I'll check back on how it's going in the next edition.

The UK's The Telegraph Just Redirected at Least 11 Websites to Subdomains of Their Main Domain
The Telegraph are one of the biggest media brands on the web, generating around $27M in monthly recurring revenue if I can crudely discuss their latest annual earnings report in that context.
The sites I'm about to discuss were already owned by The Telegraph, so it's not like they went on an acquisition spree for SEO and nor do I think they're doing anything 'shady', but their actions are still interesting to me.
As a specific example, they took TheEnglishGarden.co.uk and redirected it to a new home at https://theenglishgarden.telegraph.co.uk/.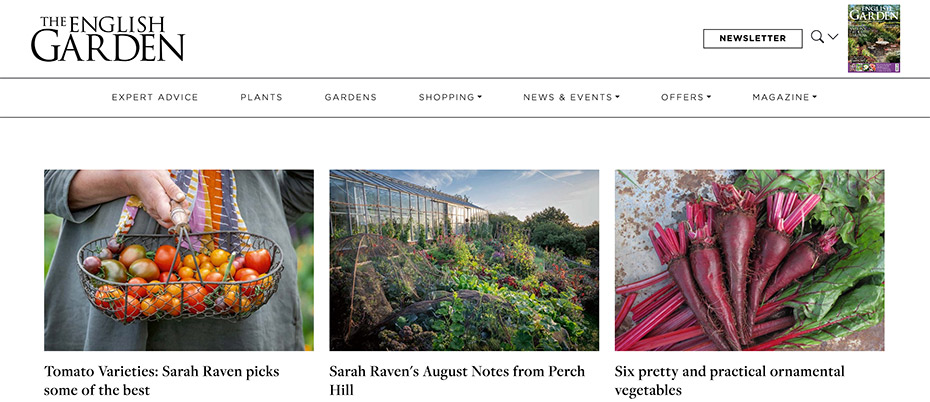 This time last year TheEnglishGarden was getting around 200,000 visitors each month from Google, according to estimates from Semrush.
Other domains redirected include:
IndependentSchoolParent.com
TheLondonMagazine.co.uk
ScotlandMag.com
Classicboat.co.uk
SailingToday.co.uk
I know of at least five more that they redirected, but you get the idea.
The Telegraph are usually pretty open about what is happening with their business – they share revenue reports each year – but I couldn't find any announcements on this, nor anyone else reporting it.
If I had to guess, it makes more sense to keep everything under one 'brand' for practical reasons, and having these websites as subdomains of the Telegraph might be a subtle branding play for those who didn't realise Telegraph produced those websites.

Marc Köhlbrugge's Startup.Jobs Passes 20K Clicks from Search Per (Week) Day
Popular build-in-public advocate Marc Köhlbrugge recently revealed that his job board, Startup.Jobs, is averaging more than 20,000 clicks per day on weekdays.
In his tweet he also shared a screenshot from Google Search Console:

If you ever needed a case study for how inaccurate third-party traffic estimates can be, here it is.
While I would always prefer a .com over a .jobs extension, it looks like it was a smart decision for Marc to brand the site with a phrase that already gets a lot of searches each month.
I'm not going to dive into his rankings, but will say that I love how clean and modern his designs always tend to look.

Publicly-Listed BuzzFeed Redirected One of Their Biggest Sites and (Seemingly) Didn't Tell Anyone
BuzzFeed have been struggling in recent years, with their share price down 93% from where it was less than two years ago.
Rumours suggest they're trying to offload Complex Networks, the network of brands they acquired in June 2021 for a reported $200M in cash and $100M in BuzzFeed equity.
Interestingly, one of the site sites they acquired, shoe site Sole Collector, no longer exists. A few weeks ago they redirected the domain to Complex.com/sneakers and copied over most of the content.

It was a surprise to me that BuzzFeed seemingly haven't mentioned this at all, and when I reached out to them for comment last month, I didn't get a response. BuzzFeed's About page is actively updated with other company news.
The site was getting over one million visitors per month from Google at the time (Semrush estimates) so it's not like it was some random side project they were cleaning up.
It's completely up to them to do this, of course.

News Corp's The Sun Reached 159M Million Unique Users in June: They're Currently Doubling-Down on Travel Content
In News Corp's most recent earnings report they shared that their tabloid British newspaper, The Sun, "reached 159 million global monthly unique users in June 2023" to their digital offering.
The source of this data was noted as 'Meta Pixel', which I presume means reach on Facebook, which is a little odd to report. Especially because they used Google Analytics data to report that the New York Post reached 145 million unique users in the same month.
If that was all I had to share about The Sun I wouldn't be mentioning them here, especially because they don't have the best reputation in my world.
There was some data shared with PressGazette recently however that caught my attention.
The Sun revealed that "digital traffic to travel is up 24% year-on-year and 115% higher than two years ago", adding that their Travel section is the third-best performing category in terms of page views per visitor.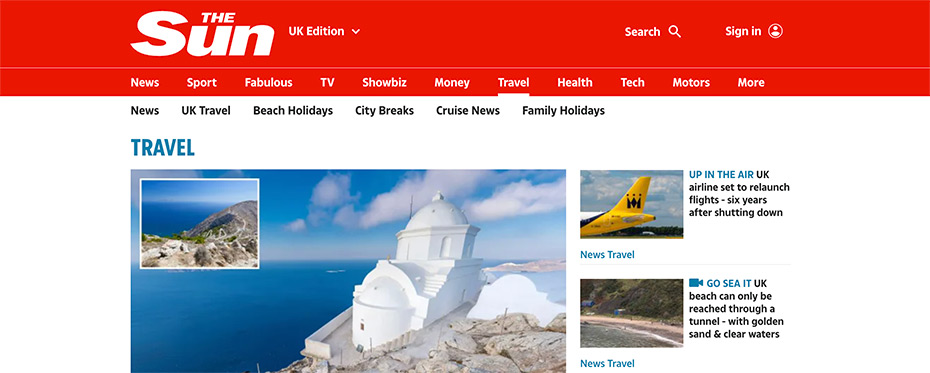 I've never associated The Sun with anything travel-related so that was quite surprising to me.
Seven people now work on their travel content, something they're covering a lot more due to travel now being more accessible than ever and the revenue potential they see in articles there.

A Lot More Redirects Happened This Quarter (Two Examples Below Involve Publicly-Listed Companies)
If you follow Tech IPOs or have ever needed marketing automation software, you're probably familiar with the name Marketo.
After being listed on the Nasdaq in 2013, it was later acquired by Vista Equity Partners for $1.8Bn. Two years after that, Marketo was acquired by Adobe in a deal reported to be worth $4.75Bn. A very nice profit for VEP in such a short time frame.
At the start of 2023, Marketo truly folded into the Adobe brand when their website was redirected to https://business.adobe.com/products/marketo/adobe-marketo.html.
The site had always had some form of Adobe branding, but now they've made the ownership as clear as can be.
////////////////////////////////////////
Another redirect that caught my attention came after two publicly listed used-car marketplaces, CarLotz and Shift, merged under the Shift brand, trading as $SFT.

The CarLotz domain had surprisingly little 'authority' and traffic for a public company and now redirects to Shift.com which I think is a much better name.
////////////////////////////////////////
WilliamReed, behind several popular niche sites such as '50Best', decided to rebrand and redirect one of their most popular sites, BigHospitality.
Around a year ago the site received up to 100,000 clicks each month from Google so its traffic was respectable, but the site now redirects to RestaurantOnline.co.uk.

Note that they are branding the website as 'Restaurant' and Online is just part of the domain name.
////////////////////////////////////////
In 2016 popular wedding resource The Knot acquired the proposal-focused site, HowTheyAsked.
The Knot is essentially a huge media brand (now known as The Knot Worldwide Inc, and formerly referred to as XO Media) which owns sites like:
Hitched
The Bash
WeddingWire
The Bump
They're building an exciting media company focused on a specific space.
Recently a redirect was set up on HowTheyAsked so it now takes you to the proposals section on the TheKnot domain.
I don't think there's anything "sneaky" happening here — they've owned the domain for seven years now. Sometimes it just makes sense to consolidate what you're working on.
////////////////////////////////////////
If those four examples weren't enough, how about one more?
Outside, one of my favourite brands to follow because of how many websites they're behind, recently redirected PelotonMagazine and VeloNews to subfolders on the OutsideOnline domain.

VeloNews especially was picking up a significant amount of traffic from search each month, though those numbers were declining if we can believe third-party estimates.

Amazon Sold Popular Digital Photography Site, DPReview, to the Founder of Gear Patrol
This isn't the first time I've written about Gear Patrol here at Detailed.
When I did my deep dive into 10,000 product-review keyphrases and who was ranking for them, I highlighted Gear Patrol as one of the top independent review sites on the web.
Out of the top 100 domains ranking overall, they were just one of five that aren't controlled by a media goliath like Future or DotdashMeredith. I should note that even Gear Patrol aren't truly independent as they received a minority stake investment from Hearst (behind Cosmopolitan, Elle, Esquire, etc.) in 2018.
This year they added to their portfolio by acquiring the popular photography site DPReview from Amazon, who had originally acquired the site back in 2007.

As I write this, Similarweb estimates DPReview receives around 6.2 million visits per month, and Gear Patrol 6.1 million. They're pretty evenly matched.
There was quite a bit of drama surrounding the acquisition as Amazon initially announced they would close the site and no longer keep updating it. This caused offers to flood in on X/Twitter, with Gear Patrol founder Eric Yang landing a deal.

Productivity "Blog" LifeHack Received a More Sophisticated Design Refresh
I started blogging about personal development around 2010 on a site called PluginID (which was later acquired). One of the biggest sites in the space at the time was undoubtedly LifeHack.
Anyone writing online for at least a decade will be familiar with the name, but their brand awareness has likely dropped off in recent years. There is so much competition now online and so many social media platforms that people spend time on where that is inevitably the case.
Similar to how Problogger and Copyblogger were the sites everyone used to read back in the day.
I'm saying this because I know most people new to the world of internet marketing will have no idea what LifeHack even is or why I'm mentioning it here. Still, old-school marketers will be very familiar with their blue and grey design.
That design is no more, as they've gone for a more sophisticated green design with yellow highlights: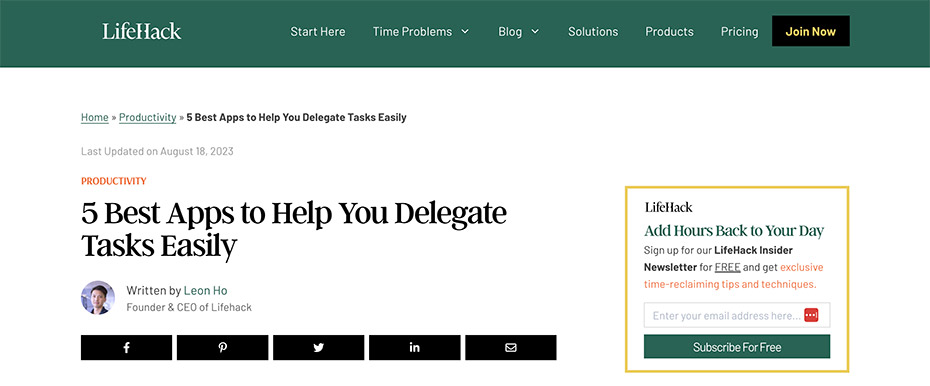 As far as I can tell, the site was redesigned in March, 2023.
In my opinion the design is super clean, modern and trustworthy. I also like the fonts they use. I can't help but feel it lacks a little bit of personality – the large headline for their blog is just 'Latest Articles' – but that is true of most of the web these days.

A Detailed Exclusive: Realtimes Added Liverpool FC Fansite Anfield Watch, With 1 Million Twitter Followers, to Their Portfolio
You might not be familiar with Realtimes, but they're heading toward being classed as a digital media goliath.
Their network of websites reaches 18 million users each month, supported by a 70-person-strong team.
One of their biggest sites, GPFans, generates 25 million pageviews each month according to their own numbers. It specifically covers the growing interest in Formula 1 news and race results.
In June I noticed they added another site to their portfolio: Liverpool FC fansite, Anfield Watch.
At the time of the acquisition the site had:
650,000 monthly pageviews
450,000 followers on Instagram
1M+ followers on Twitter
If you want to read more about this specific acquisition you can do so here.
Can you tell I really want to write about this niche yet? Hah.

Semrush Are Adding At Least 22,000 Free Subscribers to their SEO Platform Each Month, and Around 1,200 Paid Subscribers
In the rapidly changing industry of SEO, I think Semrush and their earnings reports are one of the best barometers we have as to whether people are still massively focused on SEO as a marketing channel.
Granted, I am aware that SEO is not the only focus of their platform (they also offer content creation and website accessibility tools) but it's what they're primarily known for and still the focus of their homepage.

The SEO insights they offer are the primary reason I use the tool.
Their most recent earnings report for the second quarter of this year revealed they have 104,000 paying subscribers. Based on some quick maths based on the timeframe of their announcements, I estimate they're adding at least 1,200 paid customers each month.
I say at least because I have no idea how many people cancel, just that they said "30% of customers [who cancel] return".
Perhaps more interesting is that they also mentioned having active 951,000 free users, which has grown 35% YoY.
I don't know what constitutes an active free user – possibly something like "logged in during the past 12 months" – but even not being an investor, it's nice to see this grow.
When I shared this on Twitter, someone asked how many customers their close competitor Ahrefs has. In my deep dive into the SEO industry and revenue numbers there, I shared that Ahrefs had more than 50,000 paying customers when they last revealed the numbers to TechCrunch.

Valnet's Gaming Sites Already Reached 100 Million Monthly Visitors, Then They Purchased Hardcore Gamer
May of this year saw the official announcement from Valnet that they had purchased the popular gaming website Hardcore Gamer.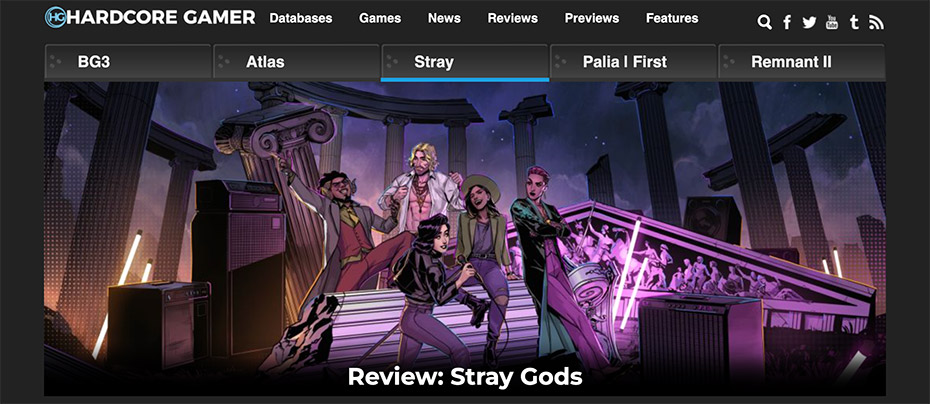 Included in the press release was an interesting snippet from Valnet stating they already reach 100 million gamers each month through their sites like GameRant, TheGamer and DualShockers.
Either they got a price too good to pass up or they truly believe in the future of the gaming niche online (or both).
Valnet, as you may already know, are one of the companies I profiled in my report on the 16 companies dominating Google.
Seeing the kind of sites they acquire and niches they want to stay involved in is precisely what I want to share updates on here at Detailed.

NationalWorld Purchased 50 Team-Specific Football Sites (With an Interesting Twist)
Publicly listed NationalWorld purchased 50 team-specific football sites earlier this year. The sites cover teams in the Premier League, Championship, League 1 and the Scottish Premier League.
The purchase was seemingly so insignificant to them that, as far as I can tell, they didn't even mention it in their most recent company updates.
Each one of the links in the screenshot below is a separate website:

SimilarWeb reports that some sites get a lot of traffic while others barely pick up any. Here's are a few examples of that:
GoonerNews (Arsenal FC): 1.3M monthly visits
ChelseaNews: 1.3M monthly visits
ManUNews: 302,000 monthly visits
WalkOn (Liverpool FC): 275,000 monthly visits
Rangers FC News: 11,900 monthly visits
QPRNews: 7,200 monthly visits
Seagulls News (Brighton & Hove Albion FC): 875 monthly visits
WatfordFC News: 294 monthly visits
Of course, some of these teams have much bigger worldwide recognition than others, but the disparity is huge.
So what's the interesting twist? The focus of their home pages is to send traffic elsewhere.
For a second when I first came across them, I almost thought they didn't produce any content of their own.
Let's take the ManUNews homepage as an example:

Every single one of those links – on their homepage – takes you to another website. Granted, the links do open in a pop-up.
It's not unheard of (TechMeme is one of my favourite sites in the world and they do something similar) but it's surprising for a popular sports site to be this focused on promoting other sites.
Someone helping me with feedback on this article before publishing said they read NewsNow every day and it follows the same approach. I might have to start tracking these curated sites.

The Creator of One of the Most Successful Independent Product Review Sites Has a New Brand in the Indoor Plants Space…
…and it's perfectly named IndoorPlants.com.
Referring to modern home furniture site LivingCozy as just a product review site isn't fair. Still, I say this in reference to them being one of the top independent sites ranking in my 10,000 affiliate keyphrase deep dive.
Owner Ashley Read, who previously worked at the social media platform Buffer, has created a recognisable brand in the space.
More recently, Ash started the media company NineThreeSeven, and IndoorPlants is the newest addition.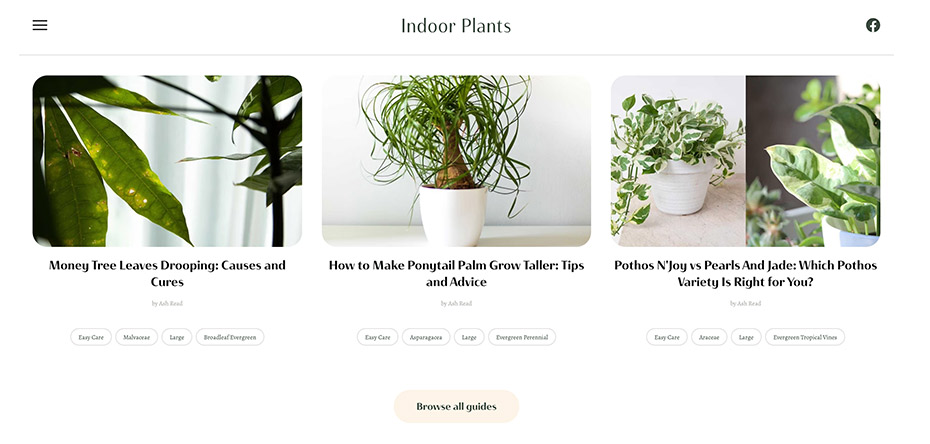 I'm always fascinated to see what industries people get into next, and this is no exception.
While it's not a gardening website in the typical sense, the gardening space is surprisingly active. Just go to my 'companies dominating Google' article and look at point #43 — you'll see how many big brands invest in the space.

This Three-Site Network Recently Surpassed 7.5M Monthly Visitors (First-Party Data)
TrueGaming are not the typical digital media goliath you may be familiar with like Future, Hearst and DotdashMeredith.
Instead of being behind dozens of sites in as many different niches, they have three content sites specifically focused on the achievements of gamers.
The biggest site we track for them, at least according to third-party data from Similarweb, is undoubtedly TrueAchievements.com.
Similarweb estimates this site alone receives around 8.7 million total visits each month.
The site targets Xbox gamers with news on what's happening in their universe and also allows you to track your in-game achievements and compare them against friends.

What's pretty special is that the website has full integration with the Xbox store, which I honestly didn't even know was a thing until I came across this network a few months ago.
It looks like the Xbox store has an API that lets you tap into these:

While achievement tracking is definitely a "moat" and selling point of why the site is so successful, it appears to be their news articles that people keep coming back for.
The other two sites in their network follow the same model, but TrueTrophies targets Playstation users, while TrueSteamAchievements targets those who play games through Steam.
Combined, they recently surpassed 7.5 million monthly visitors and 30 million+ monthly pageviews. This is data taken directly from them, rather than a third-party.
Other stats from their network include:
5 million+ forum posts
1.2 million registered gamers
30 million+ monthly pageviews
3.8 billion unlocked achievements
I love finding niche success stories like this and I wish them the best of luck going forward.
After Purchasing Product-Review Site DogFoodAdvisor for $9M, Wag! Launched CatFoodAdvisor
In January of this year, publicly listed American pet care company Wag! acquired the dog food review site DogFoodAdvisor.
The site wasn't started for the best of reasons – founder Mike Sagman's dog Penny sadly passed away and he believes that her diet had an impact on that.
Mike launched the site in 2008 and ran the brand for 15 years before the big exit.
Wag! announced the launch of sister-site CatFoodAdvisor in July of this year.

In our post we revealed that the CatFoodAdvisor domain very likely came with the acquisition of the DogFoodAdvisor brand.
How? There had been a placeholder site on the domain for years, and the chances that Wag! somehow owned that are slim to none.
It looks like search traffic is off to a slow start, but I'm sure they'll ramp those numbers up.
They didn't just mimic the DogFoodAdvisor design which I think is wise, though I wouldn't be surprised to see them make some tweaks to the theme there going forward.

Fitness Site BarBend, With 10,000 Articles and 31M Visitors, Was Acquired by Pillar4Media
One of my most popular tweets over the last few months was the announcement that fitness website Barbend.com had been acquired along with its sister site, BreakingMuscle.
Their new owners are Pillar4Media, who I've already revealed are behind some of the biggest product review sites on the web such as Sleepopolis, Garage Gym Reviews and Mattress Clarity. They also write the product reviews for Sports Illustrated.
While no financial terms were shared as part of the deal, they did say that investors were in "literal tears of joy" after learning about the agreement (BarBend had raised $800,000 in 2017), so I assume it was in the millions.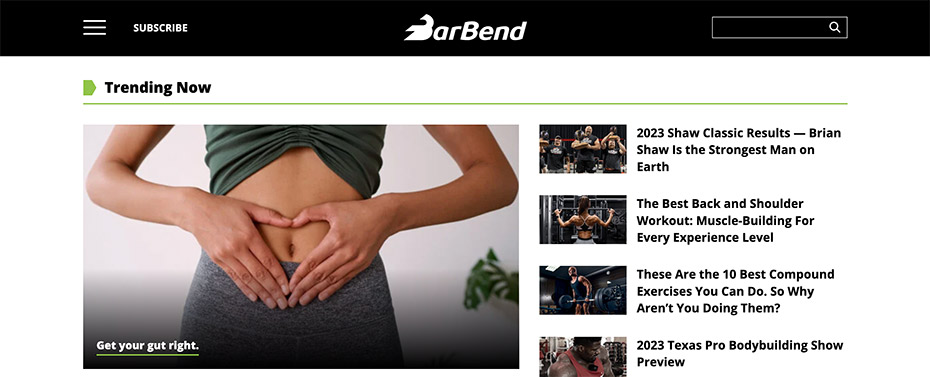 Barbend co-founders David Tao and Kenny Kline did however share some impressive stats about the site:
31 million visitors to the site in 2022 📈
Drove $19M in GMV 💰
18 full-time employees
10,000 articles on the site
David told me he would love to "chat more on it" which I think would be super interesting. I would especially like to know what those 18 full-time employees are focused on.

Goodbye .co.uk? I Noticed An Interesting Trend By Media Brands in Recent Months
Tracking acquisitions and redirects is one of the most interesting parts of what I do behind the scenes here at Detailed.
It's only after looking at a lot of them am I able to piece together some trends, and there's one in particular that's quite interesting: It seems like brands are moving on from .co.uk domains.
As a perfect example, let's take Mother&Baby from Bauer Media Group.
A year ago, Semrush estimated they were pulling in around 1.1 million visits each month from organic search. Today, it doesn't rank at all.

It wasn't penalised by Google, but it now redirects to MotherandBaby.com, rather than the original .co.uk.
They weren't running two sites side by side, and from what I can tell, they owned the .com for a very long time so it's not a recent acquisition.
A .com extension is a lot more memorable and brandable of course, especially if you're not just focused on attracting a UK audience.
Another example is the ITPro brand from Future.
Up until some point in April of this year, Future had a site on ITPro.co.uk, pulling in hundreds of thousands of visitors each month from Google according to third-party estimates.
If you try to go there now, you'll be redirected to ITPro.com. The .com site in this case was already being ran as a separate entity, unlike the first example.
As a final example, Kelsey Media ran the site AmateurPhotographer.co.uk until around January of this year when it was redirected to AmateurPhotographer.com.
It wasn't as popular as the other two examples – pulling in around 100,000 visitors each month from search – but it was still a notable enough site for me to track it.
I don't have any insights into why the brands are making the changes or whether this is a new phenomenon, but I did think it was interesting.
There's a lot of logic towards switching to a .com, and it would be a lot stranger if they were moving their brands in the opposite direction.
Since noticing these I've found a few more examples and I'll keep a look out for any more.

VerticleScope See's EBITDA Decline 94% for The Streamable, The News & Review Site They Acquired for $40M
VerticalScope are behind 1,200+ online communities where people can discuss any topic imaginable. That alone makes them fascinating, but it's even more interesting to me that they're a public company and have to report on what is happening in their business each quarter.
You can read more about their overall business and how much traffic they generate here because in this section I want to cover a single site of theirs: The Streamable.
The Streamable covers news in the world of streaming services (Netflix, Disney+, etc.), generating ad revenue and affiliate commissions from their recommendations.
2022 was an incredible year for the site, generating millions in revenue, but Google algorithm changes have hurt the business in 2023.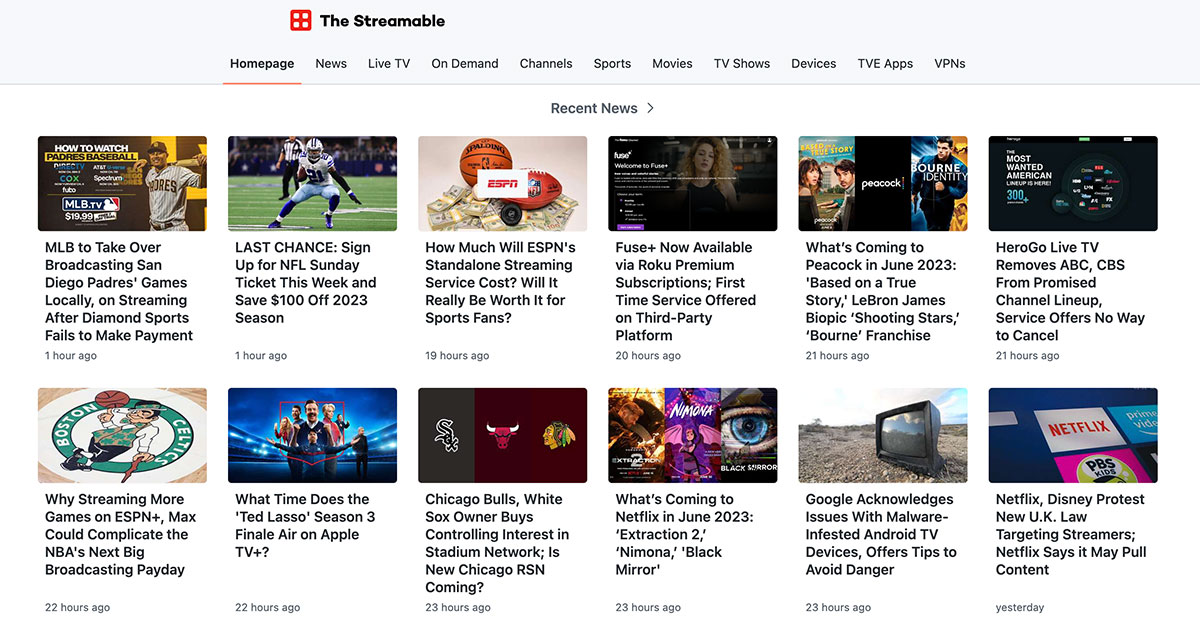 In their recent Q2 2023 earnings report, VerticalScope noted how The Streamable contributed just $200,000 in adjusted EBITDA for the quarter, a 94% decline compared to the $4.1M contributed in Q2 of 2022.
As I note in my deep dive into the brand, they're in a niche where Google can "change its mind" on your site on a whim, which seems to have happened to them.
Still, they seem very confident they can get their rankings back, and I wish them the best of luck in doing so.

The UK's Independent Saw eCommerce Revenue Increase 44% Thanks to Their Product Review Section
In June, like many other websites in the world of media, I reported on the UK's The Independent and their revenue numbers.
For the year ending September 2022 they recorded operating profits of £1.9M (~$2.4M) and a 57.7% increase in registered users, surpassing 5M.
What caught my eye, and I didn't see anyone else cover, was their 44% increase in eCommerce revenue thanks to their IndyBest platform.
What's their IndyBest platform?
Head on over to independent.co.uk/extras/indybest/ and here's the kind of content you'll see: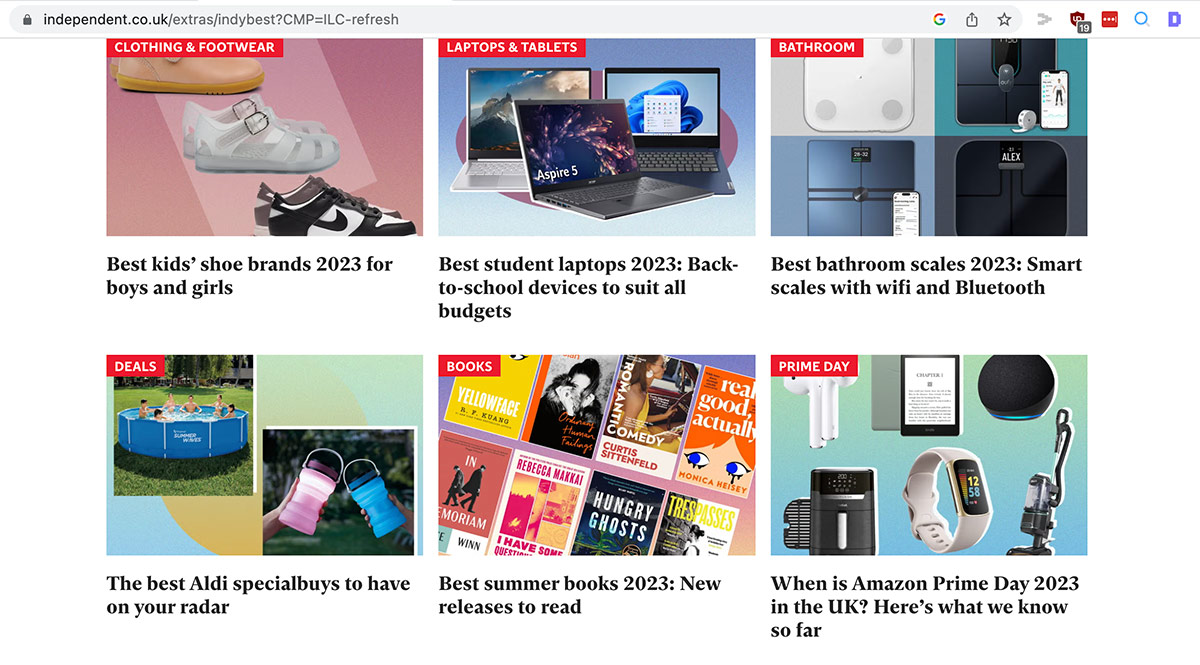 You can read my post from last month for a few more quotes and insights, but a quick summary is that it appears they get their hands on many of the products they review.
If third-party estimates from Semrush are to be believed then this section of their website isn't performing as well as it was back in 2021 but still picking up millions of clicks each month.
As a reminder (which is probably a bit repetitive if you're somehow reading every word of this update — I'm impressed), I'm only covering this as they're a huge brand and reported on this section of the website themselves.

TIME.com Has Its Biggest Audience in the History of the Brand
On April 27th TIME announced that, starting June 1st, they would remove the sign-in requirement on Time.com and open the site up for everyone to access.
They also revealed that their audience was bigger than ever, "including our current audience of 105 million, the largest in our history", wrote Jessica Sibley.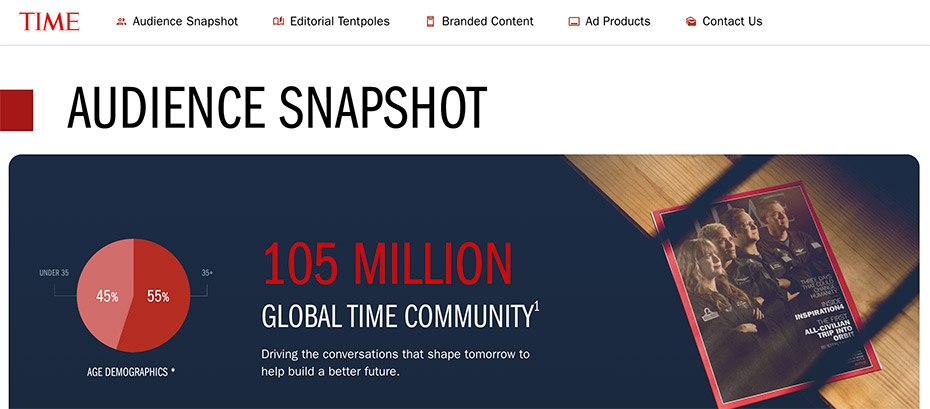 Here's how that audience is split up:
53.9M print and digital readers

US: 29.2M
APAC: 13.8M
Europe: 9.4M
Middle East: 1.5M

51M social media followers

Twitter: 19.4M
Facebook: 13.4M
Instagram: 12M
LinkedIn: 2.5M
LINE: 2M
YouTube: 1.2M
Social media followers being part of that count isn't typically what websites share – and they don't tend to go backwards too much – so I'm not sure how the website itself is performing, but I don't think they would put out a statement like this unless things were going well.
Semrush estimates show huge growth over the past two years, as does Ahrefs, while Similarweb estimates their site is picking up around 22.4M visits each month.

Are People Going All-in on AI Content Eroding the Trust in Google's Search Results? Unions Are Already Asking People Not to Click on "Bot" Articles
What I'm about to discuss isn't as interesting as seeing a two-page website dominating search results, but it's going to be an important topic going forward and recent discussions are a great place to start.
If you spend any time on Twitter you'll have likely seen the countless threads by AI writing tool-owners, or their customers, on how you can use their software to spin up hundreds of articles in minutes and start taking over search results.
Many of the examples I've seen are awful, but Google does at times reward these (albeit mainly on a tiny scale) for a period of time.
Retro Dodo founder Brandon Saltalamacchia, who I revealed as a successful independent webmaster on our affiliate keywords deep dive, posted an interesting thread in response to one of these.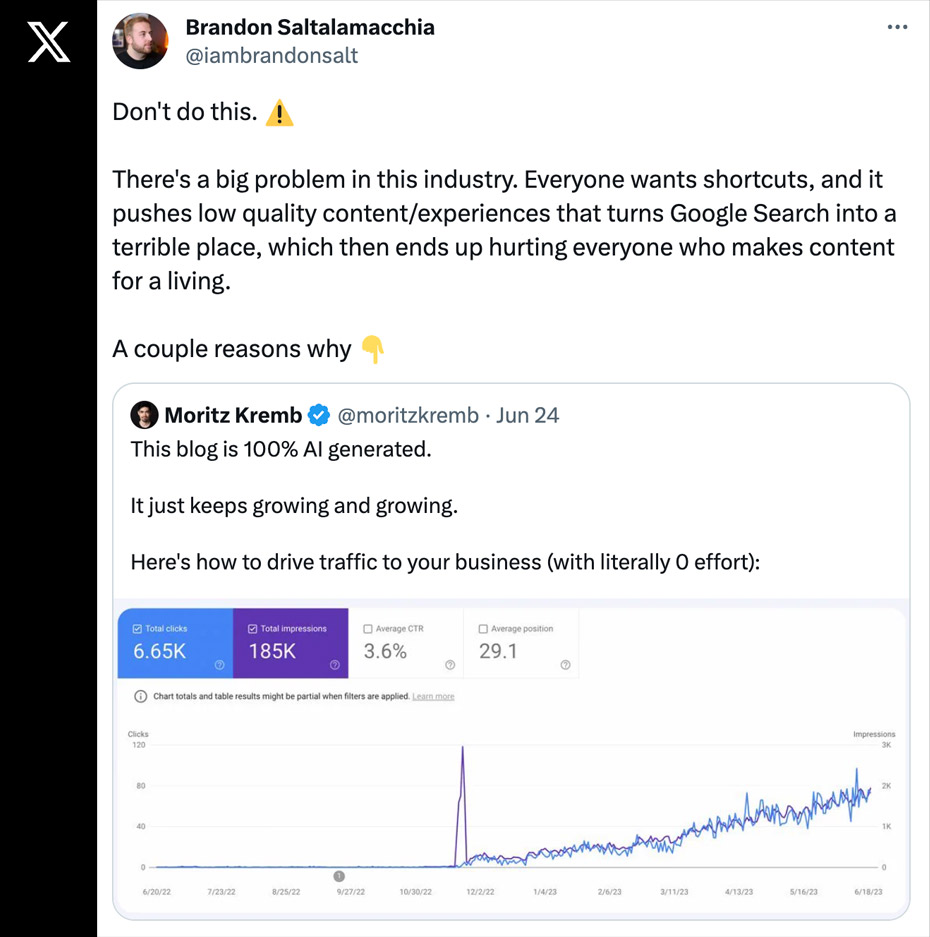 I won't claim to know the technical workings of Google behind-the-scenes but this has to be a priority challenge for them at the moment: Dealing with far more content being published than ever before and figuring out how much of it is rankworthy.
Nothing they're unfamiliar with, but surely it's on a whole new scale now.
If purely AI-generated content can rank, there's nothing you can say to stop people from trying. It's going to happen. This is Google's "fight", if they wish to take it on, to ensure that the quality of search results doesn't cross a threshold that sees more people moving to Bing, DuckDuckGo and others.
The fact is even some of the biggest brands on the web are now getting involved.
The owners of Gizmodo, The Onion, Jezebel, Jalopnik and other big names, G/O Media, have just started publishing AI-written content on their sites.
In an ironic twist, the first AI-generated article published on Gizmodo had errors and had to be corrected by a human, but these things will get ironed out.
There's a very vocal Twitter account for the Gizmodo Media Group Union which urges people not to click on any of the Bot-written articles.

In the middle of the uproar, G/O's editorial director was asked about generating content with AI and she said, "It is absolutely a thing we want to do more of".
As I say, I know this isn't the most exciting topic, but it's an interesting paradigm we now find ourselves in, so if Q2 (and 3 and 4) becomes a thing I know I'll have to revisit this one.

This 4-Year-Old, 10-Page Site Gets 28M Clicks Per Year from Google
Joseph Maxim revealed on Twitter that his build-in-public project, FixMySpeakers, continues bringing in a lot of traffic from organic search.
A site:search on Google will tell you the site has around 148 pages indexed, but we know that isn't very accurate. In reality if you try to view them all, the number is just ten.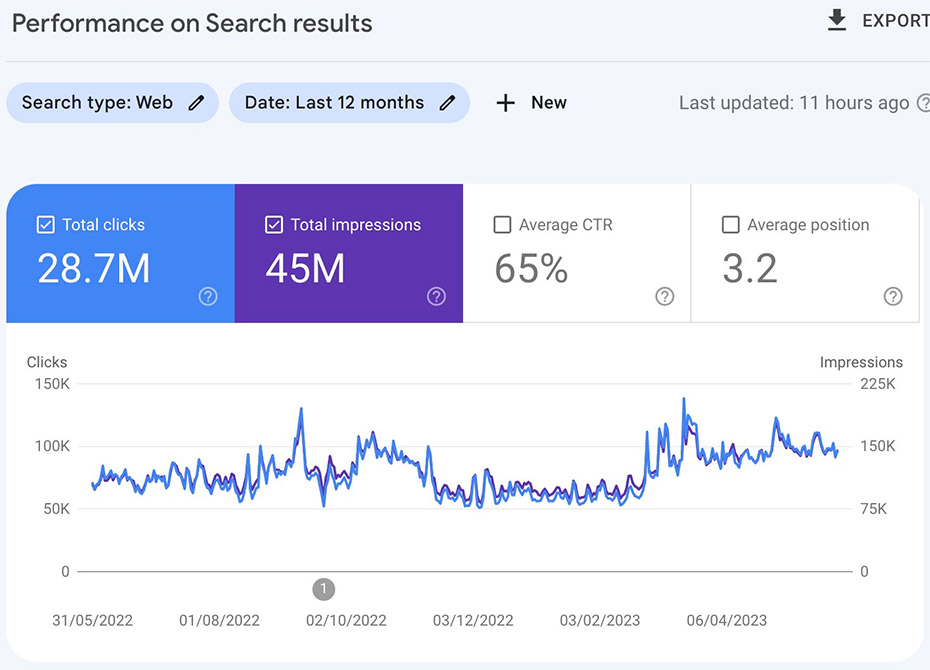 FixMySpeakers is primarily a tool that emits a specific sound said to help eject water from speakers.
It's such a clever, simple concept and it's great to see it still doing so well.

XLMedia Acquired a Finance Site for $7M. Then They Sold it for $675,000. Now We Know Who Purchased It
I'm not going to build up suspense but I didn't see anyone else report on it: They sold the site back to its original owner, who didn't have very nice things to say about XLMedia during their period of ownership.
The site in question is MoneyUnder30, which got a decent amount of attention when I shared the acquisition news on Twitter.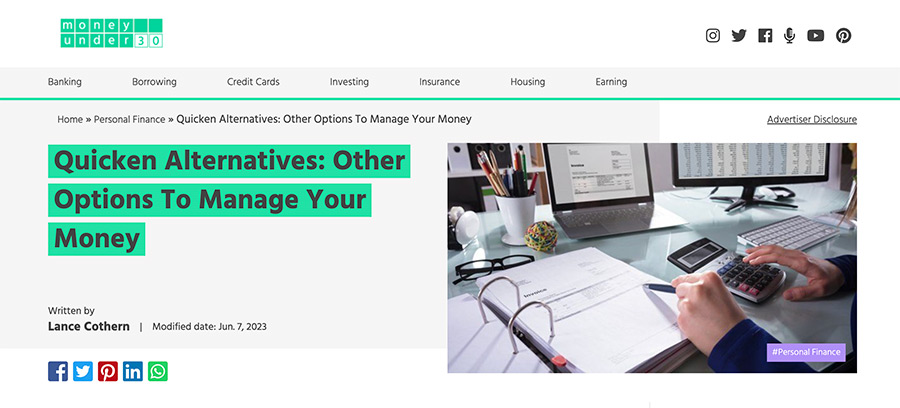 At the time I didn't know who acquired the site, but a few weeks later it was redesigned and the About page was updated.
I covered it in detail here.
On the new About page David Weliver states:
The site is still infected with a lot of the thin "me too" content XLMedia published in their sleazy effort to make a quick buck. Over time, I will replace it all [with] the kind of helpful, trustworthy advice that made this site successful in the first place.
Emphasis my own.
It should be interesting to see if he can turn it into a success story once again.

See a Twitter Breakdown of a Big Brand? There's Usually a Lot More Going on
If you spend any time on 'marketing / SEO Twitter' you've probably seen people break down the success of various companies. Many of them internet brands.
There have been occasions where I've seen people diving into why some companies were successful with SEO and completely miss that they acquired and redirected a number of authoritative sites to help speed up their results.
A great example of missing the mark is when someone broke down Kevin Espiritu's success with his media company, Epic Gardening.
Kevin very respectfully denied the claims to the thread: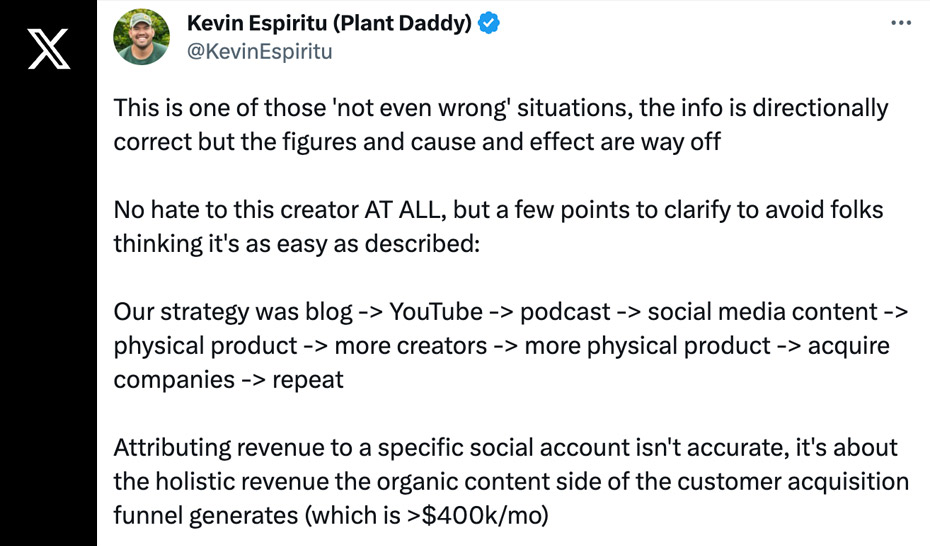 While Twitter threads can be valuable, assume there's more going on than what was shared as part of a company's success.
Just something to keep in mind.

Stock Market Site StreetInsider.com Was Acquired for $10M, And I Kind of Love How It Breaks So Many 'Rules'
May of 2023 saw the news that popular finance site Investing.com had acquired finance site StreetInsider.com, primarily for their premium "hedge fund-level content feeds."
When I first looked at StreetInsider I was expecting some NerdWallet-looking website, but I was surprised to see its design hasn't been refreshed for years.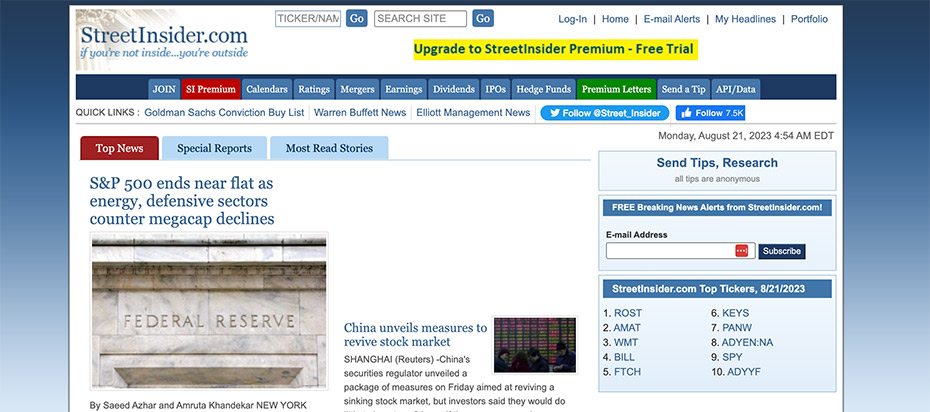 A few other things that stood out are:
The world's most straightforward email opt-in box
No articles with meta descriptions (including the homepage)
A URL structure where every+word+is+written+like+this
A logo that looks blurry on retina screens
Full-page overlays to join without any attempt at social proof
Sitewide links to the http:// version of their site
I want to make it clear that this is not an insult – they've obviously built a successful brand – but rather it goes to show that unless you're in the space, you would have no idea how successful this website is from a quick glance.
If Similarweb estimates are close to accurate, then they're not reliant on search traffic or direct traffic (which I would have assumed was huge), but display ads are actually their most significant source of visitors.

The New York Times' Affiliate Play, Wirecutter, Just Had Its Best Non-Holiday Quarter Ever. Surprisingly, Their Social Media Strategy Is Helping to Make Sales
After The New York Times Company shared their results for the second quarter of 2023, I did some maths to try and figure out how much their product review section, Wirecutter, generated.
I concluded that it likely generated at least $15M in the quarter, and potentially up to $38M.
It was the highest-revenue non-holiday quarter in their history, and they've had a few of them since acquiring the brand back in 2016.
It has no doubt been a great investment for them, and search traffic remains stable to /wirecutter at an estimated 17M organic search visitors each month (data from Semrush).
The content they produce on Wirecutter generates revenue thanks to ranking well and likely because of the traffic that can be sent there once people are already on the New York Times website. It has a lot of prominent links throughout.
For this year's Amazon Prime Day, Wirecutter saw sales increase by high double digits year over year, as revealed in this Digiday interview.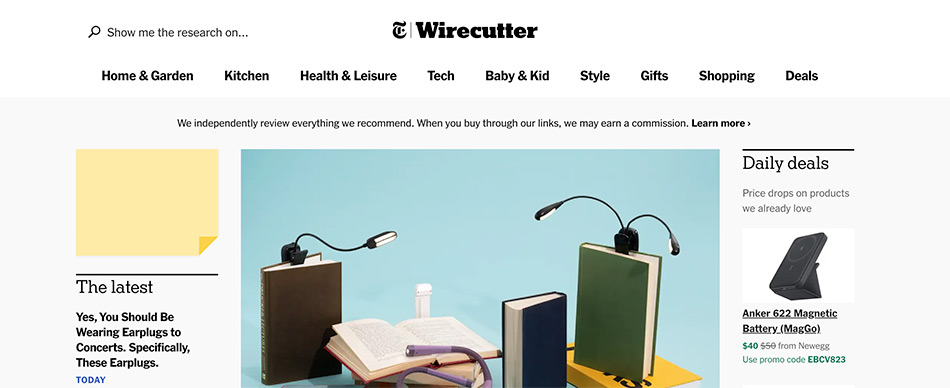 One of the angles they took was to write Odes, which are "a short love letter to Wirecutter picks that have been beloved over time" and then feature them on the likes of Instagram stories.
The single product features [Odes] that we are really focused on writing about and giving a lot of features to those in our social and bringing that more personable, firsthand account to the products that we know and love
This is a nice change from the typical category-specific roundups people tend to do and seems like a perfect fit for social media.
Bonus: Here's a Sneak Peek of What We've Been Doing Behind the Scenes
Even if you didn't read every word of the above, I've just put you through a lot of scrolling. Thanks for sticking with me. I really hope there was some insight that's relevant to your situation and what you're working on.
Over the last few months I've been publishing a lot of content here on Detailed, multiple times per week, without sending an email, tweet or any other kind of update letting people know I was doing it.
As we're going through such a shift in our industry, I want to help people stay on top of exactly what's happening and each post has focused on some aspect of that.
While I've enjoyed writing these regular reports, they're not exactly what I'm known for, and I prefer the kind of in-depth guides long-time readers are more familiar with.
Speaking of which, over the last few months as we've been building our "digital goliath database", we've also been building a system that allows us to track movement across a lot more search results than previous studies.
We're currently tracking the rankings of content sites across 250,000 specific keyphrases (which have been cleaned up to the best of our ability) to see who's thriving after Google updates.
Here's a look at the billing for our most recent crawl:

It won't cost $500+ every time, but with regular updates it won't be cheap for us either. We'll make it work.
I don't want to give away too much about why we're doing this, but the general aim is to have specific insights on who is dominating what industries and what they're doing to stand out.
I'll then use this data to share free updates here on Detailed and exclusive updates on SEO Blueprint to help us fund the work and give more value to everyone who has joined us.
(Come on, we're at 11,000 words at this point; I'm allowed to promote something eventually, hah).
If that interests you, please leave your email address at the bottom of this page and join the waiting list for SEO Blueprint (doors opening next month) if you think it might be for you.
I plan to have a lot of insights to share with that data, reporting an angle I haven't seen before.
Now It's Over to You: Please Let Me Know if in 90 Days From Now You Want to See Q2
I'm in the interesting position right now where I loved putting together this report and want to do more of them, but have no idea how many people would like to read an update.
This year's report on the 16 companies dominating Google broke our records when it was viewed 10,000+ times in the first 24 hours, and while the structure of this Q report is similar, it doesn't have quite the same headline or focused message.
I've just given a pretty in-depth summary of what happened in the last quarter, and I would love to tell you what happens in the next one.
I'm moving away from comments on this site as I can't keep up with how many are clearly written by ChatGPT (but I don't realise until I've read half of the comment) and with 12,000+ in the queue, moderating has become a part-time job for me.
If you would like to leave a comment and give feedback on this post (I read every single one), please do comment on the announcement for this post on Twitter, LinkedIn or Facebook.
Sharing this article would also be massively appreciated, but of course there's no obligation to do so.
Thank you so much for reading.
Until next time?
– G
P.S. If you're going to click the 'Like' button below (much appreciated), you might want to turn your speakers on first.
Written by
Glen Allsopp
, the founder of Detailed. You may know me as 'ViperChill' if you've been in internet marketing for a while. Detailed is a small bootstrapped team behind the Detailed SEO Extension for Chrome & Firefox (170,000 weekly users), trying to share some of the best SEO insights on the internet. Clicking the heart tells us what you enjoy reading. Social sharing is appreciated (and always noticed). You can also follow me on
Twitter
and
LinkedIn
.