If you're familiar with my personal history publishing content online over the last 15 years then you'll know I have two very strong interests: SEO, and online success stories.
These two passions have essentially merged into being fascinated by the digital publishing space.
Many online publishers, from large digital goliaths owning hundreds of sites to individual affiliate site owners, are using the internet to pull in life-changing sums of money.
Many of those are heavily reliant on search traffic. Tracking and diving into both is the perfect mix for me.
That's why when I come across a digital news brand growing quickly and generating a lot of revenue, I have to dive in and learn more.
Earlier this year I came across Livewire, who the Financial Times had just reported as having $3.24M in annual revenue, with a three-year growth rate of 189%.
These numbers were independently verified by the Financial Times, who I understand get access to accounting records before listing companies on their high-growth lists. You can find my recent Twitter thread on other success stories from their list, and the list itself, here.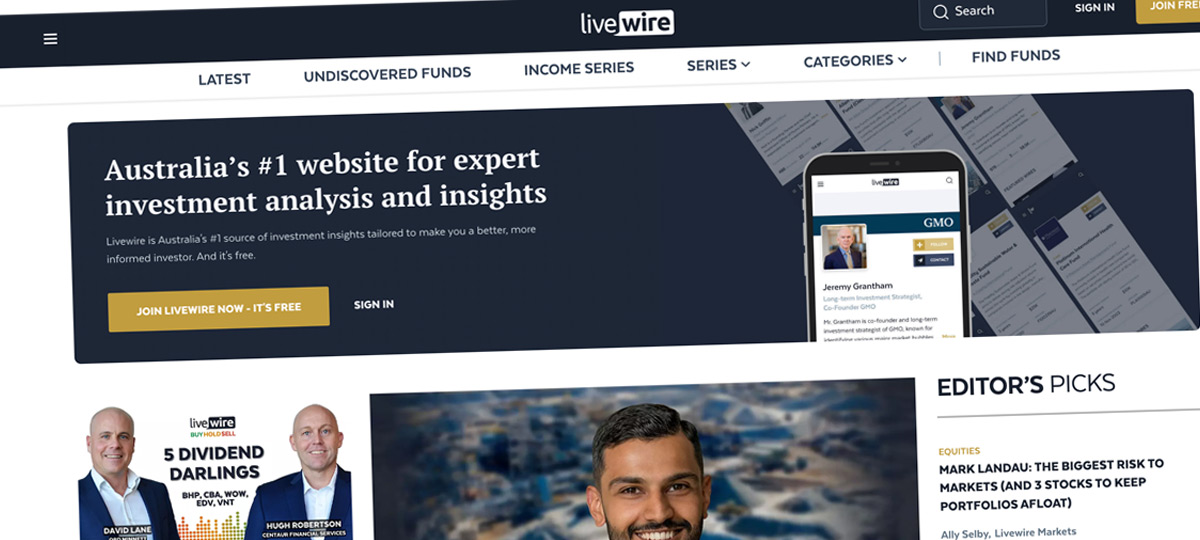 I should be fully transparent and say that these revenue numbers were for the full year ending 2021, but released in March of 2023. That's just how these lists tend to work. Companies finalise their revenue numbers for 2021 in 2022, and the Financial Times start putting together the lists before their 2023 launch.
That is to say their revenue may have dipped, but they were guaranteed to have done millions in annual revenue on the back of some huge growth, and I would be willing to bet they've continued to grow as well.
An Interesting Concept Resulted In Australia's Fastest Growing Investment Insights Website
Launched in 2013, Livewire didn't get off to the perfect start.
Founders Tom McKay and James Marlay first tried to build a social media platform for investors, but when just 17 of their first 128 beta users were still on the site a week later, they knew they had to change course.
Through conversing with some of those early users, they reported that many of them wanted more expert insights, rather than just anyone and everyone sharing their thoughts on what to invest in.
Livewire pivoted to focus on exactly that.
If you head to their homepage today you'll see lots of different experts, from lots of different backgrounds (hedge funds, investment companies, etc.) sharing their insights. There are now over 800 publishing on the site.
This seems like a massive moat any would-be competitors would struggle to overcome.
The model isn't too unlike SeekingAlpha, one of the most popular investment insights platforms for the US market.
This exclusive focus on the Australian market is no doubt a huge part of their success. While there are fewer people they can reach with their content, there's also less competition.
Six years into their pivot, they were already at 250,000 actively monthly users.
Four years after that, Similarweb today estimates they're seeing around 500,000 visits each month, with (unsurprisingly) around 88% of those coming from Australia.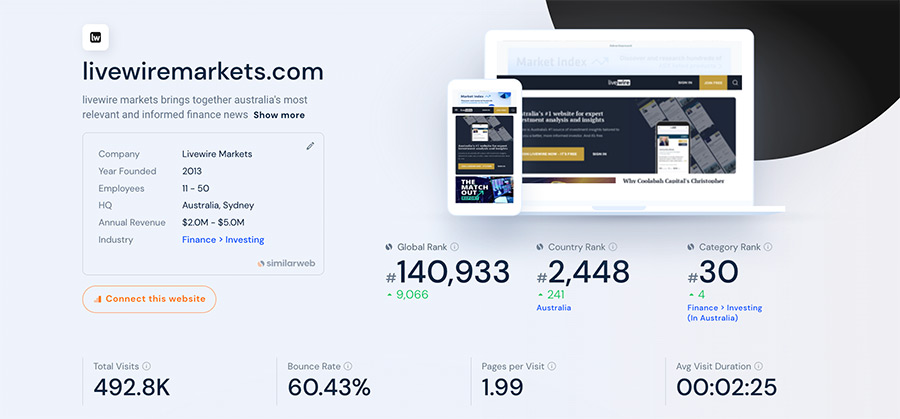 What was nice to see, but also unsurprising, was an estimated 70% of their traffic comes to the website directly. For a news site, that makes a lot of sense.
Ahrefs corroborates that search traffic is important but not critical for them, with their estimated 11,000 pages of content pulling in around 6 visitors each, per month, on average.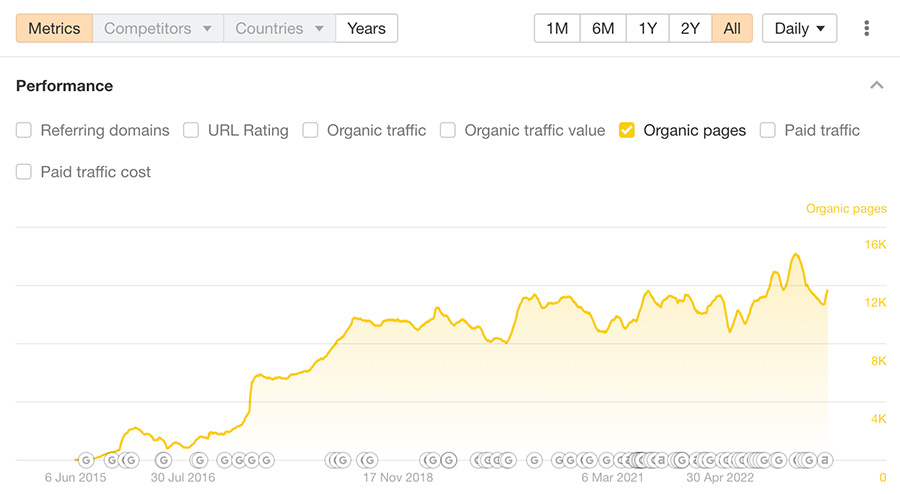 Due to our rules on doing SEO deep-dives without permission – I've covered this in a few articles now – I'm not going to get into the specifics of their top ranking keywords, link building strategy, or similar.
That said, it shouldn't be any surprise to see them targeting, and ranking for, individual stock tickers. Search traffic might not be huge for them, but I bet it's bringing in their ideal type of audience.
Ahrefs shows some pretty huge spikes in their numbers at times, which I presume is more down to appearing in SERP features like 'Top Stories'.
As Their Podcast Host Stepped Down, He Shared Some Interesting Numbers
When looking for interviews with the Livewire founders, I came across this Twitter thread from Patrick Poke, who appears to have been the first ever employee at the company. Starting out as a Market Analyst and later becoming a Manager Editor of the site.
In the Twitter thread he shared:
Their podcast hit 1,134,000 listens with just over 100 episodes
The most popular episode received 35,960 downloads
A three-part special on Uranimum was downloaded 72,805 times
At least five billionaires have been on the show
I'll be honest in saying that I haven't kept up to date on what good download numbers are for podcasts these days, but they averaged around 10,000 listens per episode, which seems pretty good to me.
Patrick also added that his own 351 articles on the site had been read 3.2 million times.
Interviewing Themselves on Becoming One of the Fastest-Growing Companies in Australia
In my search for some behind-the-scenes numbers and insights to share, it was a nice surprise to see that the Livewire founders had essentially been interviewed on their own website.
When asked about what inspired them to start the site, James Marlay answered:
We wanted to make it easier for investors to get access to the best information possible. It sounds a bit simple but that's what we were trying to do ourselves for our own investing. The best content was locked up, so we made our mission to open it up to all investors.
When asked about what was the best investment they made in the business, both mentioned bringing the right people on board as crucial to their success.
In both 2021 and 2022 they were named by Australian FinTech as part of their Fast 100 awards. Coming in at #63 and #82 respectively.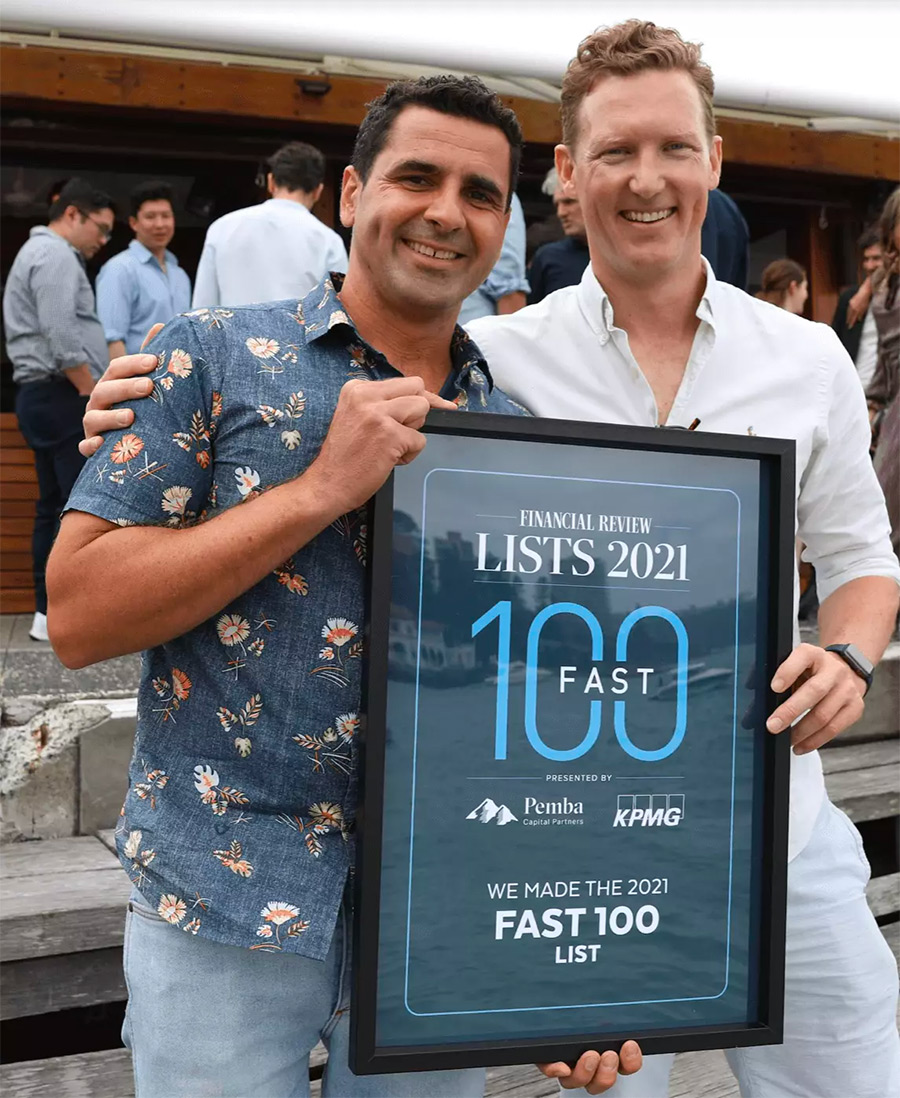 On winning the award, James answered they put their growth down to providing "a level of reporting that is industry-leading. Transparency helps to build trust, and I genuinely believe that trust is critical in fostering great client relationships."
When it comes to generating revenue, I have to assume there's a lot of ads on the website.
I say assume because – and this is a bit embarrassing – I can't get any ads to load on their website.
I've tried on multiple browsers, without any kind of ad-blocking extensions, and I see the space for where ads are supposed to go, but no ads show up.
Here's an example:
Their solutions page suggests that they help funds and wealth managers grow their reach on the platform, with the aim likely being to get them more clients. Understandably they don't give too many specifics away unless you're in the position to need such an offering.
If you want to read more digital publishing success stories, then I think you'll enjoy this list of successful blogs we put together earlier in the year.
Written by
Glen Allsopp
, the founder of Detailed. You may know me as 'ViperChill' if you've been in internet marketing for a while. Detailed is a small bootstrapped team behind the Detailed SEO Extension for Chrome & Firefox (170,000 weekly users), trying to share some of the best SEO insights on the internet. Clicking the heart tells us what you enjoy reading. Social sharing is appreciated (and always noticed). You can also follow me on
Twitter
and
LinkedIn
.