This report has received 18 updates. The last was made on January 23rd, 2023
– Added a service review blog, Tooltester, to the list at #5
– Added new revenue numbers for DailyMash which were just released. 💰
– Fixed a broken link for AtlasObscura
This in-depth report is not just a list of sites that I randomly chose. I went all out to find the internet's most successful blogs based on their latest, most accurate revenue numbers.
There are numbers here that I haven't found in any other similar list.
The idea behind this post is to help motivate you to see what is possible online with your own content efforts, or at least show you success stories in similar niches to your own that can serve as a basis for further research.
I don't say this lightly, but there are some numbers in here that will blow your mind. I say this even as someone who has been tracking online success stories for more than 7 years.
Blogs I thought were maybe six figures a year are doing $40M+. That one is #15 on the list below.
Speaking of which…
Here's the 20 Successful Blogs and the Niches They're In (Revenue Numbers Below)
Most recent revenue update: September, 2022

I was hesitant to include this site in the list as it's newer and revenue numbers aren't that consistent, but then I realised it's likely inspiring because it's a newer site.
That and it's likely more relatable than some sites further down the list (e.g. Food52 pulling in $120M) that just seem impossible targets.
Founder Matt Oney shared that "Zenmaster generates around 80k monthly visits (almost purely through SEO)" and "over the past 6 months, I've generated average monthly revenue of about $40,000."
The reason my headline says $180,000 per year instead of $480,000 ($40,000×12) is because he followed up by adding, "Although lately, I'm looking more at the $15,000 range, due to Google algorithm updates and market conditions."
I'm being more conservative with the numbers, and annual revenue is likely higher.
I've seen a few sites like Zenmaster Wellness on my travels. They're essentially niche sites focused on reviewing a rise in Direct-to-Consumer brands for things like fitness (Tonal) and apps for anxiety (Cerebral).
There's a huge market for advice in the space, and it's also the kind of health-related content that huge health brands like Healthline and Amy Myers aren't likely to cover.

GiftLab.co: $1,000,000+ In the Last 24 Months
Most recent revenue update: October, 2022

The revenue numbers here for GiftLab were a little trickier to figure out, so I have to give credit to Niall for crunching the numbers on this one.
Founder Andrew Fiebert revealed on an October 2022 podcast that GiftLab has generated around $1.2M in total affiliate commissions.
He went on to state that the first three years of the site brought in around $49,000 in commissions. Now in its fifth year, it means the site must have generated over $1M in the last 48 months.
As there's so much room for improvement across their design and branding (though they've done a great job so far) I think this will be one of the most inspiring examples on the list.
Most recent revenue update: October, 2021

As recently as last year, WellKeptWallet is reported by its founder as doing $50,000/m in revenue.
The owner has been sharing blog financials for years so no part of me doubts these numbers. Especially when they're open about their revenue declining, as a 2020 interview stated the site was doing over $100,000/m.
In the interview Deacon talks about how most of the traffic to the website is from Google, where Ahrefs estimates the site is pulling in around 280,000 visitors per month at the moment.
He also reveals that the majority of his revenue comes in the form of affiliate commissions, and the next highest source is from advertising revenue.
The latest revenue numbers we have were revealed in this teardown of the site by Matt Giovanisci.

Most recent revenue update: October, 2022

I've already mentioned EveryDayCarry in a tweet that picked up more likes than I expected (150+), but it's absolutely worth sharing again.
The site was acquired in 2022 by the 9-figure eCommerce brand Ridge, who you may know from their popular product, Ridge Wallet.
Ridge co-founder Sean Frank is one of my new favourite follows on Twitter, and he happily went into the details of how much EveryDayCarry was making before the acquisition. Here's the numbers:
$1K daily in affiliate commissions (mostly Amazon)
$400,000 EBITDA (Earnings Before Interest, Taxes, Depreciation and Amortization)
Two contractors running the site
$1M cash purchase price
As Sean commented that the site makes more money from advertising than it does from affiliate commissions, we can assume the site is bringing in somewhere around $840,000 per year.

Connect CRE: Millions Per Year, "2021 is our best year ever"
Most recent revenue update: September, 2021

ConnectCRE (the CRE stands for Commercial Real Estate) in the most basic terms is a niche news site.
They aren't focused on listicles like you might expect on other blogs, but rather they might tell you what the building currently trading as a Walgreens sold for, or recent building purchases by Goldman Sachs.
It's not the kind of content I'm interested in (and you probably aren't interested either), but there are people in this space who no doubt love their website.
They've been on the Inc 5000 list of the fastest growing private companies in America twice, most recently in 2021.
To get on the Inc 5000 you need to be doing millions in revenue, and your three-year growth rate generally needs to be above 50%. This is a growing brand.
CEO & Founder Daniel Ceniceros said in an interview about how well things are going,
"The pandemic knocked us off our axis in 2020, but our team was resilient, and 2021 is our best year ever."
My understanding of their business is that a good portion of their revenue comes from offering marketing services, including SEO & web development, to their audience. They also have an events arm, but successes here just wouldn't be possible without their main news brand pulling in a highly-targeted audience.

Tooltester: $3.8M in Annual Revenue
Most recent revenue update: January 2023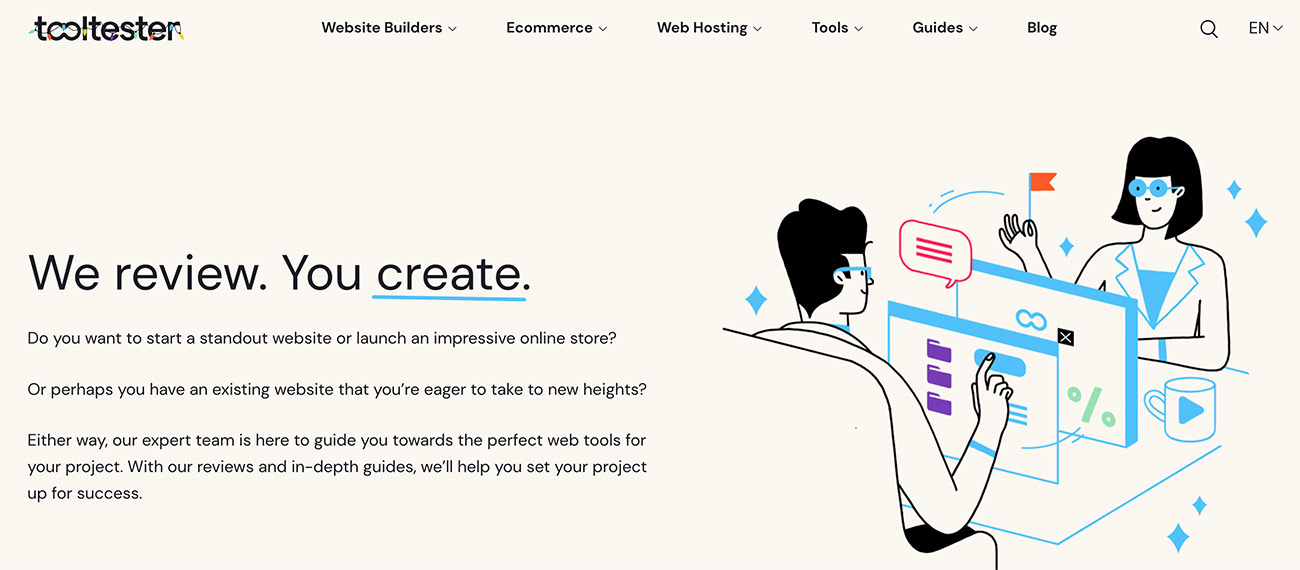 Launched over a decade ago, Tooltester has gone from strength to strength in recent years.
So much so that the service review affiliate was listed on the Financial Times' fastest-growing companies in Europe for 2022.
It was this accolade that led me to reach out to the founder and conduct this in-depth interview for Detailed readers.
There's more I could say about this one but I really recommend checking out the interview for the full story.
DailyMash: $4.3M in Revenue and $1M Profit
Most recent revenue update: January 2022

DailyMash owner Digitalbox (which trades on the London Stock Exchange as $DBOX) were recently able to tell investors some exciting news: Their flagship website has pulled in $4.3M in 2021, with profits exceeding $1M.
Its annual profit now isn't too far away from what the site sold for just three years prior (£1.2M, in 2019).
It wouldn't be surprising for you to assume the DailyMash is a news site just based on the name, and while you wouldn't be completely wrong, you are missing a big twist.
The DailyMash is a satirical website.
Just like The Onion, Babylon Bee and others you may be familiar with, but with a British focus.
Yep, that's right. While you're writing (or outsourcing) an article on the best budget microwaves for 2023, DailyMash writers are writing paragraphs under headlines like "How to survive a weekend away with a group of people who are getting paid more than you."
And this is a business that is growing fast.
In the last three years, profits have increased by 640%. I think I'll have to do a deep dive into this space in the near future.

EpicGardening: On Track for $10m in 2022 Revenue
Most recent revenue update: September, 2022
Kevin Espiritu has created what is possibly one of the most inspiring brands for people looking to turn their passions into an online revenue stream.
In an interview with NBC, Kevin said, "Last year in 2021, Epic Gardening as a company did $7.4 million in revenue" and continued by stating that the company was on track to do over $10M in 2022.
He did want to point out that these numbers were revenue and not profit.
I should note that Kevin does have a very popular YouTube channel with over 2 million subscribers so the website is not the only source of his revenue.
In an interview on the Google Blog (currently experiencing errors so I will link if it comes back online), Kevin talked about how display ads and affiliate links were a part of his focus from the start and still are today.
He even gets into some nice specifics,
"I wrote a couple of articles on hydroponics on how to keep the reservoir cool. The chiller that I use made a nice commission on Amazon. Those two articles are still ticking away, making a decent amount of affiliate commission. That one activity accounted for a 30% increase in revenue."
At the start of 2022, Espiritu announced a $17.5M financing investment from TCG to help grow the commerce side of the business as well. It sounds like this already impressive success story might just be getting started.
Most recent revenue update: December, 2020

I've seen FitSmallBusiness in the SERPs from time to time but I would never have guessed how much money they're making.
This one's about to get personal.
In a 2022 interview, co-founder David Waring revealed one of his motivations for starting the site, stating "We felt like the information for existing brick and mortar small businesses was lacking, and launched FitSmallBusiness.com to fill that gap."
Most Detailed readers will be able to figure out their source of revenue by clicking around, but it was nice to have it clarified as well: "We earn money primarily through commissions that are earned when you purchase products and services featured on our website."
Here's the personal part.
It was super interesting to see the other FitSmallBusiness co-founder, Marc Prosser, talk about ending day-to-day involvement in the company on a LinkedIn post.
"For me, our problems came to a climax when the company reached a $3 Million run rate. I was excited, ecstatic, and wanted to celebrate. We were now legitimately a "multi-million dollar" revenue company. David was disappointed. He thought our growth rate should be much higher and did not want us to have a complacent attitude after achieving this milestone. We decided it was time to separate."
Later on in that post, we get some numbers behind the brand:
"Annual revenues grew from $3 million per year to over $16 million."
At the end of 2020 co-founder David Waring referred to FSB in an interview as an '8-figure business' so it's fair to assume it's still bringing in over $10M per year today.
Most recent revenue update: February, 2022

Blockworks, a news and media brand focused on digital assets, is expected to hit $8-$10M in revenue in 2021.
They didn't hit that goal, but instead far surpassed it, pulling in over $13m for the year. The business is also profitable.
With 2022 revenue numbers they expected to hit $20M, and it wouldn't be surprising if they ended up surpassing those as well.
Digiday not only revealed they have over 100,000 email subscribers, but also that, "Advertising sales account for 90% of the company's annual revenue, which is split equally among digital ads, conference sponsorships and podcast ads, he added. The remaining 10% come from ticket sales to its conferences".
At the time of writing this, crypto is going through one of the most challenging times in its history, especially when it comes to trust. With scandals surrounding FTX and other exchanges, 2023 might not be as bright for Blockworks, but I'm sure they're not going anywhere.

StatNews – $20m Annual Revenue
Most recent revenue update: September, 2022

StatNews is one of those websites I know you're going to have very little personal interest in, but I know we can all agree the numbers they're pulling in are super inspiring.
Owned by Boston Globe Media but operating independently, Stat is dedicated to reporting what is going on in the world of health and medicine.
This is not your standard '7 reasons cinnamon is good for you' kind of content though. Instead, "Our award-winning team covers news on Wall Street, policy developments in Washington, early science breakthroughs and clinical trial results, and health care disruption in Silicon Valley and beyond."
This is high-level, highly specific content for an appreciative audience.
A September 2022 report from Adweek (paywall) notes that they now have more than 30,000 paying subscribers and are on track for $20M in revenue in 2022.
Subscriptions to Stat+ – where you get access to premium tools and subscriber-only newsletters – start at $399 per year for individuals, or $300 per year for individuals if you sign up 2-10 users.

Most recent revenue update: August, 2022

Atlas Obscura seems to have been online for as long as I have.
It's a site primarily focused on travel stories – of which thousands exist – but the angle that sets them apart is they're focused on "hidden wonders" and obscure locations you wouldn't typically find yourself going to (or reading about).
There's also a huge community element to their success, as readers can submit places they find interesting or obscure and write their own reviews. Other visitors can then mark locations as somewhere they've already been or want to go, and even add them to specific 'lists' on their registered account.
Monthly memberships range from $5/m to $50/m, and annual memberships range from $50/year to $500/year.
What's the difference in membership pricing levels? Absolutely nothing.
"All members receive the same perks no matter the payment amount", reads their membership page FAQ.
Clearly they've built up enough goodwill with their audience that people are happy to pay extra for no direct personal benefit.
Digiday reports that 2022 revenue is expected to be $21M, more than triple that of 2021. This is helped in large part by "brand partnerships" which will bring in around $14M.
If you have a site in the travel space, I think there's a lot you can learn from studying this one.

MarketBeat: $23M in Annual Revenue
Most recent revenue update: October, 2022

MarketBeat's Matt Paulson is someone I've been inspired by over the years.
We follow each other on Twitter, probably due to our shared love of really diving into the details of what can make a business successful.
Matt has built MarketBeat into a hugely profitable business covering stock market news, and reached $25m in revenue in 2021, with just 11 employees.
In a Q4 update on his business, Matt said, "We are currently forecasting top-line revenue of about $23 million, which will be down 10% year over year."
Matt also went into quite a bit of detail on why revenue had declined.
"It's a bad year for the financial publishing industry. It feels like there's blood in the streets. Between this year's stock market correction and ongoing economic uncertainty, many of our advertisers are seeing 30%-50% year-over-year revenue declines."
He also went on to say that going forward, search engine optimisation is going to be a huge focus for their business, as traffic from Google hasn't been as favourable for them in the past year.
It still looks like they're pulling in millions of monthly visitors from search though, so it's not like they've been completely wiped out.

Most recent revenue update: May, 2021

In May of 2021, Investor's Business Daily was acquired by NewsCorp for $275M. Reports at the time state the business had over 100,000 digital subscribers.
While there is a physical newspaper component to this business, newspaper income accounts for less than 10% of their revenue.
"IBD's revenue base is almost entirely digital, with nearly 100,000 digital subscribers across its platforms. IBD operates the investors.com website, which reached an audience of 10.8 million average monthly unique visitors in February, 2021, according to Adobe Analytics."
Dow Jones CEO Almar Latour has also revealed that Investors Business Daily is profitable and growing quickly.
When searching for their numbers online, ZoomInfo has the lowest revenue estimate at $24M. Others put it in the $50-70M range.
I don't have their exact numbers to share with you, but based on the purchase price you can comfortably say it's in the tens of millions.

Most recent revenue update: October, 2022

Being listed on the Inc 5000 list of the fastest-growing private companies in the US is pretty special, but Amy Myers has managed to do it four separate times (including in 2022).
Their profile on the physician and her health business states they're also pulling in those revenue numbers with no more than 50 staff (and it might be as few as 11).
The numbers I could find revealed to Inc are that in 2018 the business did $12.1M and in 2019 did $16M.
Sadly from 2019 and beyond, the Inc 5000 no longer lists revenue numbers. However, since the 2022 version showed Amy Myers' business revenue grew 163% in the last three years, that puts the numbers at $42M for the previous year.
I do want to make it very clear that Amy Myers is an absolute authority in her space, having written two New York Times-bestselling books.
She also undoubtedly makes the biggest chunk of her revenue through her own supplement line, but make no mistake about it their website is a highly successful content-based brand.
This homepage graphic looks like you could be on hundreds of other recipe sites.

SimilarWeb estimates the site picks up around 400,000 visitors per month from all traffic sources, which would match up with the 70,000 search visitors per month estimates from Ahrefs.
I won't dive into her top pages or ranking keywords as I don't think that's fair.
Amy did have to get her revenue verified every time she wanted to be listed on Inc (and knew it would be shared with the world) so that's why I've shared it here.
I love success stories like this where the person is clearly having a huge positive impact on their audience and being massively rewarded in the process.
Purewow – $43m in Annual Revenue
Most recent revenue update: December, 2021

To me, Purewow is a site that looks pretty professional and moderately successful on the surface, but you would just never have guessed their revenue numbers.
In 2020 the site pulled in $27M and in 2021 pulled in around $43M, as reported by Adweek (note: paywall).
While Purewow is part of Gallery Media Group (which includes the website ONE37pm), these numbers are just for Purewow.
Purewow is essentially a women's lifestyle content powerhouse, covering topics like fashion, beauty, life hacks and recipes (yes, I read their title tag).
As above, I won't dive into their top-ranking keywords as I don't think it's fair, but will say that Ahrefs estimates they're pulling in over 6 million visitors per month from Google (and it has been steady throughout 2022).
To be honest, I just love seeing a successful site like this that isn't owned by either Hearst, Future or DotdashMeredith. Or at least not yet, anyways.

Dr. Axe: $50M in Annual Revenue
Most recent revenue update: November, 2021

Dr Axe has to be one of the more controversial websites for those in SEO circles. When SEO twitter was rallying around Examine.com and wanting Google to rank it better, they were also questioning why Dr Axe was performing so well in search results.
Whatever you think of Dr Axe of their content, Google has been loving the website in the second half of 2022.
One thing I should point out early on is that Dr Axe clearly makes a lot of his revenue from things that have nothing to do with search traffic or even the content they put out on their website. He's the founder of Ancient Nutrition, which is a supplement brand that can be found on Amazon, iHerb and more.
It's my understanding that anyone reporting on Dr Axe's revenues is including those numbers as well.
For that reason, it's hard to say how much of Dr Axe's revenue comes from display advertising, affiliate links and similar. That said, when you're pulling in millions of visitors per month from Google to health-related queries, you can be sure you're not hurting for income.

Most recent revenue update: November, 2022

One of the craziest things I have to tell you first about this financial advice website is that it's not available everywhere in the world.
I think the only IP addresses they allow to look at the website are from the US.

I understand their reasoning. I've just literally never seen this on any other finance site.
Back on topic, The Penny Hoarder generated $37M in 2019 and over $50M in 2020.
At least according to Ahrefs, search traffic is higher now than it was in 2020, so even if revenue numbers haven't improved, they're still likely making tens of millions.
We might not get any more numbers on the success of TPH because it was acquired for $102.5M at the end of 2020 "for an all-cash purchase consideration".
If you want to dive into this one, founder Kyle Taylor has given a lot of interviews about the site over the years that are just a quick Google search away.

Food 52: $120m in Annual Revenue
Most recent revenue update: February, 2022

What happens when two former New York Times journalists team up to create a community around recipes and the kitchen? A content and commerce juggernaut that did over $120M in revenue in 2021.
If you're planning to build a content site, it might be a bit less inspirational to learn that "Food52's revenue hit around $120 million last year, 85% of which come from commerce".
That would be looking at the wrong side of the equation, however. That's $18M in annual revenue that has nothing to do with the products they sell. In other words, it's from advertising, affiliate commissions, and similar.
The design of Food52 has changed quite a lot over the years. What was very clearly a "food and recipe blog" now has an interesting mix of the two on its homepage.

NerdWallet: $379.6M in 2021 Revenue
Most recent revenue update: November, 2022

For as long as I've been online, NerdWallet has been the poster boy of what an individual can do when they're passionate about covering a topic online.
Founded by Tim Chen and Jacob Gibson back in 2009, they turned $800 into a business that is not publicly listed on the NASDAQ exchange as $NRDS.
How the website came to be is one of my favourite stories.
Chen had received an email from his sister, who was living in Australia, with a question about finding a credit card with lower foreign transaction fees.
"My first inclination was, 'Let me Google that for you and I'll get back to you in three minutes,' Chen says. "And, I was shocked I couldn't find anything on Google that wasn't basically marketing [or] promotional material."

Chen says he drew on his own finance experience and still it took him, a professional, a week of extensive research to compile what several major banks and credit card companies had to offer. He sent his sister an Excel spreadsheet breaking down her options.

Soon, that spreadsheet was being forwarded around widely outside of his own group of family and friends.

It made Chen realize there was "real shopability problem in financial services," where consumers often had to sift through banks' dense materials for information.
Forgive the longer quote for this one. I just really like the origin story.
In Q3 of 2022 they averaged 19 million monthly visitors, helped no doubt by search traffic which SimilarWeb estimates makes up 85% of overall traffic. With Ahrefs estimating they pulling in around 21 million clicks per month from Google, these line up.
While their revenue numbers are insanely impressive, NerdWallet is yet to have a profitable year on public record and their stock price is down 34% (as of writing) over the past 12 months.
As they are a public company though, we'll be able to tell you exactly if they're able to turn that around.
Besides the companies mentioned in the introduction which I purposefully didn't share the revenue numbers of, there were a lot more companies I looked into that unfortunately haven't made any public announcements regarding their revenue numbers. At least not to my knowledge.
Some companies I would have loved more info on include:
Victorious SEO (5x on the Inc 5000)
SEO Werkz (5x on the Inc 5000)
Moz – they used to be completely transparent about their exact revenue numbers
If you work at one of these companies – or any other big SEO brand – and want to share your numbers, I would happily add them to this post.