As marketers, we're always looking for opportunities to get traffic and links for ourselves (or our clients) in a natural way, and I believe 'Rebound marketing' is one of the best ways to do that.
Rebound marketing is simply this: You take the the current hot news item for the world (or a particular niche) and try to find a way to get that traffic and attention 'rebounded' onto yourself.
It might sound a little sleazy on the surface, but when done properly it can be incredibly valuable for your audience, and possibly even the world.
(Note: I'm not trying to coin some new term here. I just don't know how else to describe it. If there's a proper term, please let me know on Twitter.)
What I'm about to share with you is something I believe to be so powerful that I spent thousands of dollars to make my own custom dashboard of rebound marketing opportunities.
The core principle behind it was built entirely with free tools, and I'm going to show you how to utilise the same concept without spending a penny.
To show you what I mean by rebound marketing (again, I just don't know of the 'right' term for this), consider this Twitter conversation a few months back which seemed to have the whole internet talking about it.

The conversation between Carter and Wendy's was retweeted millions of times, gave Carter the nickname 'Nuggetboy', and he even appeared as a guest on The Ellen Show.
It earned Wendy's a lot of press, but others wanted a piece of it for themselves.
T-Mobile CEO John Legere was just one example of someone who tried to get 'in on the action'.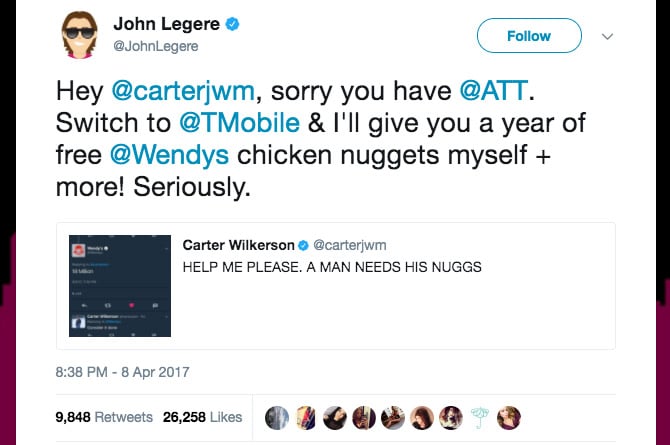 He wasn't alone.
Apple Music, Microsoft and even actor Aaron Paul got involved.
Rebound marketing urges you to consider whether there's a 'way' to have people talk about you at the same time they're talking about something else.
That might sound manipulative but it can certainly be used for good, as our next example shows.
How a Flight Booking Website Used Rebound Marketing To Finally Pick Up Backlinks
The online flights and deals space is incredibly competitive, with 'natural' links requiring some very creative content marketing to acquire.
Skiplagged, despite reaching millions of visitors each month, barely pick up any backlinks to any page besides their homepage.
During the massive hype that was Pokemon Go – launched 1 year and four days ago – Skiplagged saw an opportunity to use their technology to help active players.
They created two maps on their site which helped people to track the best Pokemon in their area, and picked up a lot of press for doing so.

It also helped solve their backlinks problem, with hundreds of new sites now talking about what they had created.

Despite being around for four years, these two new pages they created last year are now the most linked-to internal pages on their entire website.
They found what was hot in the moment, created something that genuinely helped people, and received great press for it in return.
How the Finance Web Kept the Conversation Going About Avocado Toast
Another example of rebound marketing comes from Time Magazine, who profiled an entrepreneur suggesting that millennials wouldn't have financial problems if they spent less money on avocado toast.
There's a sentence I never thought I'd write.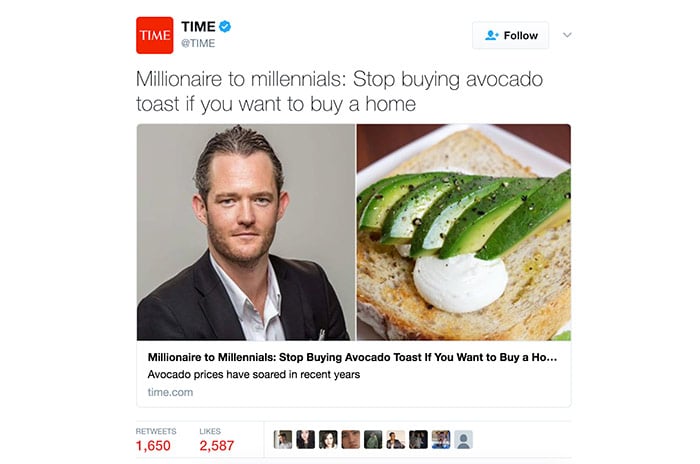 The story first went viral on Twitter, before large mainstream press outlets started putting their own spin on things.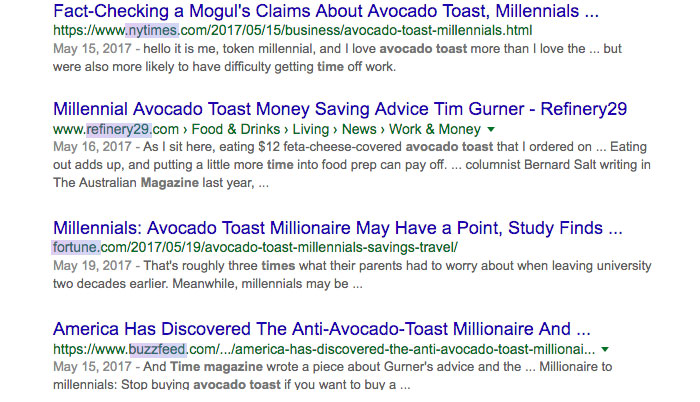 One of my favourite reactions comes from NYT-Bestseller Ramit Sethi, who went into detail on how ridiculous he thought the suggestion was.
While his response wasn't some viral sensation, it was the most retweeted article of his that he's written in 2017.
Rebound marketing shows that if you're struggling for content ideas, replying to someone else's thoughts can still be done on your own website, rather than solely via comments or social media.
The Key to Rebound Marketing Is Knowing What's Hot, Right Now
If I'm right about that, your next question should then be: "How do I find what's hot, right now?"
We have Twitter trending topics, but those are too broad.
What you want to know is…
How do you cut out the noise of irrelevant content and find what's popular in your niche?
There are plenty of tools to tell you what went viral after they went viral, but what about what people are talking about this minute?
I'm going to show you how to build your own dashboard to find the most popular content in your niche, which updates every single day.
To give an example of what we're hoping to build, here is what I believe is the most talked about content in the personal finance world as I write this on July 10th, 2017.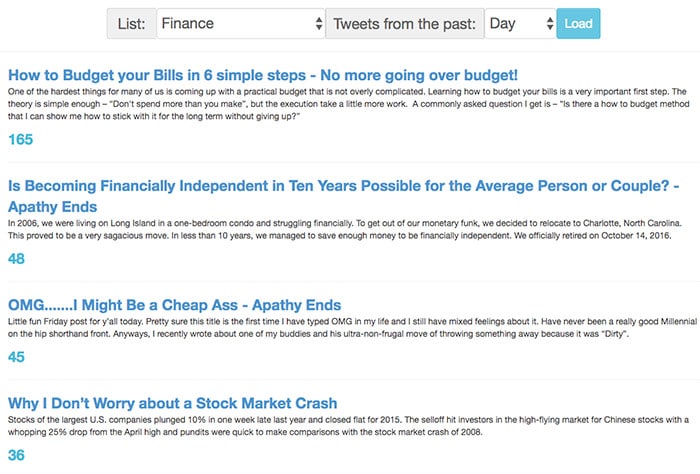 Ignoring the unattractive interface, this data is full of traffic and link building opportunities.
I have no involvement in the personal finance world (and little interest), but I can automatically see what people are talking about that myself or my clients could 'respond to' and keep people talking.
If you're interested in how, keep reading…
Step #1: Create a Twitter List of 100+ Active People In a Particular Niche
To find out what's hot, you need to get it from the source: The people who are sharing content in that space.
The reason you want to create a Twitter list (even though you can get insights from the people you're following) is because there are going to be people who are active in your space that you just don't want to follow.
For instance, Gary Vee tweets a lot about marketing, but far too often for my liking.
Here you can see my Twitter list in Business & Marketing which currently has 192 people in it.

I only follow 151 one people on my own Twitter profile – and quite a few have nothing to do with marketing – so there are people on that list I wouldn't want in my main Twitter feed (not you, David!).
The more people you can add to the list, the better. I have over 800 people in my private Twitter database that only write about business and marketing. They're real people who actually use the site without automated tweets.
To add someone to a Twitter list, simply head over to their profile and click on the three little dots next to the follow button.

You don't need to be following someone to add them to a list.
This part of the process is a bit of a pain, but you only have to do it once and then you can utilise it forever.
I built a completely free tool that will help you with this process.
All you need to do is know one 'influencer' in a niche and you can use it to find many, many more.
I recommend adding at least 100 people to a list otherwise the top stories you find are going to be in too much of a "bubble", with the same people constantly sharing stories from the same sites.
As a final tip, make sure that your Twitter list is public or you won't be able to do step three later on.
If you want to be private about the lists you're building, you can simply create a new Twitter account.
Step #2: Connect Your Twitter Account to Nuzzel
I have a love-hate relationship with Nuzzel.
I love the idea behind their service, but the team that runs their operations are really hard to work with.
I bought an ad from them not too long ago – I was literally their 4th ever advertiser – and even though I purchased a text link in their newsletter, the ad was blocked by anyone using AdBlock Plus or U Block Origin (which is a huge part of their tech-savvy audience).
After promising to look into it months ago, my last three emails have gone unanswered.
My personal annoyance aside, Nuzzel allows you to find the most common links that anyone you follow on Twitter (or add to a Twitter list) are sharing.
This means that if a few people all share the same story, that story will rise to the top of your recommended content.
Here's the top story that my original marketing list from Twitter are talking about today.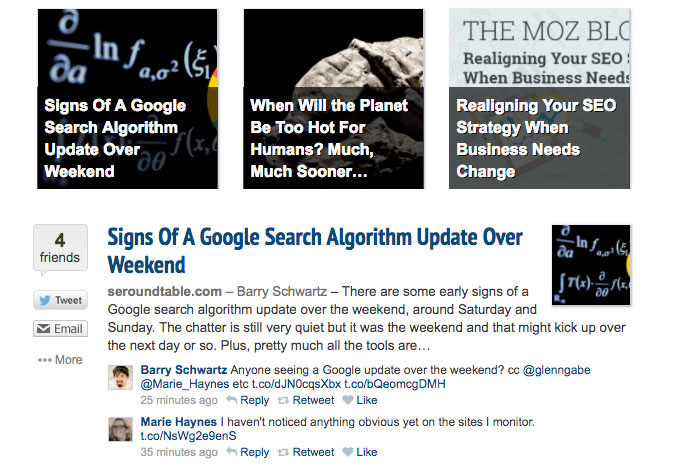 The reasons I recommend using Nuzzel with a list, rather than just the people you follow, are:
You should track more than just the people you wish to follow to help diversify results
You may want to track industries outside of those that personally interest you
Sometimes there are topics that you can 'latch' on to, outside of your current interest
Every one of my own lists in my personal database have at least 400 Twitter users relevant to that industry which let's me find what's really popular among that audience.
Step #3: Turn Your Nuzzel Stream Into an RSS Feed
This is optional.
If you're happy with the Nuzzel interface and only want to track one niche, you can simply log-in each day and see what's hot.
Skip steps #3 and #4 if that's you.
If you're like me and have many niches you wish to follow, then continue reading.
For those are tech-savvy there are better ways to set-up a dashboard than what I'm about to advise, but it's a good starting point.
I personally outsourced this entire process to a programmer – skipping Nuzzel in the process – but you don't need to do the same to find this useful.
If you don't want to keep clicking on different Nuzzel lists, we can turn Nuzzel into an RSS feed that that you can check in multiple ways.
For this step I'll use FetchRSS.com, but there are lots of free tools that offer the same service.
Once you open the site, just enter the URL to one of your Nuzzel lists.

Note: It will take up to 24 hours for Nuzzel to see your public list, so create a few at once to ease the pain of waiting.
Once you click continue, you'll then need to tell Fetch RSS what data is what.
So when they ask for a headline, you click on a headline.
I've created a little GIF below to show you how easy this is.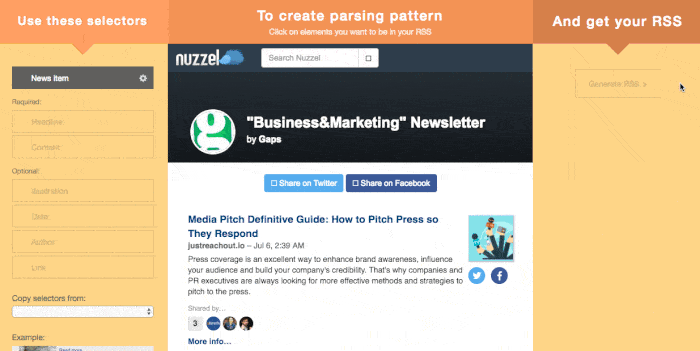 The reason I chose FetchRSS for my demo is that it also allows you to select the names of authors and any images from Nuzzel if you so desire.
The only issue I had when setting this up today is that it would only pull back the last four updates from Nuzzel, which other services didn't have a problem with.
If having more items from Nuzzel pulled into your RSS feed (without graphics or other info) is a must for you, Feedity is a good alternative.
Step #4: Add Your RSS Feeds to a Custom Netvibes Dashboard
As with step three, this is optional and depends on your goal.
If you have marketing clients in a number of different industries then you might want to stay on top of lots of different topics to see what people are talking about.
If you just have one website you're looking to promote, you could just stop at step 2 and keep refining your Twitter list.
I should add that I don't personally use Netvibes – I built my own feed reader and Nuzzel alternative – but it's a great platform if you don't want to spend money and still keep track of what's happening.
When you join Netvibes you will be asked what categories and topics you're interested in so you can populate your dashboard. Just select anything (I clicked Tech News) and then you can delete everything once the page is generated.
Then you simply need to click the '+' sign (top left) to be able to add RSS feeds.
You can add your RSS feed from FetchRSS like so:

You can then keep adding lists to have different topics you wish to follow.
You can also play around with the styles in Netvibes to show lists or graphics with each category as well.
Here you can see I have easy access to trending stories in Marketing, Finance and Travel, all in one place.
If you had the odd issue of FetchRSS only pulling in four items from Nuzzel then again you can try Feedity which doesn't have that problem.
The end result is a dashboard of what the web is talking about in regards to any industry, all accessible via a quick glance at Netvibes.
In the next section I'll show the kind of ideas I get from the items on my lists.
If You're Serious About This You Can Build Something Game-Changing
As I mentioned in the introduction, I spent a quite a bit of money building my own dashboard to find rebound marketing opportunities.
I don't use Nuzzel at all in my own implementation — their solution is surprisingly simple to copy even though they've raised over $5M.
I was going to release it to the world completely free – and may still do so – but I realised I would likely need people managing the site 24 hours per day.
Now and then there are Twitter contests or 'tweet for bonus' offers that become popular and take over the results.
That's fine if the dashboard is just for your own use as you can scroll past the irrelevant news, but if I wanted people to come back to the site each day, I would have to find someone to moderate all new entries.
The biggest issue with Nuzzel for me was that they only let you see popular content in a 24 hour range (even if you can change the dates).
I improved on this by collecting data so I can see what's popular over a 7-day or 30-day period.
Here's the top travel-related content my tool picked up for the past month.
The numbers assigned to each article are not how many tweets it received (those are much higher). The numbers are how many people that are in my list tweeted something.
Just from these four stories alone, there are four pieces of content I could create:
The Sights You Can't Miss on Your First Visit to Cambodia
11 Ways to Reduce Anxiety When You're Travelling
4 More Myths About Travel, DEBUNKED

A Spanish Secret More Closely Guarded Than Catalonia's Miravet
Not to be negative, but you could potentially also go against what others are talking about, just like Ramit Sethi did with his popular post on avocado toast.
Perhaps one of the myths about travel wasn't actually debunked.
Maybe there are terrible things happening in Cambodia right now that people need to be aware of.
Maybe the 'secrets of Spain' aren't really a secret, and everyone knows about that place already.
Remember, these are the topics that travel bloggers (and travel blog readers) are talking about right now, so there's a great chance if you cover a similar topic you can enjoy some of the interest in those subjects.
Another great thing about building this kind of dashboard is that you already know who is talking about the popular topics, so when you create something similar to 'rebound' the attention, you have a huge list of people to reach out to.
While you might not find relevant content you can 'get in on' on a daily basis, I have no doubt that at least once per week there's something you could respond to if you are tracking enough users.
I really hope you enjoyed this update!
A Shameless Plug: 24 Hours Until the Doors Close
In less than 24 hours I'm closing the doors to Marketing Inc, my training program which helps people rank websites and close marketing clients.
The training has made a lot of people a lot of money for one reason: There are only so many spots on a Google search result, and companies will pay money for help to get them there.
Literally today, one of our students received payment for a $19,000 invoice.
This isn't a surprising or once-off event. The testimonials on our website are real.
If you take action with the training and don't make money, we offer a 100% money-back guarantee.
This opening is a pretty big deal because for the first time ever, I'm starting a brand new SEO agency from scratch and documenting every single step of the process.
I'm not someone who sends out a "OK, I'll open the doors for another 24 hours" kind of email so once this post is a day old, the doors are closed.
If you would like to learn more and chat with me live (bottom right of the website) you can do so here.
107