There's one particular style of content marketing that, when done properly, can get everyone in your niche talking.
The reason I've never tackled this angle myself is because it's so easy to get it wrong.
I've seen cases of people trying to pull it off but they just end up looking like they're trying too hard.
If you have more confidence than me, this could be something that gets you noticed.
If you didn't see the homepage image associated with this article, the type of content I'm talking about is often called satire.
That means writing something in a serious and almost convincing way, but exaggerated in a way that means you're essentially making fun of your niche or even yourself.
The first recent example of satirical content I came across was from a blog named Hackernoon, where contributor Lucas Roitman wrote about struggling to survive on a $250,000 salary.


The reason I think the piece worked so well is that you think there's something 'off' about it when you're reading, but you have to keep going to see if your suspicions are correct.
It's so possibly true that you aren't quite sure if you're reading a serious piece.
While the brand is already fairly popular on Medium, this is one of their most liked posts with over 600 'hearts' and 100 comments.
More recently, a blog named McSweeney's wrote about how they only hire staff who are 23 years old because old people don't have many creative ideas.


I originally found this being shared on Twitter, but it went much further than 140 characters.
In less than a week the article has been shared on Facebook more than 43,000 times, undoubtedly sending a lot of first time visitors to the McSweeney's website.
There is a lot of discussion these days on diversity when hiring people (even down to their age), so not only was the article cleverly written, it was also written at the perfect time.
My third and final example is my favourite, because it's just "so true", yet clearly a dig at the niche it's intended for.
A Reddit user named Morgenthau100 shared an article in the /r/Watches sub-Reddit that became one of the most popular posts ever shared there.
He created an IMGUR album outlining how to create a popular watch brand.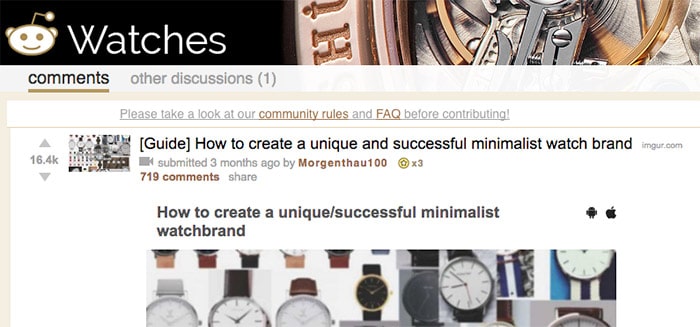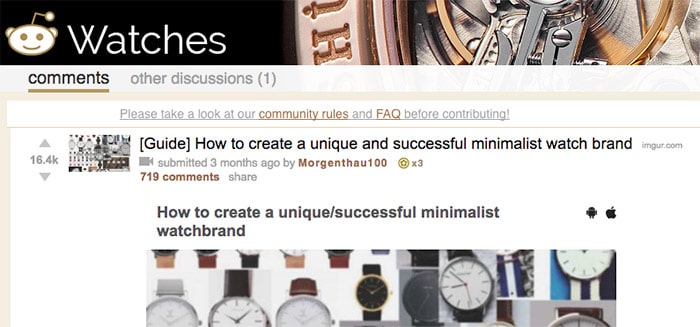 As you can probably guess from the tone of this post, his suggestions could possibly be mistaken as serious, but were making fun of new brands in the watch industry.
The first suggestion about naming your new company really made me laugh. Especially thes last sentence…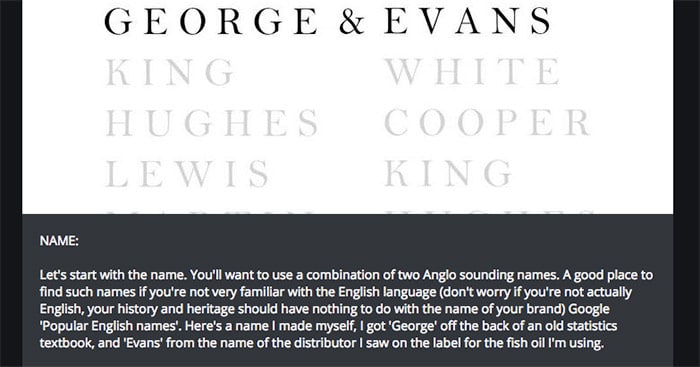 When done right, these types of articles can easily go far and wide because everyone who is involved in the space wants to share it with others.
You can believe that people in the watch industry sent this to their friends that have never even heard of Reddit.
Although there's so much potential with this type of article, I don't have the guts (or skills) to pull it off myself.
If you make it seem like you're trying too hard to be funny or that you're being overly dramatic, it just kills the vibe and could potentially make you look bad to your current audience, rather than have more people discover your work.
The content must seem like there's some possibility that you're being serious, but have an underlying feeling that it's a total joke that you're now "in on" as you continue reading.
If I Were to Attempt to Pull This Off
And I won't, because I'm not good at being funny when I write.
But *if* I were to try it out, I would more than likely target the SEO world.
The key to having success with this type of article is that you really need to know your industry – or whatever you're talking about – inside out.
You need to know all of the little quirks and nuances that only people in that niche would "get".
For instance, if I was writing something satirical in the SEO world, I could comment on how my SEO team set their phone alarms to go off whenever Gary Methode (Googler) tweets, but his recent late-night updates have meant that a lot of staff are coming into the office looking incredibly tired.
Not funny?
See, I told you this wasn't for me.
Here's how I would love my own satirical content efforts to turn out….

This example isn't satire, but it was 'new style' of content that people tried to copy.
It was so popular it received over 16,000 likes on Medium, which has to be close to a record.
Here's how my efforts would probably end up…
Written eight days later after someone succeeded with the model, sitting with six lonely likes.
Think you have what it takes to make fun of your niche?
I would love to see what you come up with!
View Case Study
Detailed Pro
gives you the traffic and link opportunities you need to grow your search and referral traffic.
Our full-time marketers manually pick the best marketing opportunities for your website, so you can focus on what's important to you.