I promised that if I discovered how to build whitehat links in any niche, fast, I would share my findings with the world.
I am now about to keep that promise.
Read carefully.
The ability to build legitimate links to your own sites or your client sites is the most powerful internet marketing skill you will ever acquire. Mastered, you will find an endless line of people looking to pay for your skills.
And that's if you don't just use them for yourself.
I turn down 90% of the people who reach out to me looking for links, and at any point could send out an email offering a service which would keep myself and my team busy for years.
It's not that there aren't any good SEOs and link builders out there, but that there are incredibly few focused on building legitimate, whitehat links as a service.
This brings me to an important point...
If you need incredible links that rank sites, you'll probably have to learn how to build them yourself.
The few companies I know who offer truly whitehat link building are so in demand they can charge whatever price they want. And that's if they're even free to take on more work.
That's the bad news.
The good news is that you can learn how to do it yourself...and do a much better job than any link building agency will ever accomplish.
My own included.
Close any other tabs you have open. You are, as promised, about to learn how to do what we teach our 7 and 8-figure clients.
Step One is to create a "DREAM 100" list of sites you would love a link from. They can be blogs. Or eCommerce stores. Or news sites. I don't care who they are, but I do care that you choose at least one hundred sites.
Let me emphasise how important this is...
When it comes to link building, so much of our efforts are reactionary - "Nice, this site accepts guest posts" - and almost no attention is paid to the dream websites we would love a link from, whether they accept guest posts or not.
If you take this seriously, you won't need to delve into your competitors backlinks ever again. It's a bit like pulling weeds in your garden. Do it right the first time and they're probably dealt with forever.
I should add this: Your "DREAM 100" needs to be active. If you pick sites that don't write very often, and link out even less, you're going to be waiting a long time for them to ever link to you.
Take your time with this. Most beginners never even consider it, and most experts don't focus on it enough.
If you've written down your hundred sites, we're ready for Step Two, which is to...
Perfect Your Why
When someone opens a message from you, their gut instinct is to think, "Why is this person emailing me?".
If your message doesn't excite or resonate with the person you're emailing, you may as well have sent them an offer for cheap tins of meat (that's a spam joke).
Here's an example: Let's say you wanted a link from the Detailed.com blog. You could straight up ask me for a link, which I'll completely ignore. Or, you could fix any number of problems I have, and instantly earn my trust and appreciation.
Just by changing your why you've increased the chance of getting a link from me by 1000%.
Think about the problems I might have...writing article copy (ouch)? Getting link building case studies because SEOs are worried about competition? Am I struggling to find amazing podcast guests?
There are 50,000 bloggers who will link out this week with those exact same issues. That's a fact. Here's another:
You can solve the 'why' for 100 people quicker than you can write a guest post
Most emails for links tend to look a bit like this...
I get about 10 of these emails per week, as do the dream people you want a link from.
I hate receiving them, but I want people to keep sending them. They make life so much easier for the rest of us.
The simple act of not sending anything remotely similar to the example above makes you instantly stand out from the crowd.
Change your approach and you'll change your results.
Let's keep moving. Step Three.
Perfecting your why is powerful, but it won't overcome your lack of having something worth sharing.
I hate to break it to you, but your lead-generation homepage is not going to get the blogosphere talking. Fortunately, it doesn't have to.
Warning: What I'm about to say is going to go against everything you typically read when it comes to writing content that picks up links.
Here we go...
To pick up limitless links through outreach, you just need one amazing piece of content...on a really generic topic.
That's not a typo. I really did say generic.
I know, I know, you've seen the success stories of unique content that picked up hundreds of links and transformed the rankings of the host.
Power to you if that ever happens, but for the rest of us it's not something we can hedge our SEO success on.
There is a better alternative: Write something amazing on a generic topic.
Topics like how to save money, how to lose weight, how to improve your website design or how to have fewer people abandon your eCommerce store checkout page.
Before you think I've gone mad, I'll explain exactly why: Great content on broad topics fit perfectly into other peoples articles.
If someone is going to link out to your original piece of research or 'weird angle' that got the web talking, they have to explain what they think about it or what makes it so interesting.
For generic topics, they can literally just say "Here's a great resource on that, [link]."
The more wacky and out there your piece of content, the rarer it is that someone will be about to write something related.
With these three simple steps in mind, you stand a better chance to pick up dream backlinks than any of your competition. Links that money literally can't buy.
If your current thought process is anything like mine was when I figured this out, you're going to be thinking about link building very differently from now on.
I realise you're likely skeptical at this point, so after I do something cringe-worthy and show a tiny sample of sites that linked to me this year, we'll break down some of your current beliefs...
Here's a Sample of the Dream Backlinks I've Picked Up in 2019
We call them Dream Backlinks as they're a byproduct of people we love to talk to
"from a young age, Glen developed an expertise in search engine optimisation."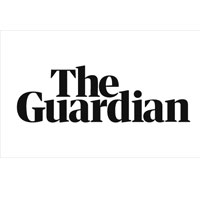 Vicky Baker
TheGuardian.com
"strikingly interesting and informative collection of resources on all things SEO"
"20 of the most important SEO blogs online" - headline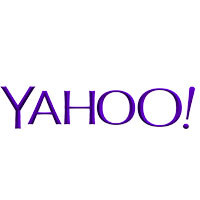 Pat Owings
SmallBusiness.Yahoo.com
"Allsopp's SEO podcast stands head and shoulders above the other podcasts"
Eric Siu
Entrepreneur.com
"from a young age, Glen developed an expertise in search engine optimisation."
"strikingly interesting and informative collection of resources on all things SEO"
""20 of the most important SEO blogs online" - headline
"Allsopp's SEO podcast stands head and shoulders above the other podcasts"
Eric Siu
Entrepreneur.com
"from a young age, Glen developed an expertise in search engine optimisation."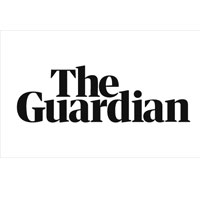 Vicky Baker
TheGuardian.com
"strikingly interesting and informative collection of resources on all things SEO"

Matthew Barby
Hubspot.com
Now you're probably thinking...
"If This Can Really Build Quick Links in Any Niche, Why Doesn't Everyone Do It?"
Largely because of five commonly-held myths.
MYTH #1 Link building through 'relationships' is slow.
That's just not true. Over 50,000 legitimate writers will link to someone for the first time this week. 50,000 is a huge understatement, but it's hard to visualise anything bigger.
The only reason they're not linking to you is because they don't know and like you, or they don't know you have relevant content worth sharing. That's it.
MYTH #2 This doesn't work in smaller niches.
Admittedly, you may have to 'step back' from your niche. If you run a website about Smurfs or offer plumbing services, your Dream 100 will have to be found in the toy niche or the world of DIY.
Though there might not be 100 people with websites dedicated to your niche, there are more than 100 people who have talked about what your website covers.
MYTH #3 You have to contact a lot of people (risking your reputation).
I advise companies pulling in 7 and 8-figures per year from their online businesses. They would never work with me again if I gave them an email template to send to thousands of people at once.
Similarly, I spent $19,000 on the domain name of the website you're on right now. I wouldn't risk my email address in the hope of a few more links.
You only need to contact a lot of people if you get lazy about perfecting your 'why'.
MYTH #4 Legitimate writers don't link to affiliate / lead-gen sites etc.
That's partly true. They're unlikely to link to a lead-gen page or a "best 2019" page, but there's nothing stopping you from having another page with linkworthy content on it.
Links to any page can help your whole site rank better.
MYTH #5 You have to be a 'big name' or have a large audience.
I'm about to commit the biggest sin in internet marketing in the hope that you'll one day thank me for it. What's the sin? Spending $40,000 on a product and using its tour page to link to another website that doesn't sell anything at all.
In February of last year I emailed strangers using a weird pen name and sold $450 in ads, had over 1,000 podcast listens and the biggest influencers in personal finance shared my website...in less than 28 days. Here's proof (promise you'll come back?).
The bottom line is this: If I can be a nobody and sell ads on a podcast that doesn't exist, you can be a 'nobody' and get backlinks. Period.
Knowing this stuff is cool, but it's only valuable if you actually put it into action
That's why I spent over $40,000 and 9 months of my life putting together the ultimate software and training to help you make your dream backlinks a reality.
It is so much more than just a database, but showing that off is a great place to start...
Introducing
"A Private Database of 3,500+ Hand-Picked Influencers That Actively Link Out in 2019 (+ Training On How to Get Them to Link to You)"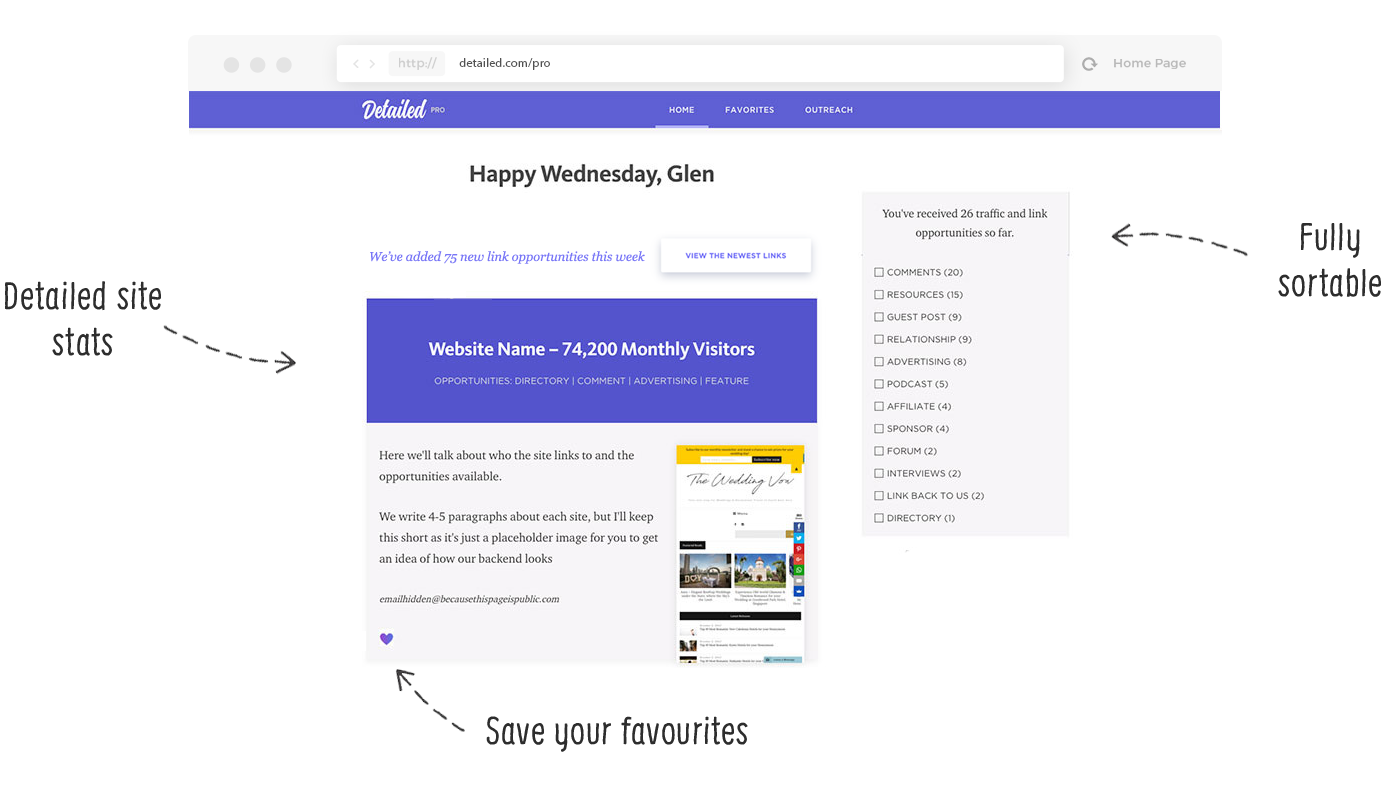 Every opportunity is hand-picked and documented.
You don't want automated backlinks, so why trust automated recommendations?
Active Websites
All sites in our database have been checked and updated for 2018 to ensure they're still active.
Traffic Stats & Screenshots
Estimated traffic stats for every site in our database.
Contact Emails
Although we only share publicly available email addresses, 75% of opportunities include them.
Real Sites That Link Out
We didn't secretly build these sites so you can get links. They have real owners.
Easily Sortable
Sort our database by 10 link types to only show what you're interested in for each niche.
Unique to Detailed
We hand-researched every opportunity ourselves. No 'lists' or similar were purchased.
7-Video 'Why' Outreach Masterclass
The Exact Emails to Send That Work with Predictable Success
Our database is incredible, but it's even better if you know what to do with it. We'll show how you can get the attention of the biggest influencers in your space with just a two or three sentence email.
I know that sounds too good to be true, but you have to keep in mind that every influencers inbox is flooded with people trying to get something in return.
We work with some of the biggest brands in the world and wouldn't let them send automated emails that could ruin their reputation, so that's not what we'll be teaching you either.
Instead, you'll get over two hours of video training on how to build rapport in single, short emails (with examples that work in any industry).
If you don't have time to watch the training yourself, have one of your team members go through it and they'll become the most valuable asset on your team.
100+ Proven Content Ideas to Model
You Just Need One Piece of Content Worth Sharing
You only need one piece of content worth linking to, so you may as well make sure it's the right piece of content.
Detailed readers have already used these ideas to land on the homepage of ProductHunt, and there's lots more success where that came from.
For 100+ content ideas you'll get:
Alternative headline ideas
Stats from the original success story
Specific examples from 30+ niches
How I would model (not copy) every single one
If you remember the original ideas we removed from Detailed, you'll now find them in Detailed Pro.
Five Advanced Link Building Case Studies
Over 15,000 words on tactics you're (probably) not using
These are not your typical "I did keyword research" or "I wrote lots of guest posts" case studies.
These are real-world, incredibly detailed and specific case studies that show how new sites are dominating Google search results.
The average case study is over 3,000 words and covers a sites backlink focus, content strategy and unique angles that help them rank.
Even if you've been involved in SEO for years and read everything out there, you'll learn something new in here.
Access Our Dream Database of 50+ Influencers Waiting for Your Email
You Just Need One Piece of Content Worth Sharing
What if there was a list of legitimate site owners who we're actually waiting for you to contact them so you could 'team up' on your journey?
That's the question I asked when I considered how valuable we could make Detailed Pro, and we've delivered.
This is not a database for link swaps or link selling, but real site owners who want to connect and collaborate with others to help speed up success for both parties.
We turned-down over 70% of people who applied to be here, so you can be sure only quality sites (and webmasters) are inside.
"Detailed Pro Will Solve Your Link Building Problem Quicker Than Your Guest Posting Order Would Complete."
(We're yet to find an industry where this doesn't work).
Affiliate review sites: Even if site primarily consists of "best 2018" articles, you just need one great piece of content worth linking to.
We'll show you the best people and sites that will link to it so you can pick up links this week.
Saas companies: You can't start sending templated, automated emails to get links. You have a reputation to uphold, we get it.
In our 'Why' video masterclass, you'll learn the perfect email that Saas companies specifically can send to build instant rapport with people who link out (and you only need to send one).
SEO / marketing agencies: I make my living from client work, so that's exactly why I vowed to finally 'figure out' whitehat link building once and for all.
In our 'Why' video masterclass, there's a video exclusively for SEO agencies on how you can implement these strategies - totally legitimate - on behalf of your clients.
Service businesses: Your biggest concern is that your market is so niche that you struggle to find enough relevant sites to link out, right?
When you focus on getting dream backlinks, you only need a few links to 'kick in' to have a huge impact on your overall results. We'll show you exactly where they are.
Bloggers & podcasters. We put you last because it's almost too easy to pick up links if blogging or speaking is your primary focus.
The why video masterclass will help you connect with people in the same situation as you, and help you build incredible relationships (fast) in a non-spammy way.
Member Proof: 90,000+ Monthly Free Visitors from Google
Building Dream Backlinks in the 'Learn French' Niche
Benjamin Houy makes a full-time living from his website, FrenchTogether.com.
Thanks to less than 300 sites linking to his, he's able to pull in over 90,000 visitors to his site each and every month -- the equivalent of $46,300 per month if he had to buy that traffic through Google Ads.
He has incredible content, sure, but he also has some incredible links from some of the web's most popular websites.
How did he get them? We'll let him explain it...
"I wanted to share something with them just like I would want to share events happening in my life with friends. I never thought "oh I'm going to contact them to trick them into giving me a link".

We naturally want to give back to people but it only works if it's done genuinely and not manufactured."
In other words, he only talks to people he respects and admires, and great links happen as a byproduct of that. Just how dream backlinks should be built.
We're not just a database. In Detailed Pro you'll learn...
How to get influencers emailing you first (even if you're a 'nobody')
The exact email to get a link today from this very website
What every Saas startup needs to know to make influencers fall in love with them
How and when to follow-up
What people in obscure niches must do to win the link game
The reusable template email every blogger loves to receive
Incredible influencers you won't find on any 'top sites' list (less competition!)
The emails I now send to build instant-rapport with anyone
Exact sites that will link out to someone new today - you just need a relevant site
Sorry, due to demand we currently have a 5-7 day waiting list
Waiting list times accurate as of May 20, 2019
Limited Access
Our exclusive guarantee
As you can see, we purposefully don't open the doors for anyone and everyone. Once you're inside, you'll thank us for having this in place.
"Detailed Pro helped me to uncover new opportunities I hadn't thought of before."
Benjamin Houy, FrenchTogether.com
"I really think this is an excellent service.
Great work."
Bryan Ellis, SelfDirected.org
Detailed Pro Database
Single Niche
434

detailed opportunities
Why' Masterclass (7-Video Series) ($397 value)
100+ Content Ideas to Model ($997 value)
Advanced Link Building Case Studies ($397 value)
Dream Database of 50+ Influencers ($497 value)
Detailed Pro Single Niche
Total Value: $3,285
Today Just $297
BEST VALUE
Detailed Pro Database
All Niches
3,500+

Active Sites That Link Out, Fully Documented & Sortable by 17 Niches

($4,000 value)

---

'Why' Outreach Masterclass 7-Video Series

($397 value)

---

100+ Content Ideas to Model

($997 value)

---

Five Advanced Link Building Case Studies

($397 value)

---

Dream Database of 50+ Influencers Looking to Team Up

($497 value)

---
Detailed Pro All Niches
Total Value: $6,288
Today Just $997
Our writing on link building and SEO has been featured by some big names...
Frequently Asked Questions
Some questions and answers
How quickly will I receive access?
Access should be instant. If you have any issues at all we're almost always online via live chat (purple circle bottom right).
You'll receive everything you purchased at once. We won't drip-feed the suggestions to you or anything sneaky like that.
What's to stop these opportunities from being abused?
Most opportunities are only possible to attain if you have an active, quality site in a particular niche. For instance, you can't get a link from bootstrappers.io unless you write a quality marketing article.
We limit access to Detailed Pro so there is less competition for everyone who joins us.
Is the database continually updated?
You bet. We want you to pick up links as soon as you join us, and we can only have that happen if the sites inside are active.
More sites stop writing than you would expect - which we remove - but new, great sites pop up (and are added) weekly.
Are opportunities sent via reports, email or ...?
We spent months building a beautiful custom back-end to this website where you can sort, search and favorite the opportunities.
At 50,000 words per category (on average), we thought sending things via email or PDF's would be a little bit messy.
Do you guarantee I can get X amount of visitors / links?
We can't do that or the opportunities we share would not be legitimate (and quickly worthless). That said, many opportunities are very quick to pick up (literally this week), as long as you have a relevant site in the space.
What if Google signed-up and saw your link suggestions?
We'll put our competitors in the suggestions just to be safe. We kid!
In all seriousness, no traffic / links are guaranteed so there's nothing to be abused. We're about helping you find hyper-focused opportunities in your niche, which we think Google would recommend.
Can I upgrade from a single niche to all niches later on?
Absolutely, and we'll deduct the price you paid for a single niche as well.
How do you find these link / traffic opportunities?
We find them primarily through clickstream data. This means we look at big sites in a niche, find who is sending them traffic, and look for other opportunities to attain those traffic and links for your site as well.
Our opportunities wouldn't be as valuable without this data.
Can I sign-up on behalf of my clients? Can I share data with them?
Signing-up on behalf of your clients is totally fine, as is sharing our custom opportunities with them in your own way (within reason).
We do ask that our suggestions are not publicly shared as they are all written uniquely by our Detailed team.
I want links for a non-English site. Can you help?
Every opportunity inside Detailed Pro was found for sites primarily looking for English-speaking traffic. No site primarily publishes content in another language.
That said, our videos and training will work even better in other languages and can absolutely be adapted.
Can I share my login details with my team?
Each account is limited to 3 IP's per day, designed to allow you to access our suggestions via desktop, tablet and / or phone in different locations.
If you're in an office environment, anyone can log-in on that same IP address -- no problems there.
Do I have to spend more money to acquire traffic or links?
Not at all. This is not a marketplace for buying and selling links. This is a database and training tools on how to get links from incredible (that we don't believe sell links).
How quickly can I expect to get links?
There are practically guaranteed opportunities that you can pick up this week, as long as you have a relevant website.
Outside of that, our students have found success sending just one email, so...it's quick.
Can I ask another question?
Of course. Please send an email to support@detailed.com with your questions.
Brought to you by Glen Allsopp a.k.a 'ViperChill' (and some much smarter people)
"Glen has been my go-to source for SEO advice and lessons for years. I've always found tremendous value in his content." - Ash Read,
"Glen showed entrepreneurial flare through his teens and developed an expertise in search engine optimisation" - Vicky Baker,
"stoked the Internet into a frenzy of imitation, complete with handy guides explaining how you, too, can get in on the gold" - Felix Gillette,
A waiting list, seriously?!
We regularly charge companies thousands of dollars for a fraction of the advice we have inside this program.
We make our living from working with SEO clients so we can accept a lowered conversion rate - and no chance of having affiliates promote us - in order to make sure only the 'right' people we want to help join the program.
We understand waiting lists are frustrating, but at the same time, you'll thank us for having it in place once you see the value inside.
Even if it takes you a few days to join us, you'll still pick up links far quicker than a guest posting order would take to complete.
Estimated wait time: Five to seven days.
- Glen Allsopp, Alan Paul and the Detailed.com team