Latest
Last Updated: September 6th, 2023
Updated example network sites to show all 11 sites September, 2023
CoStar Group Revenue
CoStar group are traded on the NASDAQ with the ticker $CSGP
CoStar Group ($CSGP) revealed their Q2 2023 revenue increased 13% year-over-year to $606M, with their sites surpassing 105 million total visitors for June.
While CoStar Group are not a typical digital goliath that I would normally track – they run marketplaces, rather than media brands – they are heavily reliant on search traffic so I think they're important to watch.
Also announced today was that their network of sites have become the second most trafficked residential marketplace overall, surpassing the self-reported numbers of Redfin and Realtor.com.
Getting into the specifics, traffic to Homes.com grew 130% YoY, surpassing 38 million monthly unique visitors in June.
Returning visitors to the site were up 416% year-over-year, with CoStar Group CEO Andrew Florance sharing their goal for the site is to hit 50 million monthly visitors.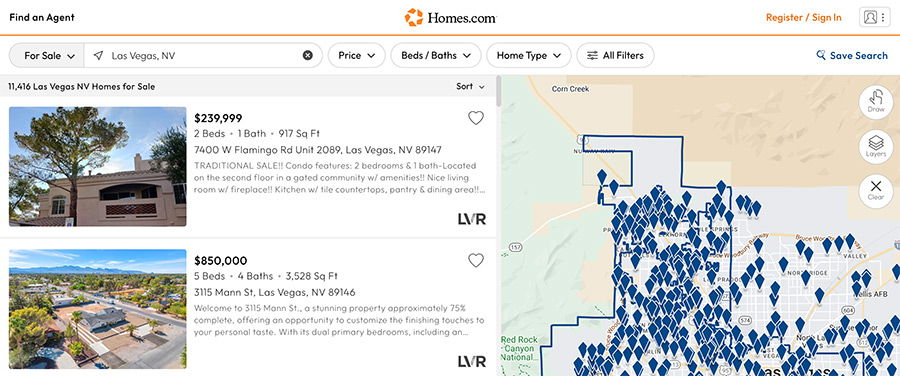 They related some of their success to the fact that you can contact listing agents on the site directly, and shared that some competitors aren't faring as well:
"According to comScore, Homes.com unique visitors are up 224% in the second quarter over the same quarter last year, while Zillow's traffic is down 5%, Realtor.com is down 13% and Redfin is up 4%."
LoopNet, which is focused on helping people rent and purchase commercial properties, averaged 14 million monthly unique visitors for the quarter. That's a 13% increase year-over-year.
LoopNet Canada saw traffic increase 51% over the same time period.
Traffic to BizBuySell – a marketplace of business for sale – also hit record numbers, with their 12.6M sessions being a 25% increase over the numbers for 2022.
One traffic source I've been preaching for people to focus on over the last few years – especially in our program, SEO Blueprint – is direct traffic.
That might seem ironic for a course focused on SEO but I believe what you can do to a site that helps people want to stick around and come back can only be good for your website rankings over time.
People coming directly to Homes.com increased 400% compared to last year.
Revenue Has Increased, But The Market Didn't Like the Numbers
It was interesting to see how well the revenue numbers for CoStar Group have been growing, then see that result in their stock price declining.
The primary reason seemingly being that while revenue increased, they missed their own projections by $1.21M. I should add a big disclaimer here that I'm not an expert on the stock market so please don't take anything here as financial advice. That's just my understanding of the situation.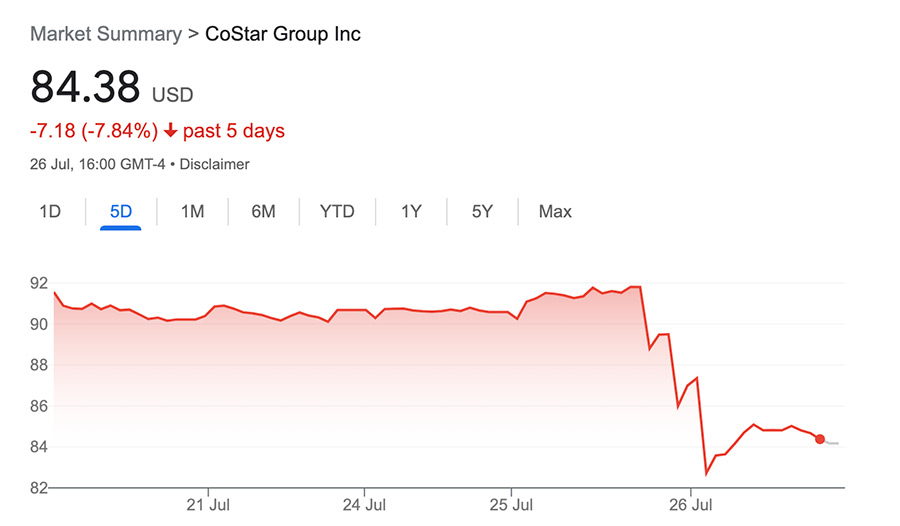 Things may change of course when the market opens up again in the next few hours.
A few financial highlights include:
Revenue for Q2 2023 was $606M, up 13% YoY
LoopNet revenue was $66M, up 16% YoY
Apartments.com revenue was $224M, up 23% YoY
CoStar revenue was up 11%, to $229M
I know this isn't the kind of company I normally talk about, but as I say, they are a digital-first business that has a big reliance on search traffic.
I know Similarweb isn't perfect but their estimations are often fairly in line with where a website gets their traffic from. If we look at some of the sites in the CoStar network we can see their estimated search traffic as follows:
LoopNet: 51.6% of traffic from organic search
Apartments.com: 46.1% of traffic from organic search
Homes.com: 42.18% of traffic from organic search
I could keep going, but you get the idea. Search traffic matters to them, and they're a great company to watch going forward because of that.

CoStar Group Network
Changes are made here every month
We currently track 11 sites for CoStar Group:
Note that there are multiple location versions of LoopNet, such as Loopnet.co.uk and .ca. HomeSnap is also recommending that people use Homes.com instead, so it might not be around too much longer.
Maintained by
Glen Allsopp
, the founder of Detailed. You may know me as 'ViperChill' if you've been in internet marketing for a while. Detailed is a small bootstrapped team behind the Detailed SEO Extension for Chrome & Firefox (170,000 weekly users), trying to share some of the best SEO insights on the internet. Clicking the heart tells us what you enjoy reading. Social sharing is appreciated (and always noticed). You can also follow me on
Twitter
and
LinkedIn
.