Latest News
Updated example network sites to show 50 instead of 11 September, 2023
Added revenue numbers for Q2, 2023 August, 2023
Added comments on AI and SEO August, 2023
Dotdash Meredith formed in December of 2021 when IAC's Dotdash acquired Meredith at a price of $42.18 per share (~$2.7Bn). They're one of the most fascinating Digital Goliath's to monitor as they run content sites in every niche you can imagine, and regularly discuss their thoughts on AI and SEO, as we document below.
Dotdash Meredith Revenue
Dotdash Meredith are part of publicly-listed $IAC
Dotdash Meredith posted revenues of $414M for the second quarter of 2023, a 15% decrease compared to the previous year.
Singling out digital revenue – since many Dotdash Meredith brands are available as print publications – revenues were $212M for the quarter, a 10% decrease year over year.
Declines were reported as being due to programmatic advertising decreasing on lower traffic to the Dotdash Meredith portfolio websites, though they did note "strength in affiliate commerce revenue."
It's this affiliate revenue that I'm most interested in, since Dotdash Meredith sites dominate product-review search results.
When I analysed 10,000 keyphrases populated by sites promoting products as an affiliate, DotDash Meredith's The Spruce was one of the top 10 ranking domains overall.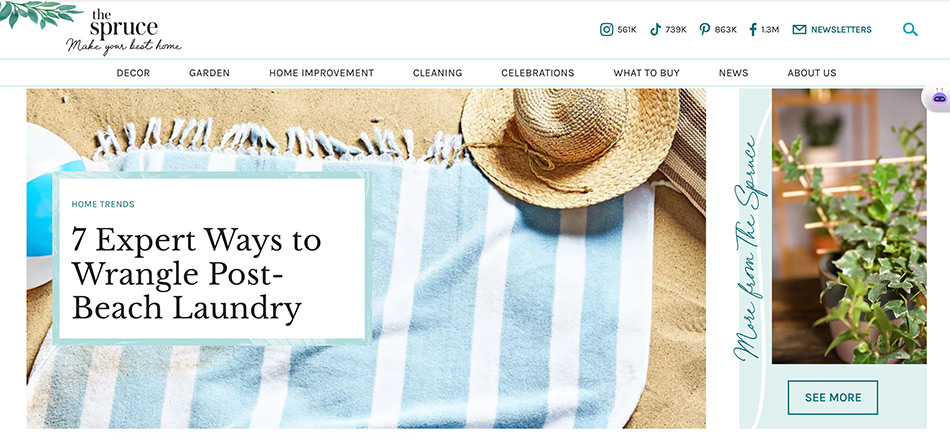 In their shareholder letter, they specifically mentioned growth to three specific properties in the quarter: Investopedia, the aforementioned The Spruce, and Verywell Health.
The product testing that Dotdash Meredith brands do is hard to beat. I've covered this more in the 16 companies dominating Google report, but they also added to that with this latest update.
In the quarter, our expert chefs and household cooks tested or created over 1,500 recipes, and expert reviewers rigorously evaluated more than 2,000 products ranging from air purifiers to smokers in our fully-equipped product testing labs in Des Moines, Birmingham, and New York.
This isn't the best place to do a deep dive into the affiliate marketing model they follow but it's much easier to invest in teams to review products when you're already ranking incredibly well and generating revenue from said reviews.
With that revenue you're able to make your content significantly better than the competition, helping to maintain top rankings, and the cycle continues.
That's a very simplistic version of what's happening – and many readers here would argue about the quality of their product reviews – but generating revenue from any angle gives you more motivation to take things to the next level.

Dotdash Meredith Traffic & SEO
Dotdash Meredith Regularly Share Traffic Updates
I have this exclusive for about an hour until large finance sites share transcripts from today's earnings call, but Dotdash Meredith were just asked by a representative of Barclays what their properties were seeing in terms of SEO, especially now that Google's Search Generative Experience has started adding hyperlinks to more results.
The first notable comment was from (I believe) IAC's Chris Halpin who said, "We expect both the historic Dash and Meredith sites to be increasing traffic."
He then turned over to IAC CEO Joey Levin who continued:
Yeah. The only thing I'd add to that is those platforms are built on a healthy internet ecosystem and sending traffic their fundamental business model is sending traffic out to the rest of the Internet. And what they've said and what I believe they intend to continue is doing exactly that and doing more of that every year. And so I think it is very easy to imagine a scenario, although we really don't know how this is going to play out, and I'm not sure they know how this is going to play out. It is very easy to imagine a scenario where they figure out how to use these tools to send more traffic out to the rest of the Internet. And again, that's fundamental to their business model. 
He also added:
But there's also real value in that in the sense that we've talked about the fact that these platforms say and that this technology is not yet reliable and not yet accurate. And so it can provide information or snippets or answers that users will look to platforms and brands like ours to for validation and which we think that the platforms can send to us for validation. And we view that as that certainly has the potential to be a positive. But again, I don't think the user interfaces are hardened yet in a way where we know exactly what's going to happen there.
SEO is critical to Dotdash Meredith's brands overall, so they're definitely one to watch going forward.
Out of the 16 digital media goliaths I like to report on, Dotdash Meredith are the third largest brand I track.
Dotdash Meredith Network
Changes are made here every month
We currently track 50 sites for Dotdash Meredith:
Note that we do not attempt to track every single site owned by a brand. If a domain is a placeholder, primarily hosts non-English content or focuses on a niche we don't track then it was purposefully excluded from the above. That said, for the majority of brands we feature far more sites than they do on their own 'Brands' pages.
Every quarter we share the best insights from every site in their network, 100% free without anything to sell or any affiliate links. If you would like that report, please enter your email address in the form at the bottom of this page.
Maintained by
Glen Allsopp
, the founder of Detailed. You may know me as 'ViperChill' if you've been in internet marketing for a while. Detailed is a small bootstrapped team behind the Detailed SEO Extension for Chrome & Firefox (170,000 weekly users), trying to share some of the best SEO insights on the internet. Clicking the heart tells us what you enjoy reading. Social sharing is appreciated (and always noticed). You can also follow me on
Twitter
and
LinkedIn
.